Sort By Date
Sort By Rating
Customer Reviews
Rode PSA1
This seems to be a well built mic arm. It's quiet, no springs that you can see, and it comes with 2 different mounts witch are both very well built! I like the Velcro cord wraps as well. I am using this with a EV RE20 mic as well as the EV 309 A shock mount and it seems to be very well balanced with this set up! And by the way, Sweetwater had the BEST prices (and free shipping) compaired to any local or internet
store!
Thanks again Sweetwater!
Wow, is this great.
Perfectly balanced, easy to install, a drill-through option if you have a desk with a curvy edge, and IT JUST WORKS. Sooooo much better than the more expensive K&M one.
Great at twice the price (shhhh don't tell Rode)
No picture of the awesome desk insert. You can use the clamp just as well, but the desk insert is even sweeter! I worried about drilling a 1" hole, but given the clamp, I was able to measure and test with my mic and prove that this was going to deliver 100%, before I took the plunge... Now I tuck the mic behind my monitor when not using it and it's so much nicer. The mic stays exactly where you put it. It's like magic. I'll never put this mic on a boom stand again... :)
Good Boom
Strong, no noise when moving, easy to adjust. I bought two of them and feel good now.
Exceeded my expectations
I know a Boom arm isn't the most glamorous purchase, but this is actually one of the most practical purchases I have made in a while.

I pleased with the balance and build quality of this boom. It's quiet and stays exactly where I want it. No problem holding the mic, shock mount and pop filter.

I thought I was going to have to drill a hole in my desk and use the insert mount, as I didn't think the clamp mount would do the job. I was very pleasantly surprised to find that the clamp is BOMB PROOF and won't leave marks on my desk. I mean, it's a very solid stable design, I never expected it to be so strong.

The included velcro cord wraps where another nice touch. Somehow, I didn't realize they came with the stand.

Good work Rode.
Rode mic stand
My voiceover studio has taken shape with this versatile and professional stand. After planning how my studio would look..I knew this was a must have. It is solid !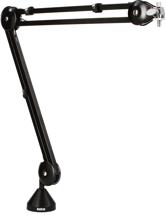 Broadcast-style Professional Studio Boom Arm with Standard Microphone Threading, 360-degree Rotation and Over 3' Horizontal and Vertical Reach