Sort By Date
Sort By Rating
Customer Reviews
The PRS Vintage Guitar Case
This is a well made case for the price
heavy, but protective, that's a good thing.
my prs se custom 24 came with a very nice gig bag, but i prefer the protection that this case provides. yes it's heavy,maybe heavier than the guitar, but i've never seen a better fit. it also has a roomy storage area with snapping lid, plus plenty of open space. my next prs will likley be a maryland guitar, but if it's a se i would buy a case with it. anyone need a nice prs gig bag ?
BEAUTIFUL!
super blown away!.. quite heavy but perfect for traveling around the world.. you have an assurance that your guitar is 100% protected.. fits my les paul too.. so very perfect!.. (and there's free candies..)
PRS Multi Fit Case
I bought my first one for a 2012 SE Santana.
Then got one for my sons 2012 SE Semi-Hollow,
Then I picked up a 2012 SE Custom 24, then a 2012 SE Tremonti Custom.

The guitars are a nice snug fit and do not move around.
Very well built case, and I will buy them again if I get any more SE models.

The snap closed compartment is also very handy for carrying extra strings, picks, polish rag, ect.
Great Case.. Amazing customer service!
Really nice case for a really affordable price. Fits my SE Tremonti guitar. It's quite heavy but it's solid and definitely will protect my guitar. Has some room for straps, acessories, etc. But wait there's more, free candies
from Sweetwater, talk about customer service.

Thanks to my sales engineer, Phil for an amazing service.
PRS Vintage Guitar Case
After purchasing and returning a generic brand guitar case for my PRS Custom SE 24, I purchased a PRS case from Sweetwater. It was a little more money. However, the case was high quality and fit my guitar perfectly. For anyone looking for a PRS case as an upgrade from a gig bag or as a replacement case, this case is an outstanding value. I am extreme pleased with the results..
PRS Vintage Guitar Case
I helped a friend get a PRS guitar and I insisted that he should put it in an authentic case. We are both highly impressed with this case. This is the nicest and well built case I've ever seen. I was always impressed with my Epiphone cases but they took the back seat to this one. I joked with him that I would give him one of my universal cases and keep this one for myself. The weight of the case is offset so it balances when the guitar is in it. It has a large storage section that stays closed until you unsnap it. It really compliments the guitar.
great PRS case.. tight fit.
This case is great and fits my PRS Akerfelt real well, the only thing i noticed is how close to the tip of the Guitars head it is. I have been told that is how PRS cases are too. It is very tight fitting and touches the edge of the cases padding, in other words it does not free float inside like skb or gators. Could be my model guitar too. I guess this is how PRS cases are. very snug and no play so it fits tight. Outside is awesome and tough , almost shell like, the thing is heavy duty too and has some weight with tough latches that snap tight also. Your guitar will be safe in this thing as thick as it is. bottom has nice buttons to set it up without falling. and a great compartment too that snaps tight . A solid case that looks nice. Streewater sent it packed well. and fast too.
Perfect
I needed a replacement case for my PRS 20th Anniversary Artist Series Custom 24 guitar. PRS wanted something like $500 for one. Yeah, thanks but no thanks.

Along comes Sweetwater with this magnificent PRS case for a great price. I ordered it, received it in *2* days and it's PERFECT. Gotta love the new guitar case smell! Seriously though, it's a great case and even has extra room in it (versus my old case) that I use to store a backup set of tubes for my Marshall. I highly recommend this case.
Brilliant Product - Brilliant Service
The case is just what my son wanted for his PRS 25th Edition Guitar. The guitar came with a White Leather Case - not good when gigging - so he needed to buy a black one - and he did - from you!!
As Sweetwater only ship within the States, we asked our good friend in America to get it for us and for him to ship it over to the UK. It was still cheaper to do it this way than to buy the case in the UK.
Prs case
Perfect replacement for my old beat up PRS case. Exactly like the original!
Almost perfect!
In all honesty this is a pretty darn good case.The hardware is wonderful, the stitching is of very good quality, it looks fantastic, and the inside is absolutely to die for. The only issue I have with the case at all, and maybe it's just me, but the covering material on the outside seems pretty thin/cheap in my opinion. I haven't had a tear or rip at all (then again I haven't done any real travel with the case), but it doesn't seem like it would take much to damage the covering. All I know is It's definitely not on par with the sort of tolex covering material I've worked with before. Aside from that however the case is pretty much perfect and well worth the cost. It was exactly what I needed for my PRS Orianthi SE however, and well within my budget.
PRS Guitar Case
I purchased this case for my Zach Myers SE guitar. The gig bag is nice but I wanted the extra protection the hardshell provides. My guitar fit very snug although I didn't experience the headstock tightness the reviewer below noted.
The case itself is a very tight fitting case. Beats the SKB and Fender cases I own too. The storage compartment is quite large and could actually hold a small pedal.
Sweetwater shipping really impressed me. OTHER companies send a shipped notice when the package hasn't even left their facility. This case shipped on a Thursday and I got it on Saturday
GREAT CASE
This case was just what I needed for my Custom 24. With the fitted interior, it cradles the guitar perfectly. Plenty of storage in the separate compartment for your strap, some tools, maybe even a pedal. Excellent quality!
Heavy, unwieldly, sheds
This case shipped with my PRS Custom 24 (or rather, my Custom shipped inside it). Despite being pretty nice / luxurious, it has some very real practical concerns:

1) It is HEAVY! They took great pains to make this as much like a "vintage" case as possible - that includes making the frame out of solid wood. I'm not sure what kind of wood the frame is made of, but with the guitar inside it, you're essentially dealing with a giant block of wood with a handle attached. Several times, I've carried the case in one hand, and my Egnater Tweaker 40 tube amp in the other - this case rivals my amp's weight.

2) The handle is hard to grip, which is only made worse by how heavy the thing is. It's made of textured plastic (not leather / rubber!), and slips out of your hand within minutes. It's also awkwardly placed toward the back of the case, which can make it hard to balance, or more annoyingly, hard to hold onto on a windy day.

3) The felt lining sheds little black hairs all over the place - don't be surprised to find them inside your guitar bridge or tremolo cavity.

4) I must say, although it's a *pretty* tight fit, I was expecting a tighter fit, given that this is the manufacturer's case. I'm guessing they made it somewhat looser to accomodate the slightly different body shapes of the Santana & McCarthy.

I ended up replacing this case with the SKB 3i-4214-PRS waterproof, airtight, TSA-approved flight case - WOW what an improvement in every way! PRS should contract with SKB to make these their default factory cases!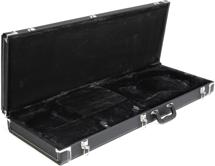 Black Hardshell Electric Guitar Case with Silver Hardware and Soft Felt Lining