Sort By Date
Sort By Rating
Customer Reviews
Everything But the Sink and we need the Sink!
Love the new Powerplay Personal Mixer. I would recommend this to other musicians. The only problem with this system is that when chaining the mixers you loose power to all the mixers downstream. The Aviom system supports this feature; however, Powerplay doesn't. We have to run longer cables from the distribution system or have power at every location. We wanted to get away from all the power needs. Worth it though!
Super Product
Today the praise band used the Personal Mixer for the first time. They were sold after only one song. The system was easy to install and is fairly easy to learn. This system has taken the edge out of our praise band practices. We should have this done sooner.
IT ROCKS
This is a revolutionary system! it is meeting the needs of many musician's at a amazing price! You can daisy chain these mixers, which saves you big money!! The mixer offers everything you want and need, and works incredible!
Great Value
I purchased these at Sweetwater's Gearfest in June and received them around August 1, 2012.

Last night was our first Worship Team rehearsal with all instruments on IEM's. No amps on stage. The result? - everyone using the system liked it alot. Plenty of volume and control. EQ and pan per channel is a nice thing AND the limiter allows me to sleep at night.

Admittedly it will take a couple of uses to get everything dialed in but my first impressions are still intact; this should be a winner.

The acoustic guitar player had previously used Avioms at a large church. He said that because of his previous experience he was hesitant but after using our system he said this experience was better.

The singers are still on wedges and said they could hear everything more clearly, the monitor wars with the band have ended.

One caveat. Your gain structure in this chain, I believe, is critical. Getting the most signal without distortion to the input module helps everything along the way. The four position gain settings per channel on the PM16I help you avoid clipping.

cons: minor really - I would have preferred ethercons for all network connections, the markings on the PM are hard to read in low light, I think they could do better on the mount, for that money I would like better machining of the stand mount hardware.

Overall, GREAT!!
Outstanding
What a great product. I've used the axiom system for a while but the p16 has converted me. Not only was the price right but features like eq on every channel and the ability to group Chanel's from the personal mixer make this a win for my studio. I'll be purchasing additional p16m's once they are back in stock
Un-frickin-believable
These units are absolutely incredible. I own have have used many "personal monitor systems" over the years at various houses of worship. But this unit bests all of the major players in that field in every area that counts - price, build quality, features, and style.

The monitors sound great, have excellent headroom, and are extremely pleasant to the ear. I used to get fatigue with the other "major brand" players out there, but no ear fatigue yet with this system. I attribute it to the limiter function and the midrange control.

This is an excellent system and it far exceeded every single expectation I had!
A New Era For Behringer?!
I am normally quite skeptical of bottom shelf companies, however this product looked very inviting so I had to give it a shot. I have been blown away!
I have been using an assortment of hearback and aviom products for the past couple of years and like them both, however, they both have their shortcomings.
This behringer unit does pretty much everything I could ask from a personal monitoring system. 16 channels with 3 band eq on every channel is a big deal. It really allows every musician to dial in a perfect mix. I bought 10 if the mixers 1 input module 1 distributor and 10 mic stand adapters. Everything feels great and most of all sounds fantastic. I blindly A/B'd the behringer and the avioms and couldnt tell the difference.
My only issues that stop the unit from getting 5 stars.
- The knobs are a little flimsy, i wish they felt a little more sturdy.
- The lettering is very difficult to read on a dark stage.
- I wish the headphone jack was surface mounted not PCB mounted. I feel like enough yanking the headphones in and out could break it off.

But really these are great products, I regularly do 8 - 10 piece bands and so far during the past week all the bands love them. Cant wait to give them a full workout and see how they hold up.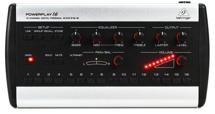 16-Channel Digital Stereo Personal Monitor Mixer for Use with Behringer Powerplay Distribution System