Sort By Date
Sort By Rating
Customer Reviews
LOVE IT!
Fits on the grand piano music holder as well as any music stands! Can use batteries or plug it in with an extra long cord that comes with it!
Mighty Bright
Super sheet music light here. Looks great and shines a wide light across 2 sheets easily. Like that it is LED too. Strong clip, solid gooseneck. Overall, a great light at a good price.
mighty bright orchestra ligh great!
I only use it at home. and I don't play in an orchestra, so I don't know how others around me would think. It does have a lower setting (dimmer). but it is just right for me. I had an older one sometime back with a long tube... I wasn't bright enought, and put out a lot of heat. I put a higher rated bulb in it. That was better But then It got very hot. I thought might catch the paper on fire if I forgot to turn it off. This one you can forrget to turn it off and hours later it is very cool.
Great Improvement
They finally made a light that is useful for full charts unlike the Duets that only partially illuminate a page but with halos and shadows. The dual power function is nice too when you're in a really dark pit of a corner. A handy carrying case in also included as is an adequately lengthy power cord if you choose to go the AC route. Overall a very solid product and a must for working musicians.
Great lamp for the price
Works great on battery when needed. Fits on Piano Rack, Organ Rack and Music Stands. Nice and bright. Wide spread of light. Looks good, not intrusive to see around
Orchestra light.
I am more than happy with the light. Clipped onto the music stand with no problem and illuminates the music great. Just what tese tired old eyes needed.

Thanks for asking!
Put some light on it.
I started with the little led twin light that takes three AAA batteries which was good but I soon tired of changing batteries. I was going to get the Mighty Bright below this and it was out of inventory while Sweetwater had this one. OK I got the Orchestra Light and it is great. The included power adapter is very convenient and the unit lives up to it's name of Mighty Bright because it is.
A Good buy
It was a gift for someone else who is a pianist and she said it was great.
Awesome
It wasn't cheap but that's because it isn't built cheap. I have a lyric book binder and this is the only light that I have found that will illuminate both pages at the same time.
Highly recommend.
Very nice!
Bright LED generates a fairly broad swath of light. Versatile since it uses both AA batteries and an included AC adapater. Intensity of light decreases relatively quickly over a few hours of battery use; light appears to be brighter with AC adapter. Light clamp could be a little firmer, as the lamp wobbles a bit when attached to a music stand. A little expensive for the overall performance of the lamp.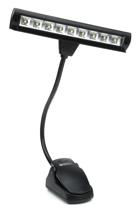 Clip-on Music Stand and Pedalboard Light with Included AC Adapter and Battery Power