Sort By Date
Sort By Rating
Customer Reviews
Incredible instrument
I have been a musician for 40 years and owned many nice instruments. I have had my OMJM for a couple of years, and every time I play it I am amazed by the great sound and playability. Some complain about the "cheaper" mortis and tenon neck attachment. Let them complain, as I originally owned a dove tail necked Clapton signature model and I much prefer the OMJM. The key is the wood used, and Martin uses some great wood to make these guitars. It also has a great passive pickup installed that makes it work perfect for recording direct. I live my OMJM and would never get rid of it. Oh, and John Meyer? Never listen to him. Ha!
Excellent Martin
Great Martin tone, deep bass and nice high end zing.Excellent fast playing neck much like a strat 43mm at the nut.Best sounding guitar Ive owned in years.Ive also owned high end Taylors 914ce,810ce.For me this martin is a keeper.
Martin OMJM
I have owned my Martin OMJM John Mayer special edition for two months. It is incredible. The tone and sustain are beyond measure. Originally I sought a D28 as I yearned for that booming bass. I am not disappointed in the OMJM, plenty of bass for me - perfectly balanced with the highs. The OMJM sounds good (plenty loud) when played unplugged, and is ever so sweet to the ears when plugged in. I know when I pull it out of the plush snug fitting Martin Geib case I will be pickin' for hours as I will not want to put it down. I am continually surprised at the sounds I can make with it both on the high and on the low end. It is a perfect fit for this 5'2" girl with not so long arms. The neck is fast and easy to play and came direct from the factory with a set up perfect for me. I would recommend this guitar for any beginner who can afford a good guitar - why waste your time with a beginner guitar when this one will teach you how to play. I keep a fresh humidifier in the case at all times as I live in Utah where it is an extremely dry climate. I know this special edition guitar will only sound better with age, and is truly a tribute to John Mayer - he would be proud.
OMJM John Mayer Special Edition
This guitar is solidly made, as all martin guitars are. I am a huge fan of john mayer, and I must admit that influenced the purchase of this guitar a lot, but fan or no fan, this is a beautiful looking guitar, a trait bettered only by its sound. I have had this guitar about a month, and I spend half my time playing it, and the other half admiring/wishing I was playing it. The neck is a wide C shape, but even with small hands I can reach the full range of notes. The lack of cutaway doesnt really disadvantage this guitar at all.
What an amazing guitar!!!
Okay, let me start it out by saying this. I am a big fan of John Mayer and think his music rocks. I have certainly had a few debates about him but everytime, it comes down to this. You may not like his style of music or his voice but you have to respect his guitar skills. The man is absolutely amazing! Needless to say, that was my expectation about his guitar. I mean, ask someone who seriously knows how to play how to make a guitar and I'd be suprised if hey come up with crap. Anyway, I am blown away by both the sound quality from this smaller body and the playability. This is a beautiful guitar from start to finish. I would highly recommend this guitar to anyone who loves John Mayer or just wants a really solid guitar.
OMJM is just AMAZING
Received this from Sweetwater 2 weeks ago. Very light and resonant. Changed to 0.11 for easier bending. Probably is right for this longer neck. The vibe is less solid than the original 0.12 but good enough and natural. The action also becomes lower. Excellent slightly thin neck with this lower yet comfortable action. Buzz is really minimal.
The outlook is cool and antique.
Since then, I also played other acoustic guitars, only for comparison.
Worth the cost of this amazing instrument.
John Mayer Martin
I recently purchased the John Mayer Martin and I have never been a Martin fan (3 Taylors a Fender and a Gibson) I spend most of my weekends in music stores checking out the new stuff and when I played this one, I bought it on the spot. Awesome action, booming tone, and a lightning fast neck. The only drawbacks are that it has no cutaway and the pick-up is not adjustable (no knobs) but once you play it, it won't matter.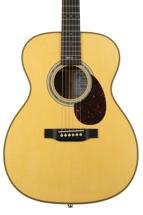 6-string Acoustic Guitar with Engelmann Spruce Top and East Indian Back and Sides - Special Edition John Mayer