Sort By Date
Sort By Rating
Customer Reviews
Best overdrive pedal on the market.
This is the best overdrive pedal I have ever tried or owned. I would highly suggest one for guitarists of any style.
Best OverDrive Out There!
On a whole different level than other OD pedals - when I first saw the "OCD" in the title it made me think "oh this is just another nasty OD for Metal Heads and Shredders - Not SO!!! I play POP and Blues and needed an OD that had rich, full tone when cording but also would not smear when I kick on my "Blues Driver" for lead - the ODC by Fulltone delivers on every front - but there is a catch! buy the 18V Adapter!!! I put it in my floor board with the standard 9V connection and thought it sounded just OK, perhaps a little thin, so I took it out and threw it in the heap with all the other shredder pedals. Then I remembered the YouTube video I saw where they said - "You really ought to hear this with the 18V adapter..." So, I grabbed it out of the heap, bought the 18V adapter and marched off to practice. I plugged it in - applied the 18V's and Holy SH**!!! no I mean truly - a world of difference! Best OverDriver Out There!!! bar none!
I love this thing!
What a great pedal! It doesn't just make you sound better…it will make you play bettter.
It's super reponsive to differences in picking. Very versitile. I can't believe the wide range of tones you can get out of three knobs and a switch. Get one now!
Great
Really excellent tone out of this pedal. Worthy of its reputation.
Awesome
My wife got me one of these for Christmas. I use it in front of a Tweaker head. It really adds to my tone and with the gain all the way down acts as a boost while providing some grit if you attack the strings harder. I used to use a old Ibanez Tube king tk999us and this OCD blows it away for warmth. With the gain at 12:00 on this and the Tweaker with master about 9:00 it gives me an awesome Crunch at a livable volume.
Great pedal!
I just picked this guy up a few days ago and was blown away when i plugged it into my fender amp and Gibson guitar. The tone and drive are amazingly smooth while maintaining the crunch of a real tube amp. I got the chance to play through a vintage overdriven Marshall next to this sucker and it sounded almost exactly the same, just as Fulltone says!! It also has pretty good battery life (20 hours) but i would suggest getting a power supply (Pyle Pro, Daisy Chain, Voodoo lab, etc...)You really can't go wrong with this pedal but I suggest trying it out at your favorite local music store before buying just to see if it will suit your needs
Amazing Pedal
Great Quality Pedal especially in 18V!!
Thanks Sweetwater!!
OCD For Ne
This is a fantastic pedal. A great price at $135.00 It brings your guitar to life, and will help to take the mud out of your other pedals too.The boost can be subtle or aggressive. It's great all by itself, giving you tons of options. I own several types of guitars which include Strats, LP's, Tele's with an array of different pick-up configurations. This box WILL find the sweet spot for all of them. I usually go full bore with pedals of this nature, but with the OCD I am in awe of the subtle nuance it creates at lower settings. I'm sorry it has taken this long for me to find out about this magic box! But I've got it now and I'm gonna keep it .
Thanks To Mike Hammond for the great support .
Fulltone OCD
This pedal performs as advertised by the manufacturer. I like the smooth, brown, british power tube distortion sounds, as opposed to gainy buzz. The OCD gets me where I need to be at more reasonable volumes, while preserving a lot of the touch sensitivity you would expect from a wide open non-MV amplifier.
OCD = Gateway Drug for Boutique Pedals
While I admire the boutique stuff, I can't really afford/justify spending more than $100 for a single pedal in most cases. But the OCD is reasonably priced, and EXTREMELY versatile. The first time I plugged it in, I felt like it took my small VOX combo amp to a level of quality I hadn't gotten out of a pedal before.

While you're not going to play thrash metal with it, there's enough gain and tone ranges here for this to become a primary overdrive on your pedalboard. It does a great classic rock tone (seriously, Jimmy Page started coming out of my amplifier), and can also be used to push other distortion pedals. It's one of the few overdrives that works well both for lower-tone rhythms and higher-pitched soloing. The HP/LP switch also gives you the choice between a louder (and brighter) tone, versus a more muffled one. That's a great thing to have for dialing it into your specific amplifier. The OCD is an instant classic and almost universally beloved.
Blown Away
My awesome girlfriend got this for me for my birthday! I was expecting it to be an awesome pedal. But "awesome" doesn't even come close to describing this thing. In fact, it blows "awesome" out of the water. I played 3 different guitars through it and all of them sounded incredible, yet each sounded the way they should... different! Some distortion/OD pedals make all guitars sound the same. Not this one! Has an incredible sweep on the "Tone" knob, and the "Drive" control allows you to back off to beautiful crisp clear tones, turn it up a bit to buttery, or crank it up into madness! Monster tone! I can't imagine anyone not liking this pedal. Best OD out there! And it responds to your attack on the guitar.... Incredible, awesome, killer, fabulous, fantastic..... one word can't sum it up. If you are even thinking about an OD pedal, this IS the one you want! By far the best pedal I have EVER owned. I am sold on Fulltone! Can't wait to add a few more to my rig. And a 5 year warranty? It's built like a tank!
Best $140 I've ever spent!
I have heard a RAVE of reviews about this for years, eventually I bought one. I was disappointed at first as it seems that all it could do was harsh, high end screaming. It just didn't fit the role I was hoping it to fill.

BUT, I then started tweaking the knobs, and my jaw just dropped. This thing DRIPS with tone, and by far the best over-tones and harmonics on an overdrive pedal. It just fattens up my Strat tone while being totally transparent!

AND, this is also by far the most dynamically responsive overdrive I have tried. It responds to your picking dynamics so well, just like an overdriven amp. It is also responsive to your volume knob. Turn it down to 7-8 and it is just so SWEET!

This thing is an all-round BEAST. And for $140, it is the bargain of the guitar world. I just got the CMATmods Signa Drive (very good TS-clone), and the OCD still wins out on tone.

Best overdrive out there, you won't regret it.
Very Musical Overdrive
The OCD has replaced my TS808. More transparent than the Tube Screamer
Great pedal. Check out demos of all four versions!
This pedal is wonderful. So many usable tones are available, and it's very easy to dial in.

This is the fourth version, and functions a little differently than the other three older versions. If you're interested, check out demos of the others. I personally chose the third version. It seems to have a little more gain than the fourth. Excellent for cleaning up a clean tone or sending your solos over the edge. I'm not a huge fan of the other other fulltone pedals, but I'm 100% happy with this one. And the price is great for this kind of quality.
This is the overdrive your looking for!!!
True Bypass. None of that high pitched "transistor radio" drive. Make a "tweed" sound like a "plexi". Make a "plexi" sound like "heaven". Turn the drive way down and it's a great boost. DOES NOT change the true sound of your rig. It's like adding a channel to ever channel your amp has. This is what you want!!!!! HP & LP is nice too, make that two channels for ever channel your amp has.....
A must have Pedal
This pedal sounds really good especially if you match it with a tube amp. The overdrive is very transparent. It produces a very nice sound and response well if you adjust the settings. worth buying!
The Best OD ever!
I have V1, and V3. I use the V1 for lighter OD with the LP mode. Fantasic light boost tone. V3 is set for more gain/mids and in HP mode. This version is close to V4(current), and I can't live with out this one. I can take this OCD and my Eric Johnson strat and be very happy.

Good things about the OCD...

VERY amp like in "feel". Works great with an amp thats breaking up some.

HP/LP mode give some very cool sounds with the HP the tighter, with more gain. LP is looser IMHO.

Not really much $ for the tone!!!!

The tone is basicly "MORE" of my amps great natural tone. No real big mid hump.

NOT a TS clone in any way.

Responds to the Volume of the guitar like a great tube amp.

Can be run up to 18v for even more tones.

Rock solid night after night on stage!!!!!!!

Works great with Humbuckers and Single Coils. Took a few tweaks with my p90 Les Paul Jr.
OCD
This pedal actually replaced my Kelley TS-808. Yes, it's that good! I highly recommend this pedal.
OCD rules
I play Rock and Metal, some neo-C leads. I've tried so many different types of overdrives and was never satisfied. I stuck it out with the ts-808 for a long time.
The OCD is not your average 808 clone.
It has its own sound, and boy is that sound sweet.
it sounds more like your amp giving you the gain than a pedal.
You get the cool o.d. harmonics with the gain knob barley on. nice clean overtones.

I've played with all 4 versions.
for me I rank them in this order:
v1-v4-v3-v2
I like the v1 the best because the mids are scooped a little compared to the others.

Lately I've been using it with a Fulltone Soul Bender fuzz. Heaven!

I will always be searching for something better but i don't think I will ever sell it.

(*Listen to Paul Gilbert(uses one)
and listen to Takayoshi Omhura - in a rough state.
best tone of '08
Great purchase!
I was looking for something to give me just a little breakup, and at the recommendation of a friend, the OCD was it. But I actually use this one for my mid level overdrive now, and use my Keeley mod Sparkle Drive for the lighter overdrive. Used it for the first time during CMA Music Fest and love it!! Definitely a mainstay on my pedalboard now!
Fulltone OCD is great!
The Fulltone OCD is a really sweet overdrive that reallly compliments any tube amp I've used. It delivers that cutting punch you want in relation to your picking attack and after trying several different overdrives over the years this one is the one that will stay in my pedal board.
Versatile, transparent, sounds awesome
Super transparent and respond just like a tube amp to your picking dynamics. It's like adding another channel to your amp. I use it to add a little dirt to my clean and to boost the drive channel on my blackstar and this thing sounds incredible. It doesn't color your sound at all, just enhances it.
fulltone ocd
Great blues -rock overdrive!,built solid,true bypass,hand made in California,the only reason I didn't give it 5 stars is because nothing is perfect.I have used it at 2gigs so far no problem,I play blues and blues rock,it's perfect for that seven tone,great pedal,great service,I have been a sweetwater customer for awhile now,and the service is great everyone is very knowledgeable!,I don't go anywhere else
Amazingly Versatile
I think it's normal to be slightly disappointed after purchasing something with this much hype surrounding it, but like so many others, this pedal has won me over.

I was looking for a drive pedal that would contrast my TS9. The OCD definitely does that, and so much more. It's not nearly as mid-heavy, nor does it color the sound as much as the TS. The subtleties of my strat stay in tact, without substantially cutting or boosting the spectrum. It also reacts pretty much the same way as a tube amp to softer dynamics and rolling back the volume knob. I love the classic sound of my Ibanez, but it seems that the OCD can do pretty much everything else. You can get incredibly specific with this pedal, from clean boost to huge overdrive, and most every sound in between sounds great.

There's also a lot to be said for how well this pedal can drive a tube amp at low volume. This is useful not only for practicing, but for any gig where your amp can't be too loud, but you don't want it to sound wimpy (in my case, mostly church services). If your miking the cab at low volumes and being mixed into a system, this functions as a boost just fine.

I can't speak for how well this pedal works with solid state amps, but through my Fender it really sounds fantastic. If you're a metal player, this is probably not the pedal for you, but I'd highly recommend for just about every other genre. This is really a useful, well-made piece of equipment at a moderate price.
Outstanding overdrive pedal
Many people are critical of the "Fulltone hype machine." However this pedal truly lives up to all of the praise it's received.

I've played this pedal through my Vox AC-15CC and it is a complete monster. If you roll the drive back all the way and crank the volume pot, it serves as a great clean boost. With the volume about 12 o'clock and the drive at 3, flip the toggle to HP and you can get amazing british crunch. I'm still learning what this pedal can do and am consistently amazed at the amount of different overdriven sounds that I can get out of it.

If you are looking for a distortion pedal that will serve you well for Death, Grind, thrash, etc then I would recommend looking elsewhere. But if you are looking for more of that NWOBHM sound (which I was when I bought this) don't hesitate and buy this.
great pedal
I purchased this to play a gibson 335 through a deluxe reverb reissue with some clean to semi dirty blues tones. Also with the bridge pickup and some delay I can get a Brian Setzer type if tone. The pedal sounds great. It can function as both a volume boost, or a gain boost and maintains the picking dynamics so you can get cleaner tones when picking lightly and more distortion when picking hard.

I am giving this one only 4 stars simply because I have limited experience with distortion pedals and thus cannot accurately compare to others. I will say it is a good pedal. and solidly built...check out some youtube reviews for more info.
Great Overdrive...But...
I'm going to play devil's advocate here just for the sake of anyone who wants a slightly alternate perspective on the OCD. Let me first say that it's a great pedal for all the reasons other people have listed, but some of the things this pedal has been praised for have actually been drawbacks in my experience. My advice is to beware the "not coloring your tone" aspect of the OCD. If you find yourself favoring American voiced, compressed, or midrange-present overdrives, this may actually not be the answer to your overdrive prayers. This is a huge and saturated overdrive, as many have mentioned, like a marshall half stack, but depending on the guitar, amp, or EQ settings you use, the tone of the OCD can be very hard to use. For instance, the openness of the single coils on my Strat is something that I absolutely love when I'm playing clean. The tone is thick with bass and has a great bell tone chime in the treble. The problem is that the OCD preserves the openness while saturating it with overdrive, and the result is bass undercurrent that is wobbly and out of control and a treble that is far too biting and harsh. So unless I'm very careful about my amp and guitar settings before turning on the OCD, I end up with a tone that's pretty unusable. I think another thing worth mentioning is that this doesn't compress like a lot of other drive pedals until you turn up the drive knob pretty high, so the "fatness" that is often a side effect of compression isn't as present. My point in saying this isn't to bash the OCD because it truly is a well-built, reasonably priced, musical, and versatile overdrive. I also would imagine that the problems I'm pointing out are more prevalent with single coil guitars than those with humbuckers. Still, I think it's worth it to ask yourself whether or not you truly want your guitar's tone replicated in an overdrive. You might actually want your drive pedals to "color" the tone in certain ways.
Beautiful
This pedal is outstanding. It does NOT give you a heavy metal pound, but for heavy rhythms and REALLY beefy power chords this pedal kicks ***. as far as soloing goes and single string voicing it is not as effective. If you are looking for a ripping solo you should stick true to the amps distortion for sure. The thing that I simply admire in the OCD is that they took out the EQ equation and leave you with your "True" tone only its now punching you in the face. Killer pedal. Every rock band needs one.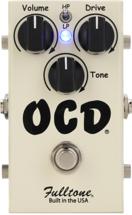 Guitar Overdrive Effects Pedal with Highpass and Lowpass Filters