Sweetwater Advice
The Nova System sounds great! It should though, since the effects are taken directly from TC Electronic's flagship G-System effects processor. This is a great effects stompbox for guitar players on a budget. But it's also a really good choice for an advanced guitar player, who has lots of effects already, but needs a more compact unit to take along for smaller shows. The Nova System can cover all the effects you would need for a gig, in a small portable sized stompbox.
If you want the sound quality of the G-System without all the additional loops, options and expense, then the Nova System is for you. Great product for all instrumentalists!
Sort By Date
Sort By Rating
Customer Reviews
Love Tc Elec Nova System
My pedal is cool sound i like the analog effects, e probado muchos e infinitas marcas pero estoy muy satisfecho con este maravilloso pedal el mejor sonido! Thanks Tc Electronic, Thanks Sweetwater!
TC Electronics Nova System Review
I was skeptical in buying an "all-in-one" kind of effects processor because I used to own one of the lower end digitech multieffects pedals when I was a beginner and even then knew that it was a total tone destroyer. Much to my surprise, the Nova system is -nothing- like that at all. I've barely even scratched the surface on setting presets etc., but just the ability to add and subtract the effects individually instead of having to program presets is amazing. The tone is incredible as well. I am blown away at how much the guitar and amp retain their tonal character when you play with the Nova system in the effects loop. The drive is very cool, and I'm sure quite a few people will get a lot of use out of it but it was a bit much for me since I usually just play with the amp (my egnater tweaker combo) barely breaking up. If I wanted heavier crunch though it is definitely usable. I read somewhere, most likely on a youtube comment about this pedal that someone was curious about it's ability to go into the ethereal, weird realm with spacey delays and I can say that, if you are a good enough player, it definitely can. I have to admit though, it was a lot easier for me personally to get that with a digitech dd7, so I'd recommend one of those or something similar if you are looking for that kind of stuff. All in all, the Nova system is well constructed, easy to use, and above all a great investment in your tone for a price like the $300 that they are currently going for. I strongly considered saving more and getting the g system, and I guess I'll never know if I made the right choice until I try it, but for my purposes (mostly small gigs and home practice) I think the Nova system is definitely enough. It will add color and great effects that are blended in just enough to flavor your tone without changing it, which I think makes it a good buy for literally any style of guitar playing. I do have to admit that I think there is an issue with my line in jack above the drive in because it has been unresponsive, but it hasn't effected my ability to use the pedal for what I do so I'm not going to bother sending it back. I could totally understand anyone who would though given how much you are spending on the pedal.
Awesome control for your guitar effects system!
The TC Nova System is, without a doubt, the best floor-based effects system for guitar that I have ever used...PERIOD. Construction is solid, sturdy, and ergonomically perfect for a floor-based system. The unit is constructed of a nice lightweight, but sturdy, metal chassis, rugged but easy to click switching buttons, and incorporates a nice rugged detachable a.c. cord for power (no wall warts here!) . Sonically, the unit uses TC's world famous reverbs, delays, and modulation effects to make for some of the BEST guitar-based tones I have ever heard. All of the effects are pristine and transparent, and the unit's effects routing and in/out options allow for optimal guitar to amp connection and signal path. I am using the unit through my amp's effects loop to access ONLY the effects blocks.....bypassing the analog front-end drive section (although I did try out the Nova Drive section, and it COULD be used in the front end for some really convincing and usable overdrive and crunch/lead tones). Unity gain is easily achieved with the unit's level controls, and when used through the effects loop, the sounds are truly transparent and crystal clear, without "muddying" my tone at all. Operation is simple and intuitive, and I only had to crack the manual a handful of times.....simple hookup, simple use, and the effects are SUPER simple to tweak to your liking. Although I am only using probably 3/4 of the unit's capabilities, I still was able to use the TC to cover my old dinosaur pedalboard's functions, and slim down my gigging rig (i cleared about a foot and a half of floor space with this baby....now i can move around a little without having to roam 3 acres of pedalboard to get to that delay or chorus pedal) ....amp channel switcher, TC unit, and wah pedal....done. All the effects i could ever use right at my feet, with infinate tweakability to taylor my sounds and suit my playing and sound stylings. And this is all without even using any of the TC's built-in presets! Just pick an effect, hit the button, adjust the parameters to taste (easy to do!!), hit store, and yer done! Instant lush chorus for clean passages, pristine reverbs to go from small room reflection to huge stadium or cavernous air, great delay section for mr. pink-esque spacey stuff, nice modualtion block for tremelo or vibrato effects, and the "boost" button is a real bonus.....instant solo level!! Overall this TC Nova System is a HUGE winner in my book. Anyone looking to slim down their current floor setup, consolidate effects, or just utilize the BEST transparent and lush digital effects, should give this unit a try. And i can't wait to get it into the studio, where I am sure the TC will shine just as brightly as it does on my stage every weekend. For the price of half your current digital pedal array, you can step up to studio-quality guitar effects in a sturdy, compact, easy to use unit. 5 stars all the way for the TC Nova System!!
Best multi effects
The effects on this thing are amazing, but where it really shines is the OD section.
Yon can get a great variety of sounds, just have the patience to tweak.
It does not have a lot of gain, but it sounds very good.
Prestine effects, great overdrives.... and a user interface thats very simple and intuitive.

Cant go wrong with this.
The Mercedes Benz of Guitar Effects!!!
In a word, the Nova System from TC Electronic is without a doubt the Mercedes Benz of guitar effects. Totally unbeatable in quality, engineering, sound and value, the Nova System is a stellar performer both live and in the studio. It does not have a Wah effect, but guitarists usually pick their Wah weapon of choice as itís a matter of personal preference. In the truest of engineering traditions, what comes out of Germany is an exemplary example of top tier product and the Nova System is no exception. Online TC Electronic provides videos on how the unit works, and how to manipulate it! My Nova System replaces my Boss ME25 as the Boss failed a field test in a live situation. If youíre looking for a pro level industry recognized champion of tone the Nova System is the weapon of choice. The unit can operate in preset mode or pedal mode, and I prefer pedal mode as itís more efficient in over using a lot of memory space. I find I can cover 40 covers and 20 originals within my 3 banks of 3 presets each in a pedal configuration giving access to 8 effects in real time. In addition, thatís 24 total across 3 banks of 3 and the 4 bank patch 1 set to All Bypass. I recommend TC Electronic gear as a guitaristís main tool, and in my band we are TC Electronic across the board from bass, vocals, studio, and guitar! Get one today and achieve your vision!
GREAT Multi-FX
I have been a Pro musician for 40 (gasp!) years and have had every guitar-amp-fx known to man. The TC Nova System is by far the cleanest,mot natural sounding box I have ever used! The separate analogue stage for the over drive- distortion is a stroke of genius! The compact size is a real space saver for those small stages in some venues. I give this piece a big two thumbs up!! Thanks to Dustin at Sweetwater for the great service and prompt shipping!
Great quality and Convenient
I have had the Nova system for over a year now and have had no problems with it whatsoever. I have used Line 6 and TC electronic effects and i must say, the Nova's effects are more controllable and of higher quality than those in the Line 6 equivalent. The Nova's Intelli Pitch can be very useful to a lead guitar player who doesn't have anyone to play harmonies with them. It tracks and emulates my guitar's tone very well.
I am not a fan of using the overdrive and distortion on the Nova, but that is mainly because I have my sound dialed in on my amp. The Chorus sound great, and is one of my most used effects.
I run the Nova in the effects loop of my amp and use the midi out to take care of all the channel selecting for me. It saved me from having to play the tap dance game when I want multiple effects and a different channel all at once. I use the digitech FS3X foot switch with the Nova instead of the G Switch. I like the selectors on the digitech switch more because they are the same style as the Nova's and are smooth and quiet. It frees up three switches on the Nova and use them for their assigned effect.
The Nova System is a great investment for anyone who is trying get great quality effects without the tap dancing or cost that comes with a fleet of stomp boxes. I have no regrets purchasing the Nova System.
Magnificent Device
The unit is really clean and versatile. Although I haven't dropped it, it is built to take "road" punishment. I have no complaints about the unit. It sounds great.

The tech writer should be re-educated. Except for the pictures, the manual is pretty much useless.

I definitely would buy another if this one was "lost".
What a great pedal....just what he doc ordered
I am completely happy with my Nova System. I ordered it from Matt Adams and it was in hand 2 days later!!!! First, the reason I bought this is because I was tired of tap dancing for certain sections and I really love the idea of a multi-fx board. I have played all the usual suspects...podxt live, boss me-(insert #), guitar rig 3 with Rig Kontrol (Guitar rig is great on it's own but didn't serve me well with an amp for fx), etc. I liked somethings on certain boards but my biggest complaint was the god awful digital coating that always sucked the life out of my tone. I also had a tough time finding good compression pedals. I tried a ton and even modded two myself, but couldn't get what I was hearing in my head.

Now for some selling points....analog OD/dist. section that is only controlled digitally, soft switch footswitches, fairly easy to use but the manual is harder to navigate than the unit. You have to view the manual as a ballpark overview and fill in the blanks at times, but it's not that big of a deal. Also, the fx are oustanding. Full sounding, very tweakable but not some deep level editing nightmare. Delays are spot on and better than a dd6 and the analog delay sounds better than my Keeley modded AD9. Speaker sim allows to play without an amp on small gigs through my bose tower with EXCELLENT results. Also a great addition if my sometimes temperamental blackface super reverb decides to throw a fit.....I can at least make it through the gig.

Now for the biggest reason I love this pedal....and this was not why I bought it but has become why I will never get rid of this pedal.....The compression is VERY transparent and doesn't color your tone and squishes it just right with the right amount of squish. Totally tweakable but not 33 parameters...simple and effective. The OD is outstanding on this unit....sounds 9 out of 10 compared to my clark gainster. And finally, it is dead silent without the digital highend muck.

Sorry for jumping around on it's features....I could go on about the Nova system, but don't have time to write as much as I'd like.....do yourself a favor and try one. Don't pay attention to other folks' issues with the footswitched turning on when released and not pressed....it has made my switching more accurate.
Finally found my ideal setup!
I have been through so many different guitar rig setups it's not funny. With the new Nova as my main squeeze, this makes my 15th setup over the years. The only better setup I've had was the TC G-System. It was definitely the top-notch effects unit, but it's huge and super expensive. I had been using the POD X3 Live system before switching to the Nova. It was nice and definitely had all the bells-and-whistles, but editing and creating effects was a long process. You couldn't just tweak a sound - you had to spend TONS of time with the thing. Mind-you, i'm no novice when it comes to multi-fx pedals. Switching to the Nova was one of the best things I've ever done. The interface is relatively simple. If you've ever used a Boss or POD unit, the Nova will be like slicing butter with a warm knife. FX choices are simple and straight-forward, yet feature-filled enough to get a ton of great sounds. The chorus and reverbs are beautiful. The pitch is great, too. The drive circuit could use some heavier tones, but it's adequate and it sounds great. The distortions (rather than the overdrives) are better than other multi-fx units. It's warmer and isn't shrill like I usually find. I think I like the distortions better than the overdrives. BUT I rarely use it because I can now use my incredible Sansamp overdrive pedals in front of the Nova (input into the drive circuit input) and I have my sound back! I couldn't use those external pedals with the POD without it smashing the analogue sound into digital death. Digital effects are great, but with drives - you gotta have analogue. The Nova solved all my problems. I now have an easy-to-use multi-fx unit that works with my current pedals and sounds fantastic. 2 reasons why I only gave it a 4.5... it's not quite as plentiful as it's bigger brother the G-System (but MUCH more affordable). I don't think the G-System is work $1000 more. And the Nova could use a better array of output options. I would like to see XLR outputs so that I don't have to worry about direct boxes when playing live. I would also like a USB port so I can connect it up to my computer and edit fx through a computer interface like the G-System does. Another CTRL pedal jack would be helpful. I have an expression pedal on the current one using it as a volume, but I think i'd prefer a standalone volume pedal at the front and use that jack either for the G-Switch or use the expression pedal for reverb time. You also can't use the EQ if you have the speaker sim turned on. I've been using it with Speaker Sim on and it sounds great, so I haven't messed with the EQ, but I would like the option of having those separate.

Also, as a side-note, it sounds great with an acoustic. Last time I played live, I had to play acoustic for a couple of songs which I don't normally do. I didn't have a good patch for it, so I plugged in my acoustic, activated my Sansamp Bass DI that I have in front that I use for my acoustic, and made a patch on the Nova in under a minute with a compressor, a tasty reverb, and a pitch. Sounds awesome!

You will not be disappointed with this. I was tired of always battling to get a good sound on the POD. I wasn't playing as much as I was pressing buttons and turning knobs. It was actually starting to affect my ability to play. The Nova got rid of that issue and I've never felt as confident in playing as I do now. Thank you TC!!! God Bless
TC Electronic Nova System
I've had the nova system almost a month, and so far I like it. The nova system has great sounding chorus , delays and reverbs. The overdrives and distortion could use a little more character, but still sounds good. Right now I use it like a stomp box , although programming user banks is not that hard. The nova system is worth trying out, it holds a lot of tone. Thumbs Up ! To you guys at Sweetwater, you were very considerate and professional.
No more pedal dancing!
For me, the Nova System is a perfect fit and a perfect price. It's everything a guitar player needs without all of the ridiculous, absurd effects that come in other multi effects units. All I use with my Nova System is a volume pedal, external tuner, wah, Voodoo Lab Sparkle Drive (for just that little extra when you need it), and of course the G-Switch for easier switching. The only problem I have found is that the Nova System can be a little noisy. There's of course the natural hiss when you have a heavier OD or distortion on, but there's also a strange noise that it produces through a clean amp. All in all though, I love it. I went from all single effects to this and don't see myself going back anytime soon.
Like it, but manual is horrible
i have been playing with this thing for days now and although I enjoy it, I cant help but be a little frustrated with the absolutely horrible manual. Just figuring out how to switch from pedal mode to preset mode was near impossible! Operating it gets easier with a little help from YouTube as well as just trial and error. I am debating keeping this unit I will play with it for another few weeks and make my decision (got bless SW). As far as the effects, they sound pretty awesome and I like the layout of the unit. I also love that it is much smaller than most floor pedal boards.
Reasonable Compromise
Just got a Nova System. I'm not planning on going back anytime soon, but it's a compromise. All of the digifx are good, but not great. Compared with the TC Chorus, the Nova chorus is ok, but has phase issues. Compared with the BOSS flanger, the equivalent flanger is soso. Compared with the Phase 90, the phaser doesn't really have a lot of ballz.
But, I'm not going to trade mine in anytime soon. It seems to work pretty well for me and I don't have to worry about buffering (true bypass can be a tone sucker if you're not careful).
I'd recommend it for gigging musicians, but for recording there is nothing like analog. Give me crappy unreliable pedals for the sound, but please give me something that works every time for gigging.
Good pedal, not great, but it does the job.
Just not my cup of tea
After testing this pedal I have to say it is pretty good for a multi effects unit but there were some things I just did not care for. The reverbs and delays are quite good but the drive section just did not do it for me. It just did not seem very full and warm and at times seemed a bit harsh and a little noisy on my amp. The noise gate in my opinion was not great. The manual was not very well written in my opinion. I had high expectations for this but ended up returning it and I'm staying with my analog stomp box effects. Also it took me a lot of time and patience to tweak this thing. It might work great for others but it just was not right for me.
flaky
Pros
====
compact and easy to manage it is for the number of effects you get - a huge bonus for gigging.

I found it fairly easy to setup and store some really nice sounding patches. Some of the effects took patience to dial in just right, but no more so that the traditional chain of stomp boxes.

I like how durable the shell is. And a real power cable instead of a wall wart.


Cons
====
Every now and then it would die and not reboot. I found that if you unplugged it, waited for a while (5 to 10 minutes) and then plugged it back in it would boot again. So right from the start it was of questionable reliability and therefor I never felt that I could trust it to gig with.

And now it's completely dead (it won't boot at all) just a few months after buying it. I didn't even use it that heavily. Zero gigs and only periodic use at home.

Fortunately Sweetwater had a generous policy about warranty repairs, but even so - once it's fixed I'm not sure I'll be able to trust it for gigs.
Died after less than a year
This pedal sounded fine for the time I had it.

Unfortunately, that time was less than a year. The boost stopped working a few weeks ago, and last night, it wouldn't even power on. I play two or three nights a week, so I need something reliable, and this isn't it. I was always careful with it, but obviously not careful enough.

The analog overdrive was decent, and the digital multi-effects were pretty good. It was very convenient having everything I need in one pedal, including a good tuner with bypass.

If it's never going to leave the house, it may be fine, but it's just not rugged enough to take on the road.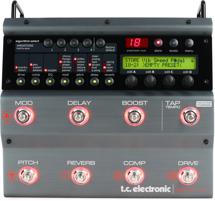 Guitar Effects Floor Processor with 8 Footswitches, Analog Effects, Digital Control, 30 Factory/60 User Presets, and 2 Footswitch Layouts