Sort By Date
Sort By Rating
Customer Reviews
Night Train, small sound
This amp sounds pretty decent with the controls set "just right", but not with any changes.
In the "fat" mode (switch) it is nasty overdrive... lacking much bottom end. I could find no useable adjustments in that mode.
In the bright mode, with the Treble turned full off, mids at 12 oclock and bass cranked, the amp sounds pretty good (Pentode mode) It would be a great recording amp with this setup, but dont expect it to be as loud as a Princeton Rev. or 5E3. Unlike a Fender mid control, this mid control seems to effect the upper mids rather than the lower punchy mids.
The transformers are large, but this thing isnt near as full or loud as my 2 x EL84 Ghia. I play some pretty low volume gigs, but this amp is not gig capable. No robust tone at all.
Great amp, great price; ride the Night Train to your favorite tunes.
Over the past decade, I have been moving down the wattage scale trying to find the perfect combination of tone and sustainable hearing. This is a great solution. This thing has a tone of versatile tone in an all tube configuration; and you don't have to injure your eardrums to get the tone you want, yet it's loud enough to gig with. Want clean; select the 15 watt triode position and adjust the gain down and volume up, and leave the bright/thick switch in the bright position. You want some serious dirt, try the triode position and crank up the gain.

So, while I love all of the tone options in this puppy, I could not give it a 5, but only a 4.5. This is because Vox should have put in a foot switch for the Pentode/Triode modes and the bright/thick switch. Since Sweetwater has these babies on sale for about 1/2 their normal price I bought two and an A/B switch and now I have the best of both worlds.
Amazing
This amp does it all. Cleanest cleans to amazing metal tone. I cannot believe how happy this all tube amp makes me!
At this price - GET TWO!
No reverb was almost a deal-breaker, but the cleans are so sweet and resonant you won't miss it. And yes, you might want to get two and run a stereo rig that can hang tough in a relatively large room. I already have another nice 15-watter, but if I didn't, I would seriously consider getting two. Standby switch is a great feature for such a small amp, and I'm using a 1x10 closed-back cabinet (Yes, you read that right) with a 60-watt Celestion G10 Vintage in it. MUCH louder and cleaner than I expected, and there are some great high-gain tones as well. Don't walk, run!
BIG SOUND!...small package(and price!)
I'm mainly a working bass player with a project studio. I play guitar occasionally in the studio. I wasn't really in the market for a guitar amp until I demo'd the NT15 at a local music store. I liked the sound but wasn't ready to shell out $400 for it. Shortly thereafter Sweetwater posted a deal that I couldn't pass up. I ordered it, plugged it into my 2-12 cab, and was immediately overwelmed by the power and sound of such a small amp! I've been playing alot more guitar lately and have been inspired to write/record several songs with this baby. It records wonderfully...way better than my Reverend Hellhound or Princeton Reverb. Nice warm tubey chime on bright 15 watt setting. Killer distortion on thick setting. Humbuckers, single coils, pedals all sound great through the NT15. I prefer a Mesa V-2 pedal up front but this amp does just fine on it's own. Any shortcomings i.e. no eq in the thick setting, no efx loop, no reverb can be easily overcome with a couple of good pedals. Still...BIG BANG FOR BUX!
Night Train 15 Watt Head
Great low watt amp for practice or playing in small setting or venue. Still pretty loud at the 15 watt setting. Excellent tones when you crank the volume, but not a high-gain metal sound. Need a pedal to get high-gain tones, however "thick" switch comes pretty close to a metal tone, gives a mid-scoop EQ and boost. Excellent buy for the money and gives some great tube tones.
Awesome Amp
The amp for the money is amazing. The clean sound is that beautiful cyrstal clear chime. The high gain sounds great with just running through the amp . It's plenty loud enough to cover most venues. The thick mode sounds really good , bypassing all of the EQ. Vox set the sweet spot. The bright mode give you control of the EQ to adjust to your own liking. The full and half power modes work great letting you chose from 7.5 watts to 15watts. I use a HD 500 pedal and it sounds grreat with the amp. Highly recommend this amp and Sweetwater
Night Train 15 = Awesome
I wanted a small amp head to be able to practice at home with. It sounds so great on either setting (15 or 7.5) and I love the thick option. The distortion is so thick and great.
Wow. VERY pleased
Arrived in 2 days well pacged. I plugged this in to a small cabinet with my Flying V and I didn't stop to catch my breath for an hour. Great mids, awesom British crunch- with a simple flick of a switch. Powerful. Crystal clear. This is a can't miss amp, and I've had plenty to compare this to! Solid as a rock.
Bang for the Buck
I've had this little amp for about a year now and have not been disappointed! I play it through a 4x12 8ohm cabinet and it is louder than I need it to be playing in a band. The natural distortion sounds great, although I typically run it just where it breaks up a little when playing hard, then use an overdrive to get my distortion. Buy it and you won't be disappointed either!
Vox Night Train
Nice little back-up amp. Has all the classic sweet overdrive of a Vox amp. Has a little Dr Z flavor to it, too.
Killer amp!
The vox night train is a killer amp. I am glad I jumped on this deal from Sweetwater when they had it advertised for such a low price. Winning!!
Sizzling Hot, especially for the money!
I have tried many amps, especially the Dr Z Maz 18 Head, and Mesa TransAtlantic 15. The Vox Night Train 15 (for recording; my only use) is by far the best. Wide range of tones; great overdrive, chime, clean. What you'd expect from a Vox. Save your money, get this one.
Take a Ride on the Night Train,
WOW-ZER, Love this little amp. cool Jazz Sounds, Great Rock Riffs, and Awesome Shredds. It does it all, and under one roof. I have it pulling a Mesa Boogie 1/12 EV Thiele. What a Combo, you can do any GIG anywhere. I pull out the Reverb Tanks out of my Amps because I do not use them. I use Hall Of fame or a Digiverb, and with this Amp, no worries, there is no on board Reverb, Great Idea VOX. The Tone variance on mine is supper. The Bright and Thick Switch, I would have called (Anorexic & Obese), it can go Crazy Thin to Big Band Fat. Love it,

John G. my Rep with Sweetwater is the one who filled me in on the details, and I was sold. Go John G,

Thanks Brother, Blessings,

Bobby
Vox Night Train - Instant classic with amazing versatility
The Vox Night Train is worth falling in love with! This thing has amazing versatility. Dialing in the right tone is seemingly effortless. The range goes from crystal to screaming with all of the stops in between. Hard to believe it is all packed in this little beast. The EL84 & 12AX7s were the right choice to give it the perfect tone. I've played the NT50 (which uses EL34s) as well and this one dials it in just right in comparison. The 15/7.5 Watt toggle is perfect for capturing the true range of the tubes. Vox really did their homework on the Night Train – Instant classic!
jimi says: yes!
Playing for 35 years and repairing amps for 15. Pros will love this amps light weight versatility. Humbuckers love the bright mode and strats love the thick mode. Easy! If you need a footswitch, go back to school. I've been playing this amp every day for over a year and I love it. I still own super and deluxe reverbs,marshalls and other vox amps but I keep asking myself why? Thanks Vox for the best.
Great for the price
For the money, you can't beat the overall tone and volume. For 15wtts if definitely punches. Only 4 stars because there is no footswitch, making it hard to take advantage of the beautiful clean and gritty thick distortion, simultaneously. changed out the original power and preamp tubes and it made a HUGE difference. Rounded, heavier sound but still has all the characteristics of that old fashion Brit VOX tone! If you're at the intermediate level and dont want to spend a lot for an all-tube head, this is PERFECT.
It may take a little time
Overall this is a very well built piece. Cosmetically you could'nt ask for a purdier, shiny amp. I'm sure no matter where you go you will find someone who will have a list of negatives to throw at it. The thick channel in my opinion leaves alot to be desired. Sure it has alot of gain but it is not properly controlled due to the E.Q. being bypassed. If this was not the case I believe it would recieve 4.5 from this humble reviewer. I have owned the Night Train now for almost two years and have just recently found my sweet-spot. I use the clean channel, which is very versitle by the way, and a pedal to get my dirt. I have not had the first issue with this amp other than struggling to find my sound, which is my problem not the amp. I will warn you that the treble should not be turned past noon if you don't want piercing, brittle highs. I have been told that changing the preamp tubes and altering the bright cap can help this but I personally haven't done this so I don't know. If your a hobby player like myself or if you gig; this amp may suit your preferences. It may take a little time to find your sound, but what the hell that's half the fun.
Great little amp
This thing is superb. It needs to be properly set up, though.

I've paired this with a 1x12 avatar cab with an alnico blue in it and it just sings. Even drove a 2x12 avatar cab with it last weekend and it was easily loud enough to be heard over a full band turned up loud at just half volume!! (running on pentode mode)

If you set it up right it gives you amazing flexibility at your guitar. I don't even use my distortion pedal anymore -- fiddling with volume and pickup selection is more than enough to dial in a whole range of tone (helped by the fact that my PRS custom 22 can play in both single coil and humbucking configurations.)

The bright channel is just that, bright -- and with the stock cabinet and a fender strat itll sound downright shrill. Most of the complaints I've heard say something to this effect, but set it up properly and mate it to a good, closed back cabinet and you're in business. If you want the great tone of a small wattage amp, are on a budget, but still need some serious volume, this thing will more than suffice. And my god does it sound good!

Wish it had an effects loop, or a channel selector pedal, but to be honest i don't miss either of them much. Reverb would be nice, but it wouldn't stop me from buying this again in a heartbeat.

I kept getting comments from the guys who ran our rehearsal space that they were upset they had just spent $800 on a new fender tube 2x12 after hearing my vox! And no one could believe it's size.
Sounds better than many similar, more expensive amps
I recently played this amp head to head (no pun intended) against a similar product in terms of the control and tube layout, and while the other head cost over 3 times as much, this head was FAR superior. This amp goes clean enough for Jazz and Funk, and overdriven, the distortion is punchy, crisp, and not at all muddy.
Night Train
I through one with an Yngwie Strat, and it really punched. Awesome tone for articulate picking and thick full-singing sustain; plugged straight in with no effects.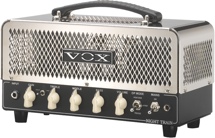 1-channel, 15-watt Tube Guitar Amplifier Head with Full- and Half-power Modes, Bright/Thick Switch, and Carrying Case