Sort By Date
Sort By Rating
Customer Reviews
fender mustang I 20 watt 1x8 combo amp
The amp sounds great for humbucking pickups and single coils also. The effects are great, i could not get a total clean sound. ( sound straight through the amp no effects) which could be due to no foot switch for the amp.Please advice me on behalf of this.All the effects were as advertised by fender. Great amp for recording or practice.
Impressive!
As a early intermediate this amp is simply stunning! Here are a few
reasons why I purchased this amp from Sweetwater;
1.) The Fender Fuse software is awesome. And, it's easy to install and use!. From clean to metal you have a multitude of presets and pedals to choose from. Plus the software is upgradeable. .
2.) Fender reliability.
3.) Sweetwater. Their sales department is top shelf. (Thanks Andy) With the best pricing, free shipping and several options to fund your purchase, why go anywhere else?
Perfect Starter/Practice Amp
Going down the checklist:

1) small: Check.
2) Inexpensive: Check.
3) Lots of tonal options (amps, effects, etc.) Check.
4) Loud when necessary: Check.
5) Sales and Support: Sweetwater, and Fender. Check.
6) Extra value bits (software): Check.

Perfect for those of us who like all sorts of different amp tones, and want to discover our perfect combination of amp and effects, and play with different effects without breaking the bank,

After researching various modeling amps, I decided on the Mustang. Sweetwater processed my order, and made sure I had everything I needed. The amp has worked perfectly. My computer didn't like the latest Fender Fuse software, but Fender support has worked with me to resolve any and all issues. Since the Mustang has a USB interface, it also provides a nice starter interface for using packages like Amplitube and Live 8 (both of which come with the product, in lite versions), instead of buying a separate guitar interface. Basically, Fender has gone a long way towards creating the ultimate "starter package" for a musician who wants to explore guitar, and computerized tools, plus a large community of people to draw on.

And of course, it sounds great, can crank enough to fill up my house and backyard, and it's built solid. All in all, I can't imagine how you'd come up with a better starter amp for the price.
Perfect amp for me!
This is the first amp I've ever owned & prob'ly the only amp I will own(at least 'til it quits).
As a beginner w/ little knowledge going in, I did a lot of research & asked my (seasoned)guitar buddies for advice & they all spoke highly I'd of the whole Mustang line. I'd always known of the Fender brand being top shelf stuff so I took the chance & got it, wow best choice I've made yet.
I really had no idea what to expect from a 20w amp, sound wise, but I was blown away when I first plugged in my Epi LP Jr & played a few chords. Plenty of power for my needs. I'm just starting out so I'm only playing in small areas(bedrooms, houses) & this amp fills the room w/ monster sound.
Also, love all the presets & possibilities w/ the Fuse Software.
I can't speak in detail about the tech's of it 'cause, like I said, I'm still learning.
Nice li'l compact size, doesn't take up much room at all.
If you're thinking of getting this amp, stop thinking & do it! Can't beat it for the price.
P.S.- Plus you get candy when you order from sweetwater, a win win.
Shout out to my personal sales egineer Ben Gilbert, great dude, has helped me a ton already.
Fender Mustang I
Graet amp and sound for the money, which they had this stuff when I was a kid.
really great!
i was able to find one of these amps for 75 euros second hand and am very, very satisfied. it came with no instructions but seems very easy to use straight away. i've figured out how to create sounds without consulting the manual and the presets sound great as-is too! i'd been looking for an amp that was uitable for apartment living and this fits the bill beyond perfectly. most practice amps these days are too loud. this one goes very quietly without sacrificing sound quality. with both a standard AND master volume you can get very good sound at a nice low volume.

strongly reccommended.
It's awesome! But wait there's more..!
Well, Right out of the box there's this wonderful looking amplifier. But wait! When you take out the amp from the cardboard box, there's free candy inside! And who doesn't love free candy?

The fender mustang 1 packs a bunch of features from wonderful Fender amp emulations and a vox, a marshall, and even a mesa! I don't know how good those are compared to real tube amps, but who cares? They sound awesome, and when you're looking for an amp to start off with, you want something that gives you authentic sweet responsive sounds and also some effects! Did i mention effects??? There are so many effects on this thing it's amazing! Phasers, Chorus, Reverb, Octaver, etc...

BUT WAIT THERE'S MORE!!! When you install the fender fuze software, connect your amp to your computer via USB and you mess around inside of Fuze just a little bit. Like 3 minutes. You find out, OH MY GOODNESS!!! There are overdrive and distortion effects in it as well!! You can only use one of those two pre amp, and another one post amp, but come on! ALL the effects you need for the amateur in ONE AMP for $110 Dollars??? In addition to that there is a full map of your effects chain, you can have up to 8, FREAKING EIGHT!!!! effects on one preset, and there are 32 presents. The description from fender, and the videos on youtube cannot do this powerhouse justice.

And for those of you looking for something that responds like a tube amp, but you're not a total nerd about it, this will do just fine. If you roll back the volume knob, even the marshal will clear up, but when you roll it back, it GAIN GALORE~~~

So My Verdict is:
If you want to spend less than 100 usd to buy an amp, spend the extra and buy this, it's super loud, super versatile, and has sweet effects.
AND it comes with Ableton Live 8 Lite--basically everything a beginning or even semi-pro guitar player needs to record his sick licks. Your Amp records your sounds via USB into Ableton, so it's only 1 conversion of data, analogue to digital directly.

SO Long Suckers, I'm going to Rock out on my Mustang 1!
A Serious Tone Beast!
For a small amp this is one tone Monster. At 20 Watts this amp is LOUD!! Small enough for me to carry a guitar in one hand and the amp in another. Great job from Fender!
Fender Mustang 1 Amp was excellent
The Fender Mustang 1 Amp was an excellent buy for me. It had enough power for what I needed it for and great quality with nice features.
My son loves it.
My son loves his new Fender Mustang amp. He is always playing on his guitar making new effect sounds.
Thank you
Best 100$ I've spent in years
It's truly amazing what this little amp can do. Highly recommend using the computer software, too - quite a bargain. Compared to when I bought my first amp - a Twin - in the sixties(!) the cost to versatility ratio of this little box is mind blowing.
Amazing Amp
This amp was amazing, great tone and a great set of built in effects. Another neat thing about this amp is you can record tracks directly to your computer with a usb cord.
The best $99 you'll ever spend!
This amp sounds really good!Would have been a great deal without the free software,but that just sweetens the deal.The fuse software is easy and cool.
Love my Fender Mustang 20
I've only had this little beaut for a few weeks, but I can't stop turnin' it on. I received a Cigar Box guitar (with a Gibson style humbucker) for Christmas and this little amp has every tone I could want and then some. I play the CBG mostly with a slide in open tunings and I can get Delta, Chicago, and too many types of distorted tones to list all by just using the presets that come installed. I haven't used the included software yet as I'm having too much fun as it is. The software gives you even more customization and access to lots of other players fav presets.

Sweet water was and is the most "happy customer" oriented company I have ever dealt with, and I've dealt with countless, both in business and personal transactions. They are almost over the top in their commitment to service. And they shipped this item very, very fast. I couldn't be happier and will look here first for any other items I might need in the future. A++++ recommendation on both the amp and Sweetwater.
Fits all my needs
As always my experience with Sweetwater was great. As far as my Mustang 1, it's been more than I expected. The Fuse software makes all the difference.

Having said all that, my next thing on my wish list is a Bronco 40. If the Mustang can make my Stratocaster sound so good, I can only imagine what the Bronco will do for my Precision and Jazz.

Another side note, the people at Fender are really stepping up with support of thes new products.

All in all, a fantastic discovery for me.

BUY IT!
Another great Fender Amp
I wanted a small practice amp with quality effects, clear sound and a good bite when needed. I'm glad to say this amp meets all my expectations and more. I want to say I'm surprised or blown away, yet I'm not really as I have come to expect this type of quality and inovation from Fender and as usual Fender has delivered. I have a Fender Twin Reverb and the Mustang I has become my go to amp. The possibilities seem endless, the volume level is actually more than I need. I think the Fender Mustang I is one of the best if not the best amp in this category. Try one and you won't have any regrets.
fastest43 love It
I already had a 20 and 40 i am not real techy ordered Epiphone Les Paul ll. Talking to one of sweetwater's knowlegeable sales person. I played a cd over the phone he told me what seting's to try it was spot on. I am just starting to play again after about 35 year's. Folk's it is not like riding a bicke. I am learning all over again. LET'S ROCK AND ROLL Anybody know shake rattle and roll. Put a spliter on cable and it DID GET LOUD!!!!!!!! OH YEAH loving every minute of it.
Excellent Amp
I purchased this amp along with my Strat HSS. I must say, I love this little amp. The effects that are built in are absolutely amazing. It has some of the best sound of any of the newer amps I have played on, and I have played on a lot of ampd. I haven't had a chance to try out the Fender software to download other effects for my Mustang, but rest assured, I will be checking that out as soon as I get a chance. buy it, you won't be dissapointed.
Omg I just got it and I love it like a woman
No static, sparkling cleans, nasty disgusting distortion, and customizable beyond belief. I mean it's ridiculous how great it sounds. It sounds even better than my guitar rig program. And that has a whole computer behind it! The possibilities are endless when it comes to tweaking your sound. Ugh, it makes my nipples hard when I plug in my iPod and jam along to some Fall Out Boy or Gym Class Heroes or some Slash. Buyer beware, if you buy this amp, you'll probably quit your job and neglect you children because you'll want to play through it ALL DAY LONG!!!
Worth every cent.......
You couldn,t ask for a better amp for the money. If you are a techy you will love this thing. And the customer service I recieved to get this buy Christmas was awsome.
In a word, amazing
just picked this up today; was gonna buy the fender frontman 25r but the guy steered me away from that one and pointed me in the right direction-towards the fender mustang 1. i don't even think it's possible to describe in words how awesome this amp is, but i'll try. fender pretty much took all the guesswork of getting the right tone out of this amp, because all the presets pretty much give you everything you could possibly need, from sparkling cleans to killer crunch. it gives amazing tube-like response for classic rock tones that i love, the reverb adds a nice touch to the sound, and the built-in tuner is especially handy. this is my second amp, and probly my last amp; it's got eveything any player needs.
My honest opinon
Just buy it.
Worth every penny.

Remember, it's 20 watts. If you want more, get the the Mustang 2.

It's just a tad bit digital sounding. but if you want the real sound of say a '65 twin reverb, then you have to be a real one. I doubt that anyone that's not a heavy fan of a specific amp would be able to tell the difference though.

This is a great way of learning what it is that you do or do not like in an amp, without having to actually buy them all. It's also a great practice or jamming amp.

But honestly, with everything that it does and everything that you get, why not buy it? You know you've spent more on a pedal!
Amazing value for the money
I agree with all the kudos of the prior reviews. I happened to wish that it had a 10" speaker rather than 8". I'd gladly pay more for the difference. It actually looks like some 10" speakers would fit, but that would invalidate the warranty. The headphone output with the speaker simulation is phenomenal. I used a pair of $300 595's and I was amazed at how good the various Fender amp emulations were. The ergonomics of adjusting effects by knob could be better, but that's what the USB port is for. Overall this is a benchmark for the $100 class.
Fender just knocked a home run...
I was very skeptical about these Mustang amps when I first saw them. I've never been a big fan of Fender's solid state offerings, especially on the smaller side of things.

I tried one of these, along with the Mustang II and was completely blown away. First thing that I noticed was that the controls for both amps are exactly the same. Same models, same effects, etc. So, if you just want the smaller model, you do not have to sacrifice features. And features this amp has! PLENTY of tone and volume. I cranked it all the way up, expecting it to sound horrible. To my surprise...it still sounded good! Love the effects, and there are other models that you can download from their website.

Very nice design, well built, but fairly lightweight. LOVE having the knobs on the front side of the amp. For $99....this amp kills anything in it's price range. Great job Fender!
Fender Mustang 1 review
$99.99?? you've got to be kidding. It's got all the details and bells and whistles people have been asking for, in fact I can't even imagine what else could be added to it. No, it's not a revised Frontman, and it even has a closed back to give you better bass response.I don't think a person could ever get bored with it, there's more you can do with it than any little combo on the market. It doesn't sound like a Marshall stack- but you know that if you're looking for a small combo.
Impressed
You know when you get a new gadget home, and after you have had time play with it , you are often disappointed. Not going to happen with this little amp. The volume and tone are truly amazing for it's size and cost, from metal to bluegrass it's gotcha covered. Strongly recomend to new guitarists, and any one else who can appreciate good sound without having to lug around a lot of heavy gear to get it.
Fender Mustang I Amp
Nice quality amp just right for my home use and practice. Well made and functions perfectly.
Loaded for bear; has all the bells and whistles
This unit has all the bells and whistles of many larger units. With personal headphone jack it is perfect is for practice or an intimate room performance. I love it!
More than I expected
I bought this amp based on the reviews, and I was not disappointed. It is a wonderful piece of equipment, well worth the price. I play mostly jazz and R&B, with the occasional soft rock thrown in. I have been using this amp for gigging...just put a Shure SM57 in front of it, it sounds wonderful...and I leave my pedals at home.
Great little amp
This is the best sounding practice amp. The amp modeling
is also pretty good for direct recording. Also the built-in effects are some of the best sounding ones I've heard. I especially like the delays and reverb. The Fuse software for editing presets works pretty good. Wish there were more user memory banks on the amp itself and a functional footswitch for switching tones. Great value for $99.
Most Fun You Can Have With Clothes On for $100
This little amp will ROCK! The presets are way cool out of the box and practically unlimited with the way they can be tweaked. It took me some studying to get the computer interface to work, but eventually I figured it out and achieving unbelievable effects through a selection of amps is unreal. I'd give this a perfect score if it weren't for the software challenges at first. In fact the recording software still eludes me. But the amp? Buy this thing! It's way fun for experimentation and serious for daily practice.
ok amp
There are not much of an instruction manual. So I am just useing basic controls. Hopefully I will learn how to manage it later. I am not crazy about all the settings for hard rock sounds that seems to just add alot of distortion.
Mustang I by Fender
Nice price, great sound, love the ability to tweak settings online and make any adjustments I want. I'm not that experienced with all the major brands, so I can't comment towards other tones and sounds, but I think this one is a great amp for the money.
Versatile and Powerful Little Amp
I run a music lesson studio and Rock Band program and these amps are great for everything we do. You can get a nice clean sound (Bassman or Twin) or you can get some crunch with the British and American channels. I use the presets for almost everything, but it is pretty simple to create some of your own "patches". All around, it's the best beginner or practice amp I have used and I now have 6 of these amps in the studio
Great little amp
This little amp is better than I thought it would be. I'ts great for practice and small one room gigs, like resturant parties. You can't beat the price!!
OldpickerArlTX
This little amp has so many settings and can get loud & proud!!!
Light weight, too!
Fender Mustang1
It is just what I wanted. It is loud and clear and very simple to operate.
I would recommend it to anyone. Sweetwater is a great company to buy from.
Look what $100 can get you!
Since moving into a new place with a garage, my wife had requested that I put all of my noise making (guitar) equipment into the garage to play, etc. It's been great to have a dedicated space where I can let rip, but I found that I was missing my bedroom/livingroom guitar playing time. So, I decided to purchase a cheapo practice amp for the house. I've played through a ton of other modelling amps and even had one of the really early Vox Valvetronix amps that I liked. I picked this because 90% of my favorite amp sounds are fender and this range has the best Fender sounds out of the competition that I've tried including the Peavey Vypyrs, Vox Valvetronix and Line 6 amps.

I'm shocked at what $100 can buy you. This thing has features up the wahzoo, some of which are great like the on board tuner and reverb/effects. Not to mention all of the amp models.

I think the features are both a blessing and a curse in that for me, I won't end up using a lot of the models on here. However, I absolutely LOVE the Twin model and the 59 bassman. I also like the Supersonic model. I'll probably use the other models rarely or never. Likewise, I probably won't use most of the effects, though I do like the reverb and delay options. Fortunately, the interface is super easy to work with and I don't feel burdened by the features.

The sound quality is frankly incredible for $100. I don't think that you could expect more out of a little practice amp and if you like Fender sounds, this is the one to pick. The 20 watt 1 x 8" version is more than powerful enough for what I need. I'm not using this to gig at all.
Heck of a Deal
For $99 bucks this thing is amazing. All you could ever ask for in a versatile little amp that does some great modeling. Check it out today!
Good... For What it is
I absoulutely love Fender products and currently own three strats and this amp. So it is very hard for me to put this review up but I would rather be helpful to fellow musician's than a company. SO here it goes- This is a good amp for what it is... a beginner's amp. I got this amp about a year after starting out and it was great... for about a year. I have had this amp for about 2 and 1/2 years and it is becoming rather annoying. The editing software is a plus. The tones are great for the price and it is lightweight. I would reccommend this for someone beggining or on a tight budget, but for a more skilled player i would just save up for something better.
Good heaphone practice amp...
To me these things never sound like real tube amps, so don't expect them to. I got it to practice at night without disturbing anyone, and it really excels at that, you can get decent volume in your headphones to make it loud enough to have fun, in fact it can turn up to be too loud which is what I wanted, nothing wimpy about it as a headphone amp. The modeling tones are ok, the presets are dumb but you can change them. The recording software is ridiculously complex and hard to figure out unless you already use that program, I gave up trying to figure it out. For $100 you can't go wrong, this is more a beginner's amp, I think. The modeling of the amps isn't good enough as using a real tube amp will ever be, so I sure wouldn't buy the more powerful version of this thing. Great practice amp, plug your iPod jam tracks into it and it works great and give you good sound for the music track so you can jam all nite without waking anyone up.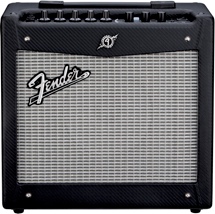 20-watt, 1 x 8" Combo Guitar Amplifier with Onboard Effects and USB for Effects Management and Recording