Sort By Date
Sort By Rating
Customer Reviews
grate deal better customer service
This product is perfect for.what Iuse it for. I originally ordered a different item and it was out of. Stock but there grate customer service rep call me to let me know it was out of stop and helped me pick this item.out that was better than the original item
Alesis Multimix 4 USB
It's a great product. It allows me to record guitar riffs for songwriting. I would recommend it to any songwriter at any level. You will be suprise with the quality.
I love this mixer!
With this mixer, I don't have to constantly plug and unplug the 1/8th" jack on the back of my iMac which had become intermittent at best. I can also plug my keyboard into it. It's easy to use and the sound is clean.
Big Bang In A Small Space
After giving all my bulky old midi gear to the kids so they could begin to learn the basics, I down sized to a better DAW, a better contoller, and lots more "soft" instruments. All I needed was something to aid in recording vox and guitar. Enter this little gem. If you are looking to make a big bang in a small space the Multimix 4 is a necessity!
Small Package, Big Bang
I have been looking for a tool like this. I needed something small that I can use with my home recording system and double in a live situation. I'm doing a small acoustic setup using my Peavey acoustic amp and patching the MultiMix into the Mic/Line input which gives me up to 4 channels thru the amp along with the guitar input. So in all, I have 5 channels in my amp. I'm doing a small acoustic gig and I wanted to use 2 mics and guitar and still have room for someone to plug in and jam. The amp has all the effects I need and I can literally walk in with everything in one trip. I'm also using a Digitech Vocalist for my main mic which really gives me a lot of sound in a small setup. All of this, because of the Alesis MultiMix4 made it possible....for $79.
Versatility on a budget
Cheap enough to be used for monitoring in non-critical areas such as conference rooms. Useful as an interface for instrumentals to computer recordings, although I would like to have had a better metering solution (but you do get what you pay for), it's a trade-off I accepted. I already have 2 in place and now, I'm considering getting a 3rd as a floater. So if I can figure out how to attach batteries to this...
Great Value!
Excellent quality - can't beat the price. Easy to use - 4 12 year olds mixed bass, drums, guitar, keyboard & vocals in a bedroom & came up with unbelievable good sound!
Alesis Multi-Mix x4
No more recording or playback bugs, plug in and play, great quality, good price. I am very happy with the Alesis multiMix 4. Thanks guys and Gals!
Exactly What I Expected
It works well and does everything I need it to do but I am a bit disappointed that there is no mid range control. Other than that, this little guy is a fantastic budget home studio interface.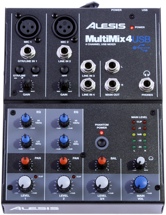 4-channel Desktop Mixer and Stereo 16-bit/44.1kHz USB Audio Interface with 2 XLR Microphone Preamplifiers with Selectable 48V Phantom Power, 4 x 1/4" Inputs, 2 x 1/4" Outputs, and 1 x 1/4" Headphone Output - Mac/PC