Sort By Date
Sort By Rating
Customer Reviews
I got lucky!
I have an old Ibanez RG-470 with a Roland Gk-3 pickup and I've been using it with the Roland VG-99 and the GR-20.
I play mostly with a christian worship band. As time passed I noticed I mostly play steel string and nylong string guitar with or without a combination of Bass on the lower two string or orchestra strings from the GR-20. Occasionally I play some mildly overdriven electric guitar. So, I decided to shop for a more acoustic looking guitar with the 13-pin connector. I decided for the Godin because of positive reviews on the Internet.
But at first I got very disappointed. None of my usual VG-99 patches sounded right. Not a problem with the GR-20, which is MIDI based. The steel string acoustic guitar patch on the VG-99 sounded completely off . No matter how much I tried to tweak it the sound was always of an nylon string guitar. I didn't realize how much the VG-99 is affected by the guitar's natural tone. The electric guitar patches also sounded funny, never like a strat of les paul, or any of the guitars. I thought of returning the guitar. I started searching for alternatives, and I saw the Roland GC-1, which is a classic stratocaster with the GK-3 pickup, but again, it doesn't look acoustic at all. Probably Roland fine tuned all the VG-99 patches with a stratocaster acoustic tone in mind. I could return the Multiac Nylon and get a Multiac steel or spectrum, but then I had this idea. The Godin's scale lengh is the same as the stratocaster, so I though maybe steel strings will help on the tone. I ordered strings with just about one pound more tension than the nylon strings, plain steel on the three treble strings and flatwounds on the lower three.
Miracle happens! The tones of the VG-99 factory presets sounded as realistic as never before. Better than with my Ibanez! I didn't have to tweak anything. The most notable difference was on the nylon string patches, they sounded perfect with no adjustments. (I had to tweak o lot with the Ibanez). Actually I'd say the nylon string guitar from the VG-99 now sounds equal or better than the Multiac with nylon strings!
Of course the Godin now sounds like a steel string guitar umplugged or using the 1/4" cable, but the tone is wonderful. Probably because of the much lower string tension compared to the acoustic steel string guitars (15 lbs as opposed to 25-30 lbs).
I think I got very lucky! The Mulitac Nylon SA with with electric guitar strings is the perfect match for the VG-99/GR20.
As a plus, I'm loving the 1 7/8" nut width. No more accidental string muting or buzzing.
Notes on the guitar with the original nylon strings.
It's not a Classical Guitar, so classical guitar players should stay away from this one. Unplugged the sound lacks the depth of a classical guitar. Through a PA with the 1/4" cable, there is a big change in tone for the lower three strings. It doesn't sound "nylon-ish" and adds an irritating buzz on those strings' attack, which doesn't happen umplugged (Actually that buzz disappeared when I switched to flatwound steels).
For anything, but a classical guitar concert, this guitar has is awesome. You can get that nice nylon string tone you here in pop, latino, flamenco, and Brazilian music (movie sound tracks too).
Amazing guitar
I love this guitar, I wanted one for for about ten yrs, now that I got one (about 10 months ago) I am blown away.

I have 3 electric guitars, 3 classical guitars, 2 flamenco guitars, 2 acoustic steel strings. Lately this is my favorite. I love the feel and playability of it, it is amazing. Unplugged it is a bit punchy, percussive and thin, sounds like a flamenco guitar. Plugged in you get the 3 band eq to shape the sound and give versatility .

If you are a classical guitar purist, then you will miss the fatness of notes played on a high end classical. IF you approach this as a unique instrument that sounds similar to but different from (not better or worse) a great classical guitar then you will be very satisfied.

Also I use the SA to control softsynths in my home studio. Very nice tracking once the guitar synth and software are set up to talk to each other correctly .

I have played nylon string for over 20 yrs and playing nylon string with a radiased neck is a really joy.

2 small complaints :
When unplugged I wish notes on the treble strings could be a bit fatter.

It is the heaviest nylon string guitar you will ever play. If you plan to play standing up make sure you invest in a nice padded and ergonomic guitar strap.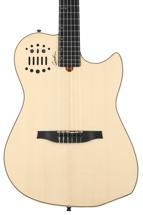 Nylon-string Acoustic-electric Guitar with Spruce Top, Mahogany Body and Neck, Ebony Fingerboard, and Onboard Transducer/ Synth Pickup System - Natural