Sort By Date
Sort By Rating
Customer Reviews
great stands
the perfect combination of stability and sound construction.
Standing Tall
The On-Stage SMS6000-P Studio Monitor Stands are great! They are tough, durable, and excellent for what I need. Because of the triangular base, the fit conveniently in the small amount of space I have in the front of the studio! Sweetwater expert Matt Adams referred me to these stands . His knowledge and professional courtesy is the reason I stay with Sweetwater Sound for all my audio needs!
Power Swithes On Back of Your Monitors?
Power Swithes On Back of Your Monitors? You can leave the height know loose and use the safety pip pin. So, you can easily rotate them each time to set your controls before powering on a keyboward etc. Well packed, easy to set up. Good Base. Best price on the web too.
Do what they are supposed to
I've had them for a few weeks now and they are great. The adjustable height is a good option that most more expansive models don't have. They also don't take too much space and are ideal for smaller studios. The only complaint I have is that the cable clips were in a bad shape and gave up easely, but it isn't a good enough reason to decide against buying this product. They are not the most stable things out there, but if you don't plan on having a football game in the studio there is nothing to worry about! You won't regret buying this item.
Like These Stands!
About 6 months ago I began looking for a nice pair of speaker stands for my Fostex near field monitors. I bought by mistake a lousey pair of stands not from SW. That will teach me! Anyway my recording buddy had a pair of these On-Stage SMS6000-P, and these are just wwhat I needed! Perfect! Very sturdy, adjustable...I could not be happier with these niice speaker stands! Thank you, SW!
Great Stands not just for Nearfield Monitors
Stands are very strong and easy to assemble I have KRK Rockit 5 monitors that I use on the stands.
Work perfectly - with 2 monitors on each stand
This does exactly what it should. On each monitor stand I have a KRK Rokit 10-3 (45 pounds) and a Alesis M1 active 620 (~20 pounds?) on top of the KRK (on Mopads).

The stands hold them without a problem. They were easy to setup and adjust.
solid as a rock
I bought a cheaper pair of stands that were useless, but these, man Id build a house on these! I have a piar of krk 8's on these and they are heavy....but I never worry about them...the have a choice of feet for carpet or wood, a huge plate to place your monitor on, a pad to help isolation, and a solid build...highly recommended
Great stands, Great price
I'm using these to hold a pair of Mackie 824's at 46" high. Works perfect for my needs. It is however, a controlled studio environment. Some weights placed on the bottom would be advisable if used someplace where any bumping is possible. Build quality is higher than I expected for the price, and Sweetwater always rocks.
Solid, stable, easy to adjust, quality metal
These things have been in my home and moved around a few times for about a year. The adjuster is solid, it has never slipped, even after I've twisted them to angle them towards me without loosening them. (That's probably not recommended, but it's as much abuse as I've put them through). Just in case, there are holes drilled through the top tube at regular intervals and a heavy pin hanging near the joint that goes through these holes. If the adjuster/clamp lets go, the pin will save your monitors from a nasty tumble.

I put Auralex pads on top of mine for additional audio isolation. These things are fantastic for use at home if you don't have room on your desk for your monitors.
Very Supportive
Robust, strong, heavy duty. Will withstand torture. Maybe not torture but everyday use on the road or in the studio without the worry of it falling apart and your speakers falling to the ground. Built to last and well made.
Work Great
Really Great product for the price.. A lot sturdier than I thought they would be actually. Only complaint is I wish they had better quality pads on the three corners on bottom.. They come with carpet spikes but mine are set up on hard floor and it only has the cheap feeling plastic stubs in there.. Not a deal breaker I believe but could be improved. I have Yamaha HS80M monitors on these which have a decent weight and I have absolutely no concern for these stands holding them. No rocking back and forth, holds firm.. adjustable height is a bonus too..
Great for the price!
I needed some stands for my BX5-D2s. Sweetwater had the best price of anyone online who had these in stock. Pair that with the free shipping, and I was sold! My Sales Engineer, Ryan, followed up a prompt email with a phone call, which I greatly appreciated. The stands arrived promptly, but one of the platforms was damaged. I emailed Ryan, and within half an hour, he was working on getting a replacement platform for me. It arrived in less than a week, and now I'm all set up.

The stands themselves are solid for the price. Assembly was easy, but there were no instructions included. I like the height adjustability. Since I'm using these on a carpeted floor, I put the carpet spikes in to level. The threading on two of the holes seemed to be the wrong pitch or something, but I was able to get the spikes screwed in with some vice grips. Not a huge deal, especially considering the low price.

I cannot say enough about Sweetwater's customer service. They provide, without question, the best service of anyone I've ordered online from, regardless of who inexpensive my purchase is.
Glad I got em'
Nice set of stands that I was able to assemble in 5 mins. I immediatley noticed the difference in my mix. I was able to dial in the vocals and it translated perfectly in the car and on other systems. This was an issue i was having a lot of trouble with before. These have me right in the sweetspot. Glad I got em'. I have a set of mopads on the way too. The reason i didnt give these a 5 is because the stands can be a little wobbley depending on how heavy your speakers are. I had to build up some confidence in them at 1st, but they hold up well.
On-Stage Studio Monitor Stand
For the price, these stands are very well built. I use them for my keyboard and can turn the speakers inward for an excellent sound,
Sweet stands!!
Very nice and good quality stands!! The best for the prince range!! Very strong and holds up to 90lb each!! Best of all, you can adjust to the height you want!! Very recommended!! =)
rock solid
excellent for the price


these are rock solid...i have krk 8s on them and these could take two on each stand if need be!

well built, a choice or rubber pads or rounded spikes takes care of the floor covering.

they have large flat bases with a rubber mat to help with isolation and big enough height flexibility to handle any desk or listening position


bargain
P-Studio On Stage Stands
These stands are great for my needs. Thanks to the staff at Sweetwater for helping me decide which pair of stands would best serve my needs!!!
On-Stage Stands SMS6000-P (pair)
I use these for my studio monitors and they're perfect for this purpose.
Great Monitor Stands
These On-Stage Monitor Stands work really well for our small studio. They're holding a pair of Mackie MR8 monitors sitting on Auralex MoPads. The stands are sturdy (even on carpet) - assembled very easily -- look great -- and it's a big plus to be able to adjust them to just the right height.
On-Stage Stands - Good Value
Good value for the money. Using with Dynaudio BM-15s, a heavy monitor.
One of the little plastic cord retainers broke off during assembly. Would be nice On-Stage sent some extras. Overall very pleased with my purchase. Dan at Sweetwater was very helpful
Solid...for the money, with a few flaws.
For the money these are hard to beat.

A few things that could be improved:

1. The cable clips come out too easily. Why not use a screw mount for them? Surely it would only cost a few bucks more.
2. The 'feet' on the bottom also come out to easily and have no height adjustment to compensate for floor unevenness. Again, screw mounts would fix that (which I did by re-tapping the hole and using some feet I found online).
3. The padding of the feet isn't enough for good isolation. Solved by putting some rubber padding on the new feet I installed.

Minor points, easily fixed, though it would be great to see these kinds of improvements in a newer version for a few bucks more...
Just want I wanted
Everything I needed, no damage in shipping and they work great.
close monitoring
They are perfect for close monitoring
They do the Job!
I would recommend these stands. They do what they're supposed to do - they hold speakers. They have a little bit of wobble on carpet, but are still pretty steady. These stands are also built well. I'd buy them again.
Better to hear you with
I know I should rate these 5 stars, but that's not my style; however I don't see how they could get much better? Definitely, these On-Stage Stands allow me to easily place my monitors for the most correct listening perspective! I thought they were easy to assemble, and the default height is the perfect level, when sitting in a standard office chair. I don't have any experience with them with the higher adjustments, but they should be alright; however at the highest height, depending on the weight of your speakers, they may be a little top heavy?
strong stands
these stands are great. plenty of adjustability , nice wide base for stability,and the plates at the top for holding monitors are the perfect size..only issue is the adjustable feet ..when removing the standard plastic flat feet and installing the pointed spikes that come with the stands you must be sure to remove any plastic that may still be on the threads in the base or you will strip the threads on the pointy spikes and or get them stuck..very hard to remove after....
Great, but no directions
Great, sturdy stands. I don't get why they wouldn't take the ten minutes to knock out a set of directions, but otherwise, you get what you're paying for.
Important for the Home Studio. (And the price is good, too!)
If you're putting together a home studio, you know there's a thousand things to buy. Thinking that they wouldn't make that much difference, I held off buying monitor stands until I had pretty much everything in place.

I was wrong.

It turns out that elevating speakers makes a huge difference in the sound. (Which, I realize, is why the pros do it. ;-).

So - if you've put together a home studio and you've put off buying monitor stands, buy these! They're reasonably well made (for the price) and hold my Mackie monitors well.
Not bad for the money
I purchased these to hold a pair of M-Audio BX8a Deluxes. They do the job just fine. They were not quite as solid as I would have like but once set up they are dong well. The height justifiability was a big factor in my decision and has afforded me a versatile set of stands.
Fair price.
They take a little work putting together since there are NO instructions included. That said, a lot of the height balance between the two towers may be dependent on that assembly, either that or mine came 'out-of-the-box' unleveled, very unleveled, like 4+ inches. Plus, you must tighten the top shelves, from the top center, which means without the speaker on it. This means that you have to adjust it the way you want it, hold it very still while removing speaker and then adjusting, which is nearly impossible to do with any accuracy.

However, overall, the build is solid, the triangle bases are great and fit into multiple setups, and tightening pegs seem to work well enough. I would value them about $20 cheaper than they are, but as it stands they're the best value available right now.
Handy Stands
Purchased two sets to support speakers in two different control rooms. They do exactly what we wanted them to do, and the "look" fits the design of the room....this is a much better alternative to wall mounting.

Now the downside: The stock rubber feet (required for this install are not adjustable, so we had to shim the bases to get the stands level. This is certainly not a deal-breaker, but adjustable rubber feet would have been a nice touch.
Little wobbly
Stands are ok, but a bit wobbly. Also, when assembled they are at different heights. Good for small budgets.
a bit wobbly
The base isn't quite wide enough, nor is the top plate. This is especially evident on a thick padded carpet. Probably best if the stands were pre mounted to a board
Not so much..
These are below average stands for a good price. They are a bit wobbly. I had major issues with knobs snapping. I cannot recommend this product unless it's quite literally all you can afford.
Pass these up, quality issues.
First, let me say Sweatwater is awesome and they take care of you with a problem...

... these stands being the problem.

It took 2 sets to get one working set. High quality metal, extremely poorly machined. The plastic bits are brittle and both sets came with broken plastic, damaged metal and I'm going to have to get a tap and die set to assemble the feet pegs correctly.

They are also a little wobbly, so good only for home studio use where you have no pets or children who will tip them over.

This will be the last On-Stage product I buy. But Sweetwater has my business forever. The quickly shipped replacements free of charge. I couldn't be happier with a company.

As for these stands - pass them up.
on stage stands
the stands are poorly constructed, and I would have a hard time even putting my computer speakers on the stands without having a nervous breakdown. they are unstable which would cause any speaker mounted it on them to move leading to an unreliable source for monitor mixing especially in smaller rooms where the sweet spot is so much smaller.
Quite disappointed
I had major issues with these stands. Screws stripping. Handles breaking. Incomplete packages from the company (they had to send me 4 stands in total for me to be able to have 2 working stands). I'm not sure what the issue was. "On-Stage" stuff is usually decent. This was a massive downfall though.

Wretched.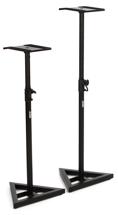 Adjustable Monitor Stands for Nearfield Monitors (pair) - 90 lbs. Weight Capacity (pr)