Sort By Date
Sort By Rating
Customer Reviews
Badass little amp!!!
I would never have thought you could get this type of tone from an amp this small. This thing is crazy good! Any tone I need is right there....and at any volume. I already own a Boogie 22 caliber, a couple of Line 6 amps, and Roland jazz chorus. This is my first Vox and it has made me a believer. Buy it. You will love it. Runs on batteries so you can take it anywhere. The effects are pretty good and the price is fantastic for what you get. Planning on using it for low volume/high gain guitar recording We'll see how it does but I expect to be VERY satisfied with the results.
We'll see!!
Great Little amp
Lots of amp choices, effects, gain, tone... has it all for a $99.00 amp. With the gain in the right place, and little bit of compression and delay, my Gretsch has lots of chime plus growl. Nice combo. Use it mic'ed for church gig and fills a medium size room. I recommend!
Great Little Amp
I bought this for home use when I want quick plug and play. I used to own Korg Pandora PX5D and I feel like this amp just used the same circuit board from that particular multi effects unit. Sound wise, pretty much all the amp models capture the "vibe" of individual characteristics. However, I would add that Vox did a bad job on their own AC15 and AC30 models; they sound thin to my ears. Overall the sound is good enough to keep you playing. It's good for practicing loud enough to jam with friends. One con is that mine has an awful hiss when turned on. Maybe I just got a lemon, but now since I've owned this more than a year, I don't notice the hiss because I got used to it. I would definitely recommend this to anyone looking for easy plug and play practice amp.
Great little amplifier with so many useful features.
Although it's small, portable, and can run on batteries, my new Mini 3 is everything I expected and more. It even comes with an external power supply, so I don't need to use batteries when I'm near an outlet.

I love the fact that it has so many useful effects that work well. but what sets this mini apart from all the rest, is the dedicated microphone input that has it's OWN reverb setting.

I really like this amp. It's great for when I just want to take it along for practice or even performing in an intimate setting.

Highly recommended!
Does the job
Its pretty good! I cant complain, it has a 4" speaker and puts out quite a decent sound. I bought mine to play in my backyard, we spend a lot of time by the pool and back deck. It works great and doesnt shake the neighbors foundation at the same time. I looked at getting the Orange as well, but this one just seemed to have more features and sound options.
almost--
It is small and portable -- nice for travel -ambidectric (AC/DC) The sound is just what you would expect from that small of cabinet -- The added models and effect are nice to have -- On certain models the sustain will noticeably fade out -- I just can't quite get the sound I want -- If you need a small unit -- it does a good job -- for the value and sound it's just OK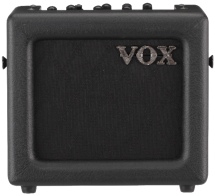 3W, 1 x 5" Combo Guitar Amplifier with 11 Amplifier Models and 8 Onboard Effects - Black