Sweetwater Advice
EVERY guitar player needs an Orange Micro Terror! Such a huge sound from a tiny package! Get it with the 1 x 8" speaker cab and you have an awesome practice amp and the headphone output enables you to jam late!! Perfect for the gigging musician as well as a perfect gift!
Sort By Date
Sort By Rating
Customer Reviews
Orange Micro Terror You can't go wrong!
This little thing rocks! Coupled with Orange's 8" cabinet I'm amazed at the volume available and the quality of the sound. The amp breaks up nicely at low volumes when you want to, the clean is excellent and it takes the few pedals I have very well too.

Just today added a second 8" Orange cabinet to make a pint sized full stack. Sounds even more amazing. So far I couldn't be happier with this setup.
Micro uary Terror
I ordered this little amp having played through one at a local store in my area. But got such a good deal on a demo model I got from Sweetwater.
I was not prepared how this thing could kick butt! I went to church and ran it through a 2 X "12" Orange Cabinet. Holy Wa! it was amazing how it filled the sanctuary with loud crunch and the tone was superb. CLeaned up it is just as sweet. If I had to take points away it is because there is quite a bit of noise coming from it. However once you are playing you can't tell. The thing weighs nothing so time will tell.
Kudos to Luke Herian and the folk @ Sweetwater. Unbelievably fast service. I like dealing with this store and the people there.I may update this review after time has passed.
One gain knob. One tone, and one volume one and of tons of tone clean or not. Get one of these. These are not toys they are the real deal.
An Honest To Goodness No Brainer
If you're a guitarist, there's really no reason not to have one of these (heck, get two). The amp gives you great detailed cleans and can easily drive up to searing lead tones. I love the simplicity of the controls and kind of makes you feel silly when you fiddle around with a multiband EQ on other amps. I have this little guy plugged into the Orange PPC112 and it drives it just fine. The micro terror can easily keep up with a full band in a practice or smaller venue setting. All this and I haven't even mentioned the extraordinary cool factor. When I first played it I had to laugh at just how amazing it was to have such a great sounding piece of gear in such a small package.

Also, huge props to Sweetwater for the top notch customers service and fast shipping.
Micro Kicks Fists!!
I cant believe how loud this thing is!!! clean sounds sweet & just crank the gain for rock heaven! hooked it up to a vintage Orange 4x12 & couldn't stop laughing at how rediculous this little thing is!!! seriously recording tracks with it! put a sm57 in the sweet spot of the little cab 7 it blows my mind! BUY IT!!! YOU WONT BELIEVE YOUR EARS: )
Micro Terror Rules
All I can say is wow. Don't let the 20 watt fool u. Had it playing threw 2 12 and it was great . Can't wait till the pc108 are back in stock going to get two and have a mini stack.
The Micro Terror is a HUGE MONSTER!!!
This little dude is a MONSTER amp... I have used it with a couple of different 2X12 cabs and a 4X12 and it truly captures that nice crunchy British sound. Definitely not a novelty piece. Plenty of power and can get loud. Wide range of tones and would be great to use for recording, jamming and with the right cab and mic, might just be a viable gigging choice. For the money, you really can't go wrong with this masterpiece from the good folks at ORANGE...
smaller than a lunchbox; bigger than you
I laughed when I unpacked it...so tiny...so harmless looking. I cried when I turned it up; so did my neighbors. Great tone at any volume, but *man* is this thing loud for its size!
Don't be fooled!
Don't be fooled! This little package will blow you away! Really good tones available, particullarly the distortion. This thing has a really good classic rock/early metal tone with the gain control maxed out (think AC/DC). The clean tone is nice but clearly this amp was designed to crank out the higher gain. And, for just 20 watts of power this little baby is loud. Sounds great through a 12" Celestian Vintage 30 speaker. All this for a buck and a half, man, you can go wrong.
Little Big Man
The Orange Micro Terror head is absolutely amazing. I use it to power an old Randall 1x12 Celestion cabinet. The sound is so BIG. I love it!
Fantastic Practice Amp
Completely blown away by the tone and power of this little amp. Perfect practice amp with the ability to listen through headphones and plug an MP3 player in to play along with another song or backing tracks. Highly recommended for anybody who wants to practice and has neighbors around or babies in the house.
4/12 or 2/12 great unbeleivable
recorded a grunge track so -so grungy that had to back down gain and NO pedals also very quiet clean also was dropped pretty hard off top of stack and didnt even bother it TUFF TUFF is the word.for the money its impossible to beat ROAD WORTHY NOW I WANT A TINY T- JUST ONE MORE SOUND IN MY COLOR TO MY STUDIO ALSO TRIED ON NORD MONO SOUND WORKS GREAT.
Absolutely Amazing!
Like most other reviews, I expected this to be a novelty type sound when I pulled it out of the box. Decent, but nothing near the experience I had once plugging it in. This thing sings! Amazing tone and extremely touch sensitive. Perfect for church services and small venue settings.
Best Deal Ever!!!
Don't underestimate this little amp. Not only does it sound great as an amp, it also does a very respectable job as a tube Preamp/Direct Box. I use mine twice a week on small gigs where I go direct to the board (Strat, pedalboard, Micro Terror, Mackie 1202VLZ, Crown power amp, and JBL MRX515's, almost all bought here at Sweetwater Sound). This rig is small, light weight, sets up fast, and works 100 days a year just on Tuesdays and Thursdays. I depend on the Micro Terror so much that I'm buying another just for a spare. This is the best deal for the money I've seen in years!
great little amp
The micro terror is so small I laughed when I got it. Boy was I blown away when I plugged it in. It had great tone and was plenty loud had nice orange sound. For 150 bucks I'm very happy with it.
Little box BIG tone
Given the price and size of this amp I wasnt expected to be blown away but WOW! Really solid build quality like all other orange products. The biggest surprise was the warm tone that this little head has and the distortion with pre amp tube break up is even better. Running it through a 212 cab for reference. Has a top of the line jj tube in the preamp. Oh almost forgot VERY LOUD through my cab.
Killer Little Amp
I bought this amp just to have a small portable amp that was easy to carry around. Well when i first got it and plugged it into my orange ppc112 cab I was completely blown away for how great it sounded. It has Killer Awesome Tone. It can have real clear cleans and it can also have some really great distortion. It is also Alot louder than anything that i had expected. I wouldnt be afraid to play out with it. Over all its just a Killer Little Amp. Great price for the Money.
Great Great head
this head has the Orange crunch tone people have been enjoying for years, great for classic rock, and now you have to spend huge money for great tone. BOTTOM LINE this amp is a VERY affordable amp if you are looking to switch from solid state to tube but want to keep it cheap and simple, great for your bed room, recording and small gigs
Sweet sounding little amp
Great nice classic sound. Very loud for its size. I am playing it through the little Orange single speaker cab. Guitar is a Fender USA Standard Strat.
Wow
Micro is right. This thing is way loud and has a good rock overdrive tone.
Micro Terror
This amp rocks! The youtube vids don't do this thing justice. I have run it through a 4x12, a 1x10, and used the headphone out through a pa and it sounds great through all. Its a hybrid, but you can get good tube sounds easily. Does cleans, dirty cleans, and classic rock sounds excellently. My only gripes are that the power cord is a little feeble looking and the head is super light so it is easy to accidentally fling it off of something (though it could sure take the abuse...it is built tough). This amp may look like a toy, but I assure you it is not! Now I'm just waiting to see if Orange will manufacture a Micro Dark Terror!
Sweet lil unit
The is a sweet little head. It was actually smaller than I originally envisioned. Was a little caught off guard by the external PSU. The fit and finish is excellent for the price. I have it matched with PPC108. As expected, it's missing some of the bottom end. It starts tapering off at about 200hz. Sound wise I put in between an AC30 and any of the many cheap entry level solid state amps. Portability is definately a plus.
Creates teh break up sound I want
The Orange Micro Terror was purchased for recording, I run the headphone output to the recording interface and it gives me the ability to dial in the gain and achieve those great sounds we all look for. I played a recording for my brother and he said the guitar track sounded awesome. Also works well as a practice head, I have played it live into the mixer board, an option for a back up amp through the borad if your gigging. I palyed it from start=> effects chain => Micro Terror and it works fine, an effects loop would be better but what do you want for the price? It's a nice add to your amp collection.
Orange Micro Terror
TONS of Tone! Runs one of my Hughes & Kettner 4X12's without even breathing hard, and sounds Great full-on Cranked.A little noisy with my pedal board in front of it and using the headphone out to my rack of QSC power amps, but my producer/engineer thinks we can quiet it down with a noise gate or supressor without losing the Amazing tone. As soon as I get it back from my girlfriend. She stole it for awhile. I have a feeling I'll be buying a couple more. For the money, you just can't beat the Micro. Well Done, Orange!
The Crush Crusher
If you go in expecting the world, you're going to be displeased. If you take it for what it is - a super cheap, super cool-looking hybrid - you will not be disappointed. Great sounds come from this amp. I'm playing through a closed back 112 with a vintage 30 and it is insanely loud and has nice warm, round tone. Buy one. Do it.

Only complaint is the headphone output sounds completely garbage, but I have no use for it anyhow. This amp is a winner.
Orange Micro Terror 20W Guitar Amplifier Head
Very impressed. Wanted big sound without the price tag, and Orange delivered. Setup: Jackson Custom Shop w EMG X, Marshall 412A slant cab, ART SGX LT effects processor, Orange Micro Terror Head. Opening the box I thought it was a joke, the size is absurdly small. Plugged it in, and fears were put to rest. Bright cleans with good depth, and super "dirty Ernie" crunch when you crank up the gain. Could easily be used to gig with. Would recommend to anybody who is tired of lugging around that huge, heavy, tolex covered head!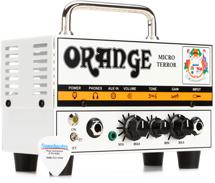 20W Guitar Amplifier Head with Tone Control, Headphone Output, Tube Preamp, 1/8" Aux Input, and Speaker Output