Sort By Date
Sort By Rating
Customer Reviews
Best compact synth for budgets
I have owned an MS2000B, a Novation Ultranova and a Mopho. I was somewhat disappointed by all except the mopho and ended up selling the other two after a month or two of use. I have a Nord Stage 2 and I have been looking for a synth to compliment the existing synth section (as sometimes I need up to three sounds at a time). So far I have been using the Mopho where possible for basses and leads but I wanted another VA to make some of the synth textures the NS2 has some problems recreating.

At first, I got it just for the fun of it but I was really expecting to be highly disappointing as the Novation Ultranova was.

But as quick as I played some of the presets I was WOWED with its EXCELLENT sound. Sure some of the presets are useless to me such as the dubstep ones. But if you are like me and use presets as some starting points then the advantage is that with it, you can load preset data from the MS2000, Microkorg and even patches from the original XL.

For those that say that VA sounds thin, that is not true in this case. the MK XL+ can sound extra fat and can also go the digital way. It is truly an extremely flexible synth.

But I have to advice against considering it for the "upgraded" vintage key sounds. Most of them are repeatable in the older XL. only the piano seems to be the only new thing, but it is very bad, although usable.

If you are looking for an affordable, compact and excellent sounding synth that is not monophonic, then look no further, this will not disappoint.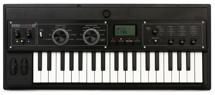 37-key 8-voice Synthesizer with 128 Sounds, 16-band Vocoder, Backlit LCD screen, USB Connection, Gooseneck Microphone, and 17 Effects Algorithms