Sort By Date
Sort By Rating
Customer Reviews
this mic is done right
nice heavy base , extends to put the mic close to the beater pad, fits nice even with a kick port.
Short, Simple, Perfect.
It's a mic stand. The joints hold well, the base is nicely weighted, and adjustments are a breeze. It's made of fairly sturdy material, so it's probably not going to break. I use it on a desk, and the added flexibility of a full mic-stand in the compact space is absolutely perfect. I can keep it in one place and put the mic wherever I need it without moving the stand at all. I suppose that's the goal of a mic-stand, keeping the mic where you need it. If that's the case, then this stand meets that standard quite well. Great buy.
Great little stand!
Works great, folds up nice and tight in my hardware box, I use a beta 52 on it and have NO Problems! A Big thumbs up!
Its a stand
The only actual complaint I have about this product is that when fully extended at certain angles it tends to fall over. Honestly if you need it for some crazy mic-ing position buy something heavier or add weight. For the price you cant beat it.
put this on a tripod
great stand for the price, though not a big fan of these weighted bases, they tend to be tipsy even with the weight directed in the right direction. Really only bought this for the 16" boom, would like to see Sweetwater offer a tripod stand with a 16" boom in this price range.
Cheap plastic parts
There are several cheap plastic components to this stand that break very easily. One of the plastic clips was even broken when the stand arrived at my door. I'm sure that Sweetwater will take care of replacing it, but this shouldn't have happened in the first place. The item was well packed, but the cheap plastic parts are bound to break easily.
Weighted base isn't heavy enough
I wanted this to record audio for online courseware. My current desk has a lip and I can no longer clamp the mic on. Well, if I put this where I want it, the Blue Snowball and windscreen is too heavy and pulls the whole thing over. So, I have to have it in my way in order to use it. I'm almost better off just using the original tiny stand the microphone came with, even though it's too short. :-(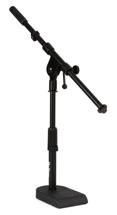 Short Mic Stand with 16" Boom and Compact Weighted Base - Black