Sort By Date
Sort By Rating
Customer Reviews
Lots Microphone.
Easy use and perfect of mic.
Very Nice
I have only used this a few times and I must say it is a very good plugin. If I knew how all the different real mics sounded, I would be more blown away with this plugin. People like me cannot afford to pay big bucks for the top mics, but we don't need to with items like this. So this comes close to what I can have. Thank you Sweetwater for carrying this product. And thank you Antares.
Got a poopy mic?
Give it a face lift with this product!
Had VO tracks that were recorded on a less flattering mic.
Now we have a really usable tube sound. Love it
cool!!
this is a really neat plugin. You can play around with allot of different sounding Microphones without the expense of having the physical microphone's.
The draw back is it only works in 32 bit mode with Logic 9, it works in a 64 bit session but you need to use the bridge software to convert it to 32 bit from 64 bit. works fine by using the bridge but, it would be nice to be in 64 bit !!!! I am sure it will be some day!
Mic Modeler fills a niche
The Mic Modeler does exactly what it says it does which can be a rare thing. When used on medium and lower quality mics, it can give the illusion of a much better frequency response. Certainly, it can't add detail that was not originally captured. With high quality mics, it allows the user to change the tonal characteristics (say for example from an Equitek 1000 to an RCA 44). That's pretty cool. It really shines with instruments taken direct where you can experiment with different settings to get the desired sound. My favorite is the Royer ribbon on a bass guitar. The model warms it up without being boomy and seems to do a better job than EQ at making a sound I like. The proximity controls may be a bit overstated but allow real control of the low end. It is important to set the input control correctly so the modeler can do its thing. Overall, a great tool in the arsenal that adds subtlety when correctly applied or really changes the sound if you recorded something with a U87 and model it down to an SM57.
Great addition to the toolbox
As a voice over artist the more tools you have in your toolbox the better. Usually, that term refers to your vocal abilities. The ability to perform different genres...such as character voices, narration, e-learning, impressions, etc. And also applies to your equipment...mics, recording software, music library, sfx, and plugins.
I first tried Antares Mic Modeler EFX as a trial, and soon realized it was a "Very Cool" tool to have. You literally have access to dozens of mics at your fingertips. Just lay down your track, and start mixing and matching until you find the perfect mic, sound, and/or effect your looking for. I've spent 6x the cost of this product on mics that just didn't fit me when I got them home. Now I have dozens of mics to choose from.
Budget Microphone Locker
The modeling options available on the Antares Mic Modeler are quite useful if you are operating with few mics from which to choose. I especially like the tube warmth available on many simulated models.
Decent enhancement
I can't say that I think it really makes a Shure SM58 sound like a U87, but it does add some color. I've recently used it on a TLM103 and it gives it some nice depth.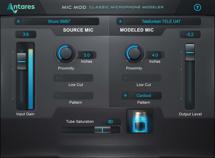 Microphone Modeling Effects Plug-in - RTAS, AU, and VST (Mac/PC) Electronic Delivery