Sort By Date
Sort By Rating
Customer Reviews
A Maschine Believer
I have been using Logic Pro with a controller and my Roland MC-909 for Years. Maschine has replaced them all as my go to Music Tool.
The sounds its comes with are Powerful and Clean. The controller is laid out perfectly in my opinion. The work flow is easy to follow. The pads feel Fabulous and Massive is Magnificent and FREE. Maschine is a musical Beast :-)
Blisters on me fingers!
First things first. I'd like to say that for anyone that has doubts about buying from Sweetwater...shut it. Their customer service is extraordinary!
Now for the review: This is a slight step up from the MK1 that I sold to get the new MK2 unit. White is nice if nothing else different however mine had some manufacturer blemishes of which "Team Awesome" were kind enough to replace. Performance: it does feel more responsive than the previous generation; the color coding helps with organization and performance with Ableton Live. I actually like the large multi-knob. Build: feels more substantial than the MK1; the custom plates are nice for a cosmetic touch. Software: a big improvement since v. 1.2, still some work to be done but you can definitely get your ideas out. The library can be a pain in the arse, it just need a little finesse with mapping. For VSTs you can go wrong pairing up with Komplete. By the way, use the voucher and get yourself an expansion pack.
All in all, I'm very satisfied. I've been practicing more often as I treat it like playing a game of Simon (if anyone remembers the kid game). If you're on the fence. One suggestion, get yourself a small factor midi keyboard such as Arturia's MiniLab which will be me next purchase.
-Thanks again Sweetwater & "Team Awesome"
What a power house!!!
I love synths and musical "toys" if you will, and this is like all of it rolled into one big happy interface. Easy to use after a short while of "whats this do?" and very easy setup. Midi out for keys is great and the pads feel amazing. I havent had it for too long but for the short while I have I must say Im blown away. WARNING: You WILL want to buy software for it once you acclimate yourself to it so get ready to drop some cash on this virtual addiction. Lastly if you have an iPhone, the iMaschine is 4.99 and is a %$#&ing powerhouse of an app that also works seamlessly with Maschine.
Changed My Workflow for the good!
I am late on the Maschine bandwagon but I am so glad I waited this long and got the Mk2. I wanted to use the unit for a month before I wrote the review to give it an full go.

To be honest, getting used to the workflow took a minute, but after thorough investigation of the manual, online videos and set-up guides for both Logic and Ableton Live, I have to say it's working better than I ever imagined.

Being a former studio engineer, I was forced to work with the MPC line for many years. This blows the MPC away as far as ease of use and getting something useful in minutes. The color pads are bright and very responsive to even the slightest touch. I don't miss having to look at my laptop constantly to see what's going on in a session. (Almost) every feature is available via the controller eliminating the computer screen. It is annoying that I have to use my laptop as a dongle now, but, Ce La Vie.

Integration with my DAWs is seamless and painless. One word on Ableton Live on Mac - your CPU will jump up to 70-80% (a known issue). The seamless integration with all NI products is also a HUGE plus and having every parameter available on the screen is fantastic. I literally have not opened an NI GUI in weeks!

Don't forget that this is also an amazing MIDI controller on it's own too and comes with templates for popular DAWs and Plugins. Again, great integration.

I can literally go on for days... Get it. You won't be disappointed!
Ultimate is Rock Love it
Machine is Machine no one come closer.I wish i purchase earlier.
MASCHINE SIMPLY WORKS
Ive been using hardware since 1983 and have owned some killer synths, drum machines, and samplers. I have always questioned the use of softsynths due to the confusing hardware requirements, longevity of the computer and just dumping a whole bunch of money into software which will be useless once the computer breaks.

Well, here I am at the recommendation of my Sweetwater salesman, (Greg Savino), with the Maschine MK II. The loading of the software was so easy that a dumb a_s like me loaded and was playing in approx. 10 minutes.

The Maschine hardware is very well built and it is like using a workstation rather than software. I'm basically doing everything from choosing sounds, sampling, and sequencing write out of the box using the Maschine itself, "not the mouse".

The sounds and drum patterns are awesome and very eassy to manipulate. The layout of the software is very easy to understand. By the way, I should tell you that I no longer use Cubase as my sequencer, I am currently using the Maschine Software as my DAW and understanding the parameters so much better than Cubase or Acid Pro 7.

In conclusion I would like to thank Greg Savino for recommending the Maschine MKII and just go out and buy the product to see for yourself. I can not say enough good about the Maschine..

Buy one now.
Nice Rainbow lights if you
Native Instruments has created a great and welcomed groove machine,, and have opened the door to hybrid music equipment. Combined with Native Instruments Komplete 8 it is a full package, without komplete is like having a cake without the icing, they go hand in hand. The Maschine
Hardware is decent but lacks sliders which I feel would have been nice, or more rotary knobs The interface browser is awesome, the sequencer work flow really needs to be revamped, its not my or many producers way of building a song. I know if Native Instruments would have combined Kore and Maschine as a standalone/ hybrid device with a better interface, more rotary knobs and a better sequencer they could have really taken over the market hands down.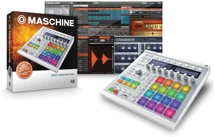 Groove Production Control Surface and Groove Production Software, with 6GB of Samples, and Full Version of Massive Software Synthesizer - White