Sort By Date
Sort By Rating
Customer Reviews
Mach v3
I was looking for something that would give me synth and sample sounds and this does it for me, i use it solo or in combination with several other plug ins. It's really awesome for the synth sound s
Such a value!
The piano samples alone are worth the selling price.
Finally I got some value out of my EmulatorX investment.
This thing is vast and well-design, well-recorded, well-implemented.
Essential.
MF3
Machfive 3 delivers big time!
like the interface / detest the instability
I really like MOTU. MachFive1 was a very good product and I used it for many years before it seemed to no longer hold its own with other sampler software. So, I was excited to see the early ads for MachFive3.

The interface in MachFive3 is very attractive and the workflow is (mostly) useful and/or intuitive. I really like it.

The included sample set is really just "examples" of what one can do with the interface. Some of these are well-done and useful samplesets, but others are pure throw-away (or not useful in any of the music production that I do, anyway).

However, worst of all on my system, in both standalone and RTAS plug-in, MF3 crashes almost routinely. The worst crashes are usually within 1-5 minutes of importing a foreign formatted sample setup.

If MOTU can make this sampler stable, 4-5 stars will be easy to achieve.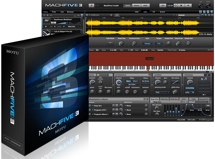 Sampler Plug-in with 45GB Sound Library, Universal Sample Support, 47 Built-in Effects, IRCAM Time and Pitch Technology, and Scripting - RTAS, AU, VST (Mac/PC)