Sort By Date
Sort By Rating
Customer Reviews
Pro Co MasterMIKE (20' with Switch)
The Pro Co MasterMIKE (20' with Switch) mic cable gives the talent immediate local control of the microphone's interface with the house sound reinforcement system. With the built-in on/off switch at the female XLR plug end of the mic cable, it's possible for the talent to turn off the mic for private discussions during a break while still wearing an ear-worn mic, or using it as an interrupt switch while coughing or clearing the throat.

During a recent all day meeting, the presenter used the switch around 40 times. While the On/Off switching is not totally silent, it works well without the high cost of a separate silent interrupt switch. The 20' cable length offers high value and efficient use also as a standard mic cable.
Don't go on stage without one
What more can I say?
A mic cable with a built-in switch. Essential when you need to tell your bass player to turn down without the entire club hearing you.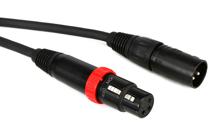 XLRF-XMRM Microphone Cable with Switch at Female End - 20'