Sort By Date
Sort By Rating
Customer Reviews
Love 'em
Filled mine with concrete mix (more dense/heavier than sand per volume). They're very stable, and mine had no cosmetic flaws.
It seems to be a dynaudio crowd in here...mine are supporting a pair of bm5a mkIIs. Imaging and clarity were markedly improved versus having them on a desk w/mopads.

A neat tip that makes angling your monitors easier (assuming you're using an equilateral triangle) :
Place the front and rear inner feet (the ones closest to the center line) of the stands in a straight line perpendicular to the wall behind them. Adjust your distances as necessary, and the end result will be that the stands are pointing right about where they should be (each at a 30 degree angle from the center line @ mix position).

As always, my Sweetwater guy Mac was awesome!
Excellent stands, in both quality and design
Very well made, and well designed. With or without filling with sand they are stable and solid. Filling with sand adds the right amount of centralized weight and deadening. They hold about 10 small drinking cups of sand each, I'm guessing 3-5 pounds worth.

Aside from some minor finishing defects on the back of one stand (the defects aren't very visible, but can felt and will grab cloth), they look great. Very "studio" in appearance. They are almost invisible in a way, both visually, and sonically. Strictly speaking, the height (with rubber feet) is about 1/4" to 1/2" taller than 36".

In use, they are proving to be exactly what I was after. I had looked at every other stand made, and decided on these over much more expensive stands. While made in China, the QC seems top notch, aside from the aforementioned cosmetic issue.

Assembly was simple and straightforward. They fit my Dynaudio BM6 monitors perfectly.
Amazing Stands
I have a unique home production studio and have went through many different stands trying to find the fit for me. These stands will go great in any circumstance. I HIGHLY suggest these.
Outstanding! Pun intended.
This is a sick pair of stands! Impressed by the construction. Using with a pair of Rokit powered 8's and they are well supported. No worries about tipping over. Balance is excellent.
Great product !!!
High quality and made of metal, not made of cheap wood like the others. Easy to assemble and great finish. Overall very high quality product. Guy Cefalu.
Great Solid Stands
Great stands for the price. Construction is solid. Finish is near perfect in all reguards. Went together in about 1/2 hour and i took my time.
Using with primacoustics pads - a bit of overkill but hey used to desk mount and i wasn't going to stop using them, i figues extra decoupling couldn't heart.
Image and sound is near perfect for my small mixing room. Clear and Crisp for my Dynaudio Bm6a's Base is super solid, image is deep very 3D. All the mud is gone focus, focus, focus.
solid
Solid stands for my focal cms 65`s. Sure you can build your own for cheaper but if you got the money buy it. All solid steel build and zero cheep workarounds. If you want to keep your speakers on a solid platform these are great and look very sleek.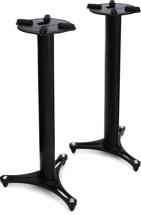 36" Studio Monitor Stands (pr) with decoupling pads and weight / cable management channels - Black