Sort By Date
Sort By Rating
Customer Reviews
Great little pedal
Awsome jam machine. I wanted something I could just throw in the case and go. It has fulfilled all my needs. I hook it up to a little Hughes & Ketner combo. I'm realy amazed at how good it sounds. For the price it can't be beat.
Bent on
Nice pedal with lots of options. Hard to figure out how to cycle through memory patches without reaching down & physically touching pedal. Therefore, I would not recommend it for gigs. Pretty fun to use at home.lllll
Loaded With Goodies
I needed a single guitar pedal that would do basic good effects, but was customizable. I do original stuff, so like to have my own sound. Also, I play solo and need light, compact equipment. I used to have a big pedal board, then a giant Line 6 pedalboard, but it was overkill for my needs.

This thing has all the sound I want; compression, reverb, delay, distortion, amp models, chorus, flanger, and lots more. Theres even a really good autowah. Funky!

If you want to get the most out of it, you really need to spend time with the manual. For example, you can set it up so that some effects are on all the time, but the footswitch toggles others. Or, you can set it up so the footswitch transitions through presets.

The main thing I wish it had was a jack and optional footswitch so you could control more stuff remotely without having to use the panel. Nice piece of kit though!!!

Highly recommended.
Zoom MS-50G multistomp
Man this pedal is the cat's meow! I just wanted it for a couple of effects and when I got this pedal it opened up all kinds of sounds.If you get to know the ins and outs of how to operate this pedal, which is simple once you read the manual, you will be on your way. btw. Sweetwater has great prices,customer sevice, and free shipping, that is why I buy all my stuff from them.
hmmm...well
you know..It is good,however,the manual was a little hard to understand.It was not Japanese but...The sounds are good..maybe i am just too old school..
Pretty neat
I've had this pedal for about a month now and, even though I'm not using it as I expected to, I'm really happy with it. Overall I think most of the effects sound pretty good, as do some of the OD's and amp models as well but I'm not actually using them. I get my tones and FX from a Vox TonelabLE into a really clean-sounding Ampeg VT-22 and, to my ears, most of the Vox stuff sounds better than their Zoom counterparts, through my amp anyway. That said, I'm loving the 6-band EQ (in conjunction with my Boss GE-7), plus the noise gate on this thing is killer! Set correctly it cuts off all sound as soon as I mute my strings (no matter how high my volume or gain) but sustained notes, feedback and even digital delay repeats trails don't trigger the gate at all. It's extremely sensitive but doesn't interfere with my playing at all, would be perfect for metal bands with alot of fast, stop/start breaks. It's actually quite a bit more sensitive than my Boss NS-2 and has replaced that pedal in my pedalboard, much to my surprise. I'm also very happy with the unit's compressor when using clean tones. I may end up using more of the effects eventually but even if not I figure 100 bucks for a good noise-gate, EQ and compressor is a bargain any way you cut it.
My First Pedal
I like this pedal a whole lot. The only problem is that i had never really used an effects pedal and had a little bit of trouble figuring it out. But if you are a beginner it has really good sound. Also, it uses up the batteries faster then i would like. Thanks sweetwater!
Great LITTLE Pedal!
I was looking to buy a tuner and decided for the same price, and size, to try the MS-50G. I was pleasantly suprised at how good it sounds. It's a great swiss army knife for me because I'm constantly changing my setup. Highly recommended!
Solo gig? Get it!
Playing mostly solo gigs, I'm always looking to haul less gear. I wanted something to run into my looper and then straight to the board, with acoustic or electric guitar and this is exactly what I needed. A few settings for the Ovation acoustic and a few settings for the Ibanez, and I've got it covered. I'm going to give this a shot set up the same way with the 3 piece combo I'm part of.
I'm very tempted to give it 5 stars. If it had come with a power supply, I would have.
And for the money? C'mon, man! The Tubescreamer emulation alone is worth what I paid for it. No brainer. Not a steep learning curve, either. By the way, Sweetwater customer service is the best. Thanks!
No Pedalboard Needed With This Pedal!
Right now this has to be the most useful pedal anywhere. It has all the effects and amp simulations anyone would ever need in one pedal. With up to 6 effects in any order you would choose also makes this useful for experimenting new sounds. Why lug around a pedalboard when you only need one pedal? As a bonus, the sounds are really good. They also make a "iStomp" type pedal that costs more and has bluetooth which has downloadable (pricey) patches. But this has everything as far as I'm concerned.
I'd buy it again.
This is a great pedal and worth the price. Through my 61 year old eyes, I wish there was a way the display....specifically in tuner mode, could be made easier to read. I'm 6' 6" tall and it's a long way from my eyes to the stage floor. That's my only nitpick in that regard. As others have said, the included manual is a joke given it's magnifying glass needed to read size. I downloaded my own and increased the size. One other nitpick is that the AC adaptor was not included. To Sweetwater's credit, they knocked a few $ of the optional adaptor. Other than that...the sounds are great and the selective scroll feature between favorite effects is almost priceless. I'd recommend this to anyone wanting an all in one pedal.
Zoom MS-50G MultiStomp
Lots of effects that are very distinctive. Good Auto Wah and compression effects. Decent Tuner. Well built and batteries do last a while. I got the AC adapter though so I do not have to worry about batteries. I would give it a 5 for functionality versus price but I only gave it a 4 because the documentation is very bad. You basically got to figure this thing out by trial and error.
makes my cheap guitar sound better !
first time I bought one so still learning how to use it. So far I likie it alot it is easy to use.I wish I would have got the AC adapter to go with it might get that on next order.
Excellent Gift
Got this for my daughter for Christmas. She loves it. Versatile. User friendly -- she's still a beginner.
Zoom MS-50G
Lots of cool sounds and ability to create awesome new ones with the different effects. You can even move the order of the effects chain to create different textures to the effect selected. Bit of a learning curve to really using this baby to its full capacity. Only major bummer-no way to hit the effect off when playing live. The footswiitch only turns a particular effect parameter off or switches up and down between different built-in ones. Way to get by this is to use a line selector pedal such as one made by Boss.
Last pedal I'm going to need for a long time
I bought the MS-50G because I wanted to keep my board to no more than six pedals. The other five are my favorites (reverb, delay, overdrives) and the 50G was supposed to cover everything else. And it does! It serves as my tuner, all modulations, noise gate, and some special combinations of effects. All models sound great, the Uni-vibe is one of the best, and there is plenty of storage. My only gripe is that there is no rotary speaker model. But for $99, this is really the most valuable pedal I have.
For a small box a lot of bang!
Do have huge pedals and rack mount effects as well. But do not want to be taken over by them. This is perfect for not spending so much time and playing the guitar which is the important part.
Very High quality spec's. The zoom company knows bandwidth and high fidelity so this is clean and does not ruin your guitars basic tone going into it. Rugged and can you say VALUE! Knew you could A+++++
Great pedal
One thing to establish first is that this is more than just a single pedal. It can be set up that way but it is also capable of being like an effects processor. The effects are great and the unit is quiet. One cool feature is that you can set it up to turn off or on a single effect in a chain when not set up in the A/B mode. Having said that - this thing has an A/B mode which lets you set up two complete presets and switch between them. I know I'm rambling but the set up possibilities are very good and USEABLE with this unit. Thanks ZOOM and Sweetwater!
Buy It
Ok campers, I reasearched this thing to death and got a feeling for what it can do and what I was looking for. I'm constantly doing smalls gigs and I've been trying to put together the ultimate gig rig. Well, I think I've done it.

I ordered the pedal from Sweetwater on Wed. morning and had it before 10:30 am the next....Cool.....I tore into it and started messing around ....out of the box....it rocks....it just takes time to figure out a couple things, but once you do, man you own it. I took it to an open mic tonight matched it with my Rivera Clubster25 and Parker Deluxe. What a combination...
I set this thing up with a Delay setting, T Screamer and Stereo Chorus...that is the basis of my sound...and I toggled thru those....this thing killed......this is a very versatile pedal and I will get a lot of use out it and for the money you can't go wrong.....My only compaint?.....the manual sucks.....it's too small to read. My other compliant? I wish the screen could have color options....other than that..folks....buy it.....
A Great Pedal
This pedal is great. I am in a working band that plays everything from oldies, classic rock, and todays hits. This pedal is very versatile. It takes a few hours to get the hang of the programming aspect but once you do you will have the ability to program sound patches that you can use for your musical needs. You can then cycle 26 created and/or preset patches at your command. You can set them up in any order and cycle through them with your feet while you gig. The patch combinations are limitless. It is well worth the money. The other guitar player in my band is now planning to get this pedal. It is on my pedal board as the wild card pedal. It also has USB connectivity so you can update the firmware and maybe future preset patches when available.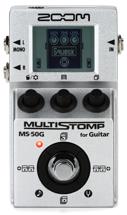 Multi-effects Guitar Pedal with Amp Modeling, Stompbox and Studio Effects, Built-in Tuner, with Large LCD Display