Sort By Date
Sort By Rating
Customer Reviews
Church 102
This equipment is so amazing! With this product we can do everything. Eevrybody needs to know how great this product is. Robert at Sweetwater is the best advisor and best a customer can have. I had issues and I was not satified with how the other sale people handled me, but thank God for Robert Johnson! He made doing business at Sweetwater a need.
All PREFERNCE!!!
For someone whom has never put their hands on an MPC could feel right at home on this machine. The more experienced MPC user will feel as if they are right at home. Akai put all of the details and nuances of classic Akai MPC's in a digital space. No one after putting their hands on one can speak otherwise. As the updates keep flowing the machine will only get better and progress further beyond what old MPC are capable of. You can't understand the plight of MPC user unless you are one. The nostalgic feeling we get when creating on this classic piece is indescribable. "MASCHINE is not better, just different!" All preference, Akai is not better just different. Both units I own, and they both serve their purpose in my studio/club dj environment. Don't get caught up in the hype of which is better make your own decision based on YOUR OWN OPINION. My opinion is that Akai really delivered after a slew of disappointing products. Renaissance is simply amazing to me.
WHAT NI WAS TRYING TO BUILD
For starters this is a great interface ,and maschine is ok but the whole 16-Pad Sample idea came from the mpc so why not go with the original.
Bout Time
Been using MPC's since they came out,... that means I'm old. I still have everyone that I purchased. I moved to the NI Maschine and just got comfy with it, but truly hated the work flow. Now,... I'M BAAAAaaak cause this piece is the truth. The workflow, the non-stop action while creating grooves and the ability to record/sample right into the piece, without having another interface to do so. These three areas are what makes me happy again!!
Meet the MPC King!
This is the MPC I have been waiting for a very long time. I had an MPC 2000 when that was new, then went the way of software and controllers and never felt satisfied. Finally, tried the MPC 5000, while that was a great machine, the PC interface workflow was less than great. Then came Maschine, that seemed to be the holy grail, but the workflow was not like the MPC, not as intuitive, too many key combos to remember. The MPC Renaissance finally delivers what I had been waiting for. MPC workflow with perfect PC/Mac integration. The VST control mapping works great, the touch sensitive rotary controllers are amazing for mutes, and the lights around the controllers are super quick as you page through parameters. The build is solid, the pads with the lights really help with real time editing (erase etc) and pad assignment. The only thing I think is missing is rewire support. But I am guessing that may be in a future release. Plus the included Akai VSTs are a nice plus.
Mpc Renaissance
I pre-ordered the MPC Renaissace in advance when it first premiered, so when it finally made it into sweetwater I had it before some people my sweetwater sales rep Matt Adams made sure of that, so with that being said when the MPC Renaissace arrived and I took it out the box I most say it had a solid feel and build of great quality, it didnt have that feel or build as if it has a toy from Toys R Us and alot of you Native Instruments Maschine users arnt going to like what I have to say, but its the truth and I'm only being honest, but the look , feel and build of the MPC Renaissace is better then the Native Instruments Maschine and that goes for the new Maschine 2 as well, and as matter of fact it isnt even on the same level as far as the build and looks because the MPC Renaissace looks amazing in the studio to the point of me maybe buying another one.LOL
Working with the Akai Professional MPC Renaissance
I love the easy work flow it has allowed me to create music faster and easy to load and save my songs. The best hardware and software system ever.
Living in the past
Chopping on the renaissance is stone age, compared to the maschine, and slicer x. Organizing your sample Library is also non in void on this mpc. The Sequencer is Amazing, but over all maschine is better hands down.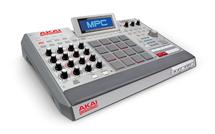 Complete Groove Production Hardware Control Surface, Audio Interface, and Software System, with 6GB+ Sound Library, and VST/AU Plug-in Support