Sweetwater Advice
Listen to some of your favourite records, the MD 421 was probably there in the studio, helping the masters make history, on toms, guitar, and bass cabinets. Able to withstand the levels and pressures of nearly any musical source, in the studio and on the road they are built to perform. The MD 421 II is a go-to mic and one that you need in your collection if you are recording bands and instruments.

If you're not using the Sennheiser MD 421 II when mic'ing toms, why not?? Seriously, it is THE mic to use.
The MD 421 is THE mic for getting a professional sound out of tom toms. It is also at home delivering warm, rich tones on guitar and bass amps. The mic itself is built like a tank, and is more than capable of withstanding the tortures of energetic drummers and the distress of life on the road. The only downside is that once you own one MD-421 you will want to get a couple more.
Sort By Date
Sort By Rating
Customer Reviews
Great for brass!
I've spent most of my time using this mic for recording the trombone. It's a dynamic mic, but the output is not too low. I do however suggest something like a FetHead if you're not using a preamp with a fair amount of clean gain.
BEST TOM MIC
I can not tell you how many times we tried something new for our drums and every time we end up with a set of these in the booth. This may seem very old school but we have not found any mics that can out perform the 421's on toms.
A tom to be reckoned with
There is a reason these are the industry standard for tom drums in pro studios...they sound really darn amazing on toms....or for that matter, anything you might need a dynamic mic for. 5 stars all the way! I was trying to record with my live kit (Sennheiser e600 series) and the toms were just thin and dead. Swapped my e604 mics out for 5 MD421 II mics and was blown away So much depth...just amazing.
Simply the best dynamic mic out there
These mis are so fantastic (and well-loved) that they really shouldn't even need reviews at this point. This is THE mic for toms. It makes them sound very punchy in a very good way and really captures the depth thanks to its superb bass response. It also sounds absolutely perfect on guitar cabs, whether by itself or combined with a Shure SM57. Once you've used this mic just once, you'll know exactly why everyone loves this mic. If you can't make it sound good, then you probably forgot to plug it in. The ONLY minor disappointment with this mic is it's mic clip, which could be easily broken if a stand is knocked over. It's never happened to me, but it could so I figured I'd mention it. Besides, they do make shockmounts for it if you want one. Either way, it's no reason to not buy this mic. It simply rules above all other dynamics.
Fantastic Microphone!
This is a great mic! i use it on toms and guitar cabs. I love its sound. they are built tough too. I have several dents in mine and it works flawlessly. the clip on it sucks, but that doesnt take away from the value of the mic.
I love my 421!
This is my first choice dynamic every time. It sounds great on anything you put it in front of. And, it's a tough trooper. I bought mine used, very used. It has dents in the grill, the black paint on the grill has almost completely flaked off, and part of the body is cracked to the point that I had to super-glue the mount to the mic (I recommend you just go ahead and glue the mount into place. The mounting method is the one thing that bothers me about this mic. Just ask anybody who has used one; they'll tell you the mount isn't very good). But even with all of that abuse, it sounds great. SM 57 letting you down? Use the 421. I still use 57's, but that's out of necessity, not choice.

I have two complaints about this mic: the mount system, and that I only own one.
THE Tom Mic
This has become my GO-TO tom mic. Seriously, it just sounds amazing. It's got the depth and punch of certain condensers, but is built like a 57--strong and durable! Now, it might confuse you that the body is made of plastic, but don't take this lightly...it's heavy duty and will last you a long time.

Sounds great on toms, as well as guitar amps, bass amps, kick drum, and even vocals (usually screaming / intense / loud vocals).
A must have!
I bought two of these for toms and guitar amps - It performs spectacularly on those sources as others have mentioned, especially on floor toms. A great alternative or complement (amps) to the 57. Don't get rid of your 57s, just have one of these handy in case you're looking for more body, or something different (better?).

It also makes a great mic for male vocals and bass cabs. In fact, it regular wins as "the mic" in shootouts for male vocals.

I just wish I had 3, or 4, or 5 of them.....
Correcting a previous entry
The 421 is the most amazing tom mic i've ever heard. Even better, they're durable, portable, and flexible ...but i wouldn't recommend using them for vocals. Cedric from the mars volta is an amazing vocalist, and i too noticed him using a sennheiser 421 lately, and it seemed really strange to me. upon delving into the subject a little more... i discovered it is actually a Audix om6 in the 421's casing.
A Exellent Mic, one of my favorites!!!
Used in studios all around the globe. From tracking everything snare, toms, Guitars cabs ect.This baby can hold a good fair amount of SPL so figure out. Good for some foley work. Also great for wind instruments Sax, Trumpets etc. I highly recommend this Mic.
awesome mic
This mic is awesome! It's great that it has a high SPL handling because I've been recording brass instruments with it. I compared the recordings of the brass instruments with this mic to recordings of brass with an AKG Perception 200 and an sm57. There was no comparison. The 421 brings any and every recording to life and gives it the brilliance you're looking for. Its also very versatile and can used to record many different kinds of instruments. If you're considering this mic, you shouldn't hesitate, just buy it!
My go-to dynamic mic
This is without a doubt my favorite dynamic mic. It sounds great on acoustics, electrics, vocals, toms, etc. The five way bass rolloff really lets you tailor the sound for your needs. It has a nice presence and articulation, and the ability to roll off the lows really helps get great tones out of normally boomy instruments. I have rarely found a dynamic that I like on acoustic guitar, but this one really shines in that capacity. You need to get this mic. You won't be disappointed.
Best dynamic mic purchase I've made.
I usually record with alot of condesers and ribbons, but after picking up the 421 and making the rounds with it.....wow. Most dynamic mics just sound to muddy and in need of eq(for my tastes). This mic makes the sm57 sound like a toy. I love the crisp highs that you get from it that normally aren't found in dynamics. Get yourself one or five of these....your recordings are asking for it.
Believe it or not, kick drum.
I replaced an audix D6 with a 421 for my kick IN track, then brought the D6 about 2 feet in front of the head for my kick OUT track. The 'clicky' sound I was hunting for in my kick (I record punk and hardcore) was instanly realized. Not only that, but a couple days later I talked to an assistant at The Blasting Room, and he said that Comeback Kid's 'Wake The Dead' album (engineered by Jason Livermore) used a 421 on their kick drum as well. Those drums sound amazing. This mic belongs in everyone's mic vault, and you can probably get rid of your SM57s and Audix i5s as well.
Strong mic
I work on a University Event Producing crew as the resident sound junkie. We have 3 of these and somehow, everyone on the crew got it in their heads that "we use those mics for brass." They are great for brass, but they're also great for toms, snares, guitar cabs (particularly bright ones), bass cabs, ride cymbals, and as I recently discovered, kick. (I threw a BETA91 in the shell and put this at a 45 degree angle on the beater from inside the drum. 91 gave me the boom, 421 gave me the punch) really, just a quality piece of gear. The clip is different, but I actually kinda like it
Get some, you'll need them!!
These mics are definitely handy for anything from guitar cabs, to bass cabs.. but where they really shine is in their standard position on a tom mic! They also work particularly well as a secondary kick drum mic..
I've used these many times, and I keep coming back to them because the transient response is so superb!
Great mic, awful clip
This mic is great. Amazing on toms and i usually pair it up with a sennheiser e602 on bass cabs. Just be warned, however, the mic clip on this is terrible. The mic comes off the clip with the touch of a button...which sounds cool until you just barely tap the button with your finger when your adjusting the mic and it goes crashing to the floor. Seriously, it takes almost nothing to disconnect it. I suggest if you buy one of these, do yourself a favor and tape the clip to the mic.
Sounds Nice Live
I just saw The Mars Volta @ the Ventura Theater last night, and Cedric was using the 421 for lead vocals. You might want to experiment with placing a fan in front of the 421 while singing, like he did.
A Dynamic Mic That sounds close to a condensor mic
I have used the 421 on drums when I was a drummer, then I became a radio announcer and used it at the station. Then a voice-over artist in L.A. This mic is absolutely fantastic for the price. On Toms, it's the king. For broadcasting, it's much crisper than the EV RE 20. For voice-overs, if you don't have a booth, it's the dynamic version of the industry standard VO mic Sennheiser 416. Very forgiving with outside noise. I use it when teaching voice-overs on location. Buy One! The clip? Oh well. Be careful with it or get the shock mount.
Money well Spent.
Its a very good mic in its own right, but its real value is in replacing the SM-57 as a second mic in a dual-mic recording setup. Paired with a royer 121, it gives a glorious tone to hard to capture metal guitar rigs. With a bass & DI, its a fine arrangement for getting your sound. The good thing is you won't need to spend too much for a slight return. The down side is that the case is PLASTIC! As is the mount! How lame is that! Also there isn't much too much info except a diagram to explain the 5-position bass roll -off switch. Even that matter what S or M stand for exactly. seemed best starting out in the middle position for guitars & Bass. Overall a great sound in a cheaply constructed unit. But the More expensive version with a metal case doesn't seem to be much of a deal. Still having said that, I will be buying a few more.....
Great?
Great mic, amazing sound, great for everything from guitars to TOMS, horns, some woodwinds, really versatile. Only problem, the worst clip of all time in my opinion, it's not that safe, it breaks, it gets loose, in our university, one fell really bad, nothing happened to it besides damaging the shield, but, another one got it's clip broken, its, not so good, shame on such a great mic.
an old trick that still delivers
Pair the 421 with an equally tough-as-nails SM-57 on guitar cabs. Both mic's can handle the SPL's. Their different sonic characteristics compliment each other. You'll be amazed at the ease of dialing in that 'just right' electric guitar sound.
421>57
If you want to put an sm57 on something, but you want it to sound good, get a 421.
Another workhorse
The 421 is a workhorse in my studio and in tons of others. It's built like a tank, even with the 421 II's new plastic body rather than the older metal. It's 5 position bass roll-off is handy. The 421 can be great for toms, snares, guitar cabs and rotating speakers. Great on bass cabs along with a D112 (my preference). High SPL capacity so it can handle kicks and bass amps and close micing horns. I don't like the design of the mic clip, however. It is latching, and the release is just where most fingers land when grasping, so care must be taken when positioning the mic (dumb).
Great Mike
I first used the MD 421 when I was an announcer for KVIL in Dallas in the 70's. I still use it for voiceover work. It is a real classic!
Tried and True 421
This mic has been around a while. I remember seeing it in a 'movie' (You know, before videos) from "the Who". It's been re-worked to eliminate more modern problems like proximity to your computer and monitor as the 421 II. Radio announcers still use it extensively for spoken word, and we use em' in the studio for guitar cabinets, tom, and kick drum.
Why the 421 is amazing
This microphone blew my mind. If you're a electric guitarist looking for a dynamic microphone that gives sweet, warm, buttery sound (as opposed to bright and thin) this is the mic for you. I came to this conclusion while close micing a Fender Twin Reverb a few inches from the cone and slightly off axis. A/B'd against SM-57 and several high dollar microphones at various distances there was no comparison in terms of a single mic choice.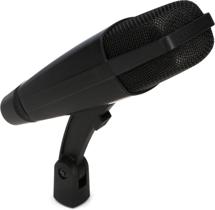 Dynamic Cardioid Microphone with High SPL Capacity and 5-Position Bass Roll-Off Switch