Sweetwater Advice
No digital studio should be without a great control surface and the Mackie Control series delivers! The motorized faders feel great, the LED strip is bright and easily readable, and all the functions map themselves quickly and intuitively to your DAW of choice.
The Mackie Control is the perfect extension for Logic Pro Users or any other DAW users ready to take that step in to tactile surface control. It looks cool, too.
Sort By Date
Sort By Rating
Customer Reviews
I have all the control universal pro series
Simple, heavy-duty , original, best original protocol made by mackie.
I can put as many extender units as i want making it a big console.
plug and play, and this new alps faders are excellent. The look, the sizes and the feel of the units are just perfect

I have used the euphonix/avid artist mix series, they are made of plastic and the protocol is very unstable, and don't really look like a console.
Rocks My Socks
After having used the Behringer BCF2000 and dealing with the terrible issue of getting it set up with FL Studio I decided to bite the bullet and go for the model it was emulating.

This controller has got it down in all the right places. The build quality is top notch, the fader action is smooth, quiet, responsive and accurate. The display and LED VPots are awesome, and all of the transport controls and function buttons make it a breeze to navigate with.

FL Studio users, if you've been looking for a control surface for mixing and general use look no further. This is a beast.

Now, to get some expansion modules...
Great DAW Controller!
MCU Pro, very nice controller! I'm using Sonar X1 Producer and the instillation was simple and easy. The moment that you connect the MCU Pro, the drivers are found and in a matter of a couple of minutes your controlling your projects! The operation of the board is smooth, and intuitive, the jog wheel is weighted and has a great feel as you work your way around the song to multiple locations. I've used a few other DAW controllers, Tascam, Alesis, Avid and the MCU is a wonderful tool, I have a friend that uses an SSL mid-priced board and he was blown away of the operation of the MCU! Also the people at Sweetwater are great!! Very helpful professionals Overall very impressive DAW Controller..
Paradigm shift
As I started my studies of music production at our local community college, my fellow students and I were taught signal flow, tracking and mixdown on a 24 track board. When I commenced building my home studio, funds were tight and I reasoned I could mix "in the box" for a while and see how things progressed. I produced about 80 tracks then was able to get the MCU Pro. What a paradigm shift! The "hands on" feel of working with a board plus the wonderful DAW control has boosted my production tremendously. This definitely was the missing link in my studio that ties it all together for me and facilitates a professional workflow. Most heartily recommended.
It's everything I hoped it would be!
This thing is just awesome! I began recording on Roland VS recorders back in the early 2000's and got used to having hands-on access to faders, transport buttons etc. When I opened my studio, I switched to a PC and Cubase 5. I went a full year using nothing but a mouse and keyboard to control my DAW, but finally I couldn't take it any longer and bought the MCU Pro. I was suprised by how heavy this unit is, and it seems very solid and well-built. The buttons and faders are very sensitive and accurate. There's no lag whatsoever. Another plus is that there are no drivers to install. This unit is "plug and play". All I had to do was connect the MCU to my computer using the included USB cable, then in Cubase: select the preconfigured Mackie MCU MIDI controller option under MIDI devices, and voila!! I LOVE how the track names, parameters, plug-in settings and more can all be clearly displayed on the LCD "scribble strip" and tweaked using the rotary knobs. It makes life alot easier when mixing large projects. The included button overlays for all major brands of DAW software is a very cool addition. All I can say is that the MCU Pro IS all it's cracked up to be.
The perfect bridge between old school engineers and new school technology
After about 10 years out of the game I decided to get back in to recording, albit on a smaller scale. I realized that a lot has changed over the years, but this thing makes me feel right back at home. The layout of this unit is perfect to how I would set up my stuff and it integrates flawlessly with Logic 9. I haven't used it with PT yet as I'm not a big fan since Avid took over, but I'm sure it works just as great with that. This really is the perfect bridge between user and computer, especially for an old school guy like me.
Awesome Control Surface
I just replaced an M-Audio Project Mix with this and a Focusrite Liquid Saffire 56. As a control surface this puts the M-Audio to shame. It setup seemlessly, has way better control over Pro Tools (odd since M-Audio and Pro Tools are both Avid Products, but whatever), much clearer LCD and much more of a quality feel, over all. It's pretty much pre-configured, I haven't had to adjust anything yet, it just knows how to work in Pro Tools 9, right out of the box. I'll be recommending this to anyone looking for a Control Surface.
The Best!
I've been working with the Mackie Universal Pro for the past 3 years with 2 Extender Pro's to give me 24 faders. Since I'm already used to working with mixers and faders, I just can't work without faders for setting up my tracks and final mixdown. I also have to say that I can't imagine working with anything else. I've only used it with Logic Pro 8, but I know that it does work well with Cubase. It's very reliable and very well built. It not only "looks" serious, but IS a serious tool for Daw recording. The motorized faders, jog wheel, and transport buttons work flawlessly. If your budget will not permit you to purchase any Extender's, don't worry, this will still make working with your DAW a WHOLE lot easier.
Amazing features and DAW options.
This thing blows the competition out of the water. Supports many programs unlike the Digi products. Superb control features that are extremely intuitive with your favorite DAW software. Doesn't get much better than this! The faders feel great and are very sensitive to your touch great for writing automation on your DAW software. Mix like a PRO!
FINALLY I HAVE FOUND WHAT I AM LOOKING FOR
I've tried Command 8, the old Mackie HUI and that's about it. My school has a collection of the Artist Mix control surfaces however I've read the reviews (not good), furthermore EUCON as far as I know is really not proven to be as efficient as advertised - this may be premature but where is the data concerning EUCON as far as its quality? HUI protocol is the standard and it has been around for a long time for a reason - it works. Previously I was going to settle for a Command 8 however I just didn't care for it and the reasons are not worth mentioning. Suffice to say I took the plunge into the newest of Mackie's control surfaces the Universal Pro.
First off, it took me about 4 hours to figure out how to actually get it working (i did not know that pressing the select keys on channels 1 and 2 when turning it on will allow it to switch from HUI, Logic or Mackie mode - who would have thought? - forums are very helpful :)). Well after a bunch of let downs and an almost fatalistic approach thinking that I will ditch this entirely....I just managed (i'm not smart enough to do it purposely) to get my peripherials menu on PT set up right and FINALLY when I created a track the fader jumped up and the record enable was on. Now if you have any trouble with the HUI settings, just remember forget the MIDI I/O use USB to connect to the computer. Hold down the before mentioned buttons when turning the control surface on switch to HUI. Make sure the peripherials menu is set up right and you should be good to go.

I may not be the person to judge control surfaces having used only a few (the original mackie hui, command 8 and I think that's it) nevertheless, I know good gear when I see it and this is a keeper.
Perfect
This is what I've been needing to complete my home studio. The only thing I've encountered is the backlight went out for about five days, but its back on now. Other than that this is a great control surface.
Mackie Control Universal Pro
This unit is great! I had a problem at first for while getting it to sync with logic... after hours of trying to figure it out, I realized that I can't have the Maschine (Native Instruments) component file in the components file and run the maschine plug in in logic.... Now it works perfect.... It's the best bang for your buck.... Really well constructed... great feeling faders. All the shortcuts right at your finger tips....
Mackie Control Universal Pro is GREAT!!!!
This unit is awesome!! I was blown away by how good this thing looks. The online pics don't do it justice. Getting it setup was a little confusing because the quick start guide isn't written for any particular software because it works with so many. The key is to go to the website of your software manufacturer and download their info. I'm running Cubase and they had a complete pdf showing you how to get Cubase to recognize the Mackie Control.

This is where the fun started. This surface is the ultimate controller. Quick and responsive to all the software parameters. You are truly working as a pro with this board. Even my Waves plugins were mapped so the Mackie controls the settings. Forget about a mouse and keyboard, the custom overlay shows you what buttons control which functions.

The Mackie control does not disapoint. My sweetwater rep was great!! He followed up with me to make sure the unit had arrived and was working properly. I've ordered 2 extenders to add to the main unit.

The only con (and this is minor) is that the levels don't show signal strength, it's all one color.

I recommend this board for anyone running a major software program.
Mackie Gets it Right!
I've been a "user" since the HUI days, and having this much control over Logic, PT, FCP and all my other apps on the same unit, in an all-metal chassis -AND with the now-weighted jog wheel- is certainly an above average experience at the price. Direct USB connection and built-in MIDI hub... using the jog wheel for color correction in FCP...

No other company works with as many apps, as far as I'm aware, and that's exactly what I needed in my home studio.

Just wanted to give kudos where kudos were due!
A Significant Improvement Over Mouse Usage in Software DAWS
The MCUP is a welcome addition to my manipulation and work with DP solely because it obviates the repetitive cursor movements that I had to perform with trackpad or mouse controllers. It works very well and is highly responsive, but is not perfect. There are at least three significant issues for me.
1. Some of the buttons should be programmable in order to be more specific to click/selection moves that specific individuals may often perform/prefer.
2. It was difficult to get anyone, Mackie or MOTU, to own up to what took place in the evolution of this product wherein a toggle feature in earlier versions, such that the rewind and fast-forward buttons could either trigger slow or fast (full) rewind to a marker or song beginning, was eliminated, leaving FAST rewind not available for DP - at least that's what both companies implied, though neither seemed to recall or understand my point. Instead one has to use the tiny button forward of the rewind button to accomplish a fast rewind. That's a major flaw in my view, and there should be a patch initiated to remedy it.
3. The well-meant 'intelligence' in the track name transfer to the MCUP track display window is a loser. If one has only four or some minimum of characters in the title they are faithfully transferred. After that there is a vowel-usage/elimination logic that is counter-intuitive. I'd say it's ok for some, but others, like me, should have the option of toggling the 'intelligence' off, forcing each character, including spaces, to be accepted until the field is full rather than attempting to compress the titles used. Lastly, in this regard of space utilization, there appears to be another 'line' available to allow twice as many characters to be displayed per fader, however, that area is not availed. Assuming that line is available, the code is not that tricky to write - give it to us and make this product a 5.0.
Not bad at all
It didn't work as advertised. The "USB only" thing just didn't work for me so I had to connect the midi cables as well and then it worked + out of the box, I had to do some major work to get it to work with Logic. With Ableton, it worked like a charm. All good now.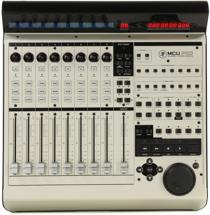 Expandable Control Surface with Nine Motorized Faders, Eight V-Pots, Over 50 Buttons, and USB