Sort By Date
Sort By Rating
Customer Reviews
Nothing short of amazing
I have played through more wah pedals than I count over the years. I had some vintage Vox and Dunlop wah's as well. However, I still kept searching for that sweet spot. I love this wah pedal. This is hands down the best wah pedal I have ever owned. I love the sweet, smooth, and mellow sweep pattern I get out of this pedal.

The search has ended for me and I have finally found MY wah pedal. I highly suggest this to anyone tired of the endless cycle of searching for that ultimate wah tone. You will not be disappointed.
Amazingly clear Wah!
All I can say bad about this pedal is the charging input, because I have angled cables, and most people won't even have that problem. Easy on/off button press, smooth pedal movement, great boost, LED's are very useful. This wah does not sound nasally at all, and the side buttons are easy to push with your foot (even the boost knob isn't difficult to turn). The yellow/orange mode sound is like a crybaby, and handles the higher frequencies. the other mode is almost the same, but the lower frequencies are brought out a lot more. I haven't even adjusted the inner knobs yet. This is most definitely worth its price.
Wow
Been thru lots of wah's for a long time, love this one because its voiced right for my needs(JCM 900) also its loud enough!!! The boost is a great feature. I last owned a Clyde Deluxe also cool but more Vox sounding.-better for Fender/Country? I considered the EVH (great too) but went with the CAE for the boost. Great for the Money! Can't believe Im finally happy with my wah sound because Im super picky!!!
FINALLY AFTER $2000. SEARCH FOR THE PERFECT WAH(S)!!!
You name any boutique level wah, and I've probably owned it. I received this New pedal in usual "Sweetwater" fashion (2 days) with the expert assistance from sales engineer, Ron D.
I just finished my 3rd "session" in 2 days with it.
The first time, yesterday, the wah was honestly "so, so."
The second time, last night, I began using the input level knob and the thing turned into the sweetest, most versatile wah that would no doubt, satisfy any tone hound like myself.
But this morning (DAY 2) I dialed in/clicked in the best Hendrix wah tones I've ever heard/owned! Phenomenal!! It interacts with no noise with my other true-bypass fx. My rig: '69 NOS Fender Strat, my pedal board, multiple tube Marshall stacks, plus Marshall Hand-wired 2061 with its stock cab. This pedal rules!!
I hate admitting this, but this pedal is way under priced. Its more like a $300 to $400 pedal. The MC-404 CAE Wah pedal is like four wahs into one with its switches at the sides/heel area. It's built to last. It's also very appealing to the eyes. Looks meticulously hand-built. Multiple LEDs keep you informed of your settings. Etc... I could go on... But I'm gonna go plug back into it, and create those "otherwordly" sounds... Thank you Dunlop & Sweetwater!
PS. I feel lucky to be one of the first to own one of these!!!
Excellent after adjustment
This pedal adds a new array of tones to any rig. Upon opening, the wah range was not not what I wanted, so I had to go in and adjust the pot (which is relatively easy). The ability to switch inductors is absolutely wonderful--the "red" mode is more for rhythm/backup and the "yellow" is sharper and more for solo/lead playing. The line driver is excellent as well. I recomend this to anyone shopping for a wah.
MC 404 and two inductors
I have ben playing the blues some rock with a Cry Baby calssic for 30 years. Just purchased the MC-404 from Sweetwater. Awsome delivery time and customer service!!!

I love the boost/line driver, true bypass and status on/off LED's.

I use wah more for lead that rythem so I have been using the gold inductor. I am still working with swithcing inductors for differant tones. It seems like the classic inductor falls somewhere in between the two in the MC-404. I have not tweaked the 404's indictor's yet but think in time I will be able to dial them in. This wah is more flexable than the classic and will probably be my pedal of choice for the next 30 years.
Great Wah Pedal!
I play mostly classic and modern rock in small to medium size venues. After researching various wah pedals, I chose the Dunlop/CAE pedal and have not been disappointed. The boost switch is very helpful for getting your solo's to cut through the mix. It is intuitive with just the right amount of features to cover a broad range of sounds, without making it too complicated to operate. No regrets, just great tone.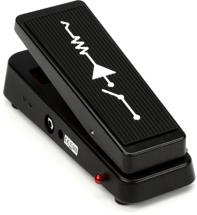 Custom Wah Effects Pedal with Dual Fasel Inductors and Built-in MXR MC-401 Boost/LineDriver Effect