Line 6 M5 Stompbox Modeler
Item ID: M5pedal
Stompbox Modeler with Over 100 Effects, Built-in Tuner, and Tap Tempo
Yes, It's In Stock!
This item is available for immediate delivery. You'll enjoy the fastest delivery time in the industry with our centrally-located warehouse and latest shipping cut-off times.
Get More Value From Sweetwater
Retail Price

$279.99

Sweetwater Savings

-$80.00

Sweetwater Price Drop

-$70.00

Shipping

Free!

Free Shipping FREE Shipping
This item ships FREE, with fast, reliable delivery from our centrally-located warehouse. Learn more »

Tech Support

Free!

SweetCare FREE Tech Support
Trust Sweetwater's award-winning Tech Support department for FREE online and phone tech support, including our famous 20,000 article Knowledge Base. Learn more »

2-Year Warranty

Free!

Total Confidence Coverage FREE 2-year Warranty
Regardless of the manufacturer's warranty, we'll protect this gear for two years.
Learn more »

Sale Price:

$129.99
or make 3 easy payments
Limited Time Offer
24 Months Interest Free Financing!
On purchase of Line 6 products made with your Sweetwater Card now through July 31, 2013.
Click here for details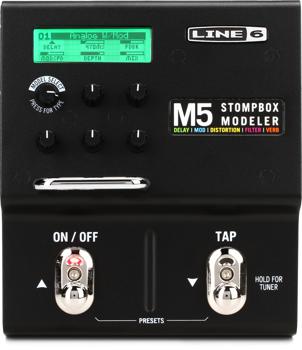 Click to enlarge
Free Shipping
Price Drop
Dozens of Pedals, Inside One Pedalboard-friendly Stompbox!
Your pedalboard setup is about to take a huge leap forward, thanks to Line 6's M5 Stompbox Modeler pedal. This compact box contains over 100 stompbox models, so you can easily access distortion, delay, reverb, filter and modulation effects - without having to deal with a mess of pedals and a tangle of cables (not to mention the hassle multiple power supplies can create). The M5 Stompbox Modeler gives you the kind of brilliant Line 6 effects you've come to expect plus easy-to-use, dedicated parameter control knobs, tap-tempo functionality, and even a built-in chromatic tuner. All this great functionality is packed into the M5 Stompbox Modeler's road-tough metal housing.
Line 6 M5 Stompbox Modeler Pedal Features:
Over 100 stompbox effects

Simple one-effect-at-a-time design

Dedicated knobs control each effect parameter

Tap Tempo syncs for time-based effects

Built-in chromatic tuner

Analog and MIDI I/O

Expression pedal jack

Heavy-duty all-metal chassis and footswitches

Included DC power adapter
Line 6's M5 Stompbox Modeler pedal packs over 100 amazing effects into a single pedalboard-friendly box!
| | |
| --- | --- |
| Specification | Detail |
| Type | Multi-FX |
| Number of Effects | 100 |
| Amp Modeling | No |
| Number of Models | No Amp Models |
| Analog Inputs | 2 x 1/4" |
| Digital Inputs | No Digital Inputs |
| Analog Outputs | 2 x 1/4" |
| Digital Outputs | No Digital Outputs |
| Other Inputs | MIDI In, 1 x 1/4" Pedal Input |
| Other Outputs | MIDI Out |
| Computer Connection | No |
| Power Supply Included | Yes |
| Batteries | No Battery Operation |
| Height | 2.4 inches |
| Depth | 6.5 inches |
| Width | 6 inches |
| Weight | 2.5 lbs. |
| Manufacturer Part Number | 99-040-3205 |
Can We Help?
Sweetwater's friendly and knowledgeable Sales Engineers are regarded as the most experienced and educated professionals in the music industry, with extensive music backgrounds and intense training on the latest products and technologies. As your personal contact here at Sweetwater, they are available to provide personalized advice any time you need it.
Call toll-free

(800) 222-4700

or E-mail us
" I love the personalized service from Sweetwater! I buy almost all of my musical equipment from you. That way, my rep knows exactly what I'm working with and can therefore anticipate my needs in many ways. "

Jennifer, Chicago, IL
Line 6 M5 Stompbox Modeler is simply superb
by Bahram Mokhtare from Newcastle upon Tyne, England, Britain
October 24, 2011
Music Background: Semi Pro Musician
I have used various stompboxes and multi effect units over the years. Many of them put me off after the fad wore out as they degraded the sound quality of my guitars and amps.
Best o
... read more [+]
ne i used previously was Boss ME8, but I had to do a lot of messing around such as removing fizzy unusable overdrives from presets and load them into user patches so I could put it through amp's effects loop with no at once control on stage. Eventually I went back to only using the pure sound of guitars and amps.

And then I discovered Line 6 M5. I liked the sounds and how they kept the integrity of my guitar and amps sounds. I checked the big M13 found it is great and versatile (can be wired through front and effects loop of amp at the same time) if you are a club band guitarist but too large for my use. Checked M9 found it is good if you go either in front of the amp or through effects loop but can not do both at the same time for appropriate effects.

I finally settled with buying two M5 units same price as M9 and yes I can only have 2 effects at once but great usable flexibility. I put one with expression pedal attached through the front of the amp for ODs, MODs and other appropriate effects, and put the other M5 unit through the effects loop of the amp for Delays and Reverbs. WHAT A GREAT COMBO AND SOUND, Or I can put the two M5s into my Boss stereo Loop Station when I need to. Thank you Line 6 for assisting me find my own tone. Well done. close [-]
Lots of power in a little box...
by Eric Van Wagner from Columbus, OH
July 24, 2011
Music Background: Recording Engineer, Educator, Musicians
This replaced 5 pedals on my pedal board. It's less noisy, more flexible, founds great, I don't have to worry about knobs getting bumped, and my pedal board weighs about half of what it was! Best bang
... read more [+]
for your buck I've seen. close [-]
Line 6 M5 Stompbox Modeler
by from
January 27, 2013
Music Background:
As a lucky owner of a Pod HD500 i was a little restricted by it's
DSP limits so i bought two of these, and since they have midi i don't
have to do a stepdance everytime i change a preset
... read more [+]
on my Pod,
but most important is the sound of the effects, they blend in with the guitartone in a very pleasant way and make the sound rich and full, very very good!!! close [-]
A good jack-of-all-trades pedal
by Chris Pickenpaugh from Southern California
July 6, 2012
Music Background:
It's well-worth the price for its delays and modulations, all of which are easily adjustable and sound great. The small exposed knobs may make it less-than-roadworthy for some live players, but, as a
... read more [+]
nother reviewer wrote, this pedal's flexibility makes it like a Swiss army knife effect box in the studio. Bonus: its tuner is quite useful and easy to implement. close [-]
Sweetwater Advice
Daniel Fisher
This is one of those pedals who's price makes you think, "Why would I want to spend $199.99 on a single pedal?" This is because we're used to pedals this small being good at one, maybe two, things. It might also do some other things marginally well. But the Line 6 M5 Stompbox Modeler is an authentic museum of every great effect ever modeled by Line 6. It *IS* the DL4 Delay Modeler, the DM4 Distortion Modeler, the FM4 Filter Modeler, MM4 Modulation Modeler, Echo Park, Verbzilla, LiquaFlange, Space Chorus, Otto Filter, etc., etc., etc... And all the controls have their own knob; and you can read all the parameters at once! Plus, it's stupid easy to make any parameter move any amount, in any direction, just by moving a foot controller. Set a Min and Max for every parameter and when you move your pedal all of the assigned parameters will each move in their own amount and direction. You can then create incredibly complex sound changes with a simple sweep of your pedal. Pro-quality, stereo Ins/Outs means you can use this *anywhere* in you guitar, synth, vocal, or amp chain. External MIDI control allows you to change presets, switch FX on/off, simulate the expression pedal, and even sync the effect's clock with your sequencer or MIDI controller. Plus, it's got a tuner, a noise gate, and a choice of true hardwire bypass or the ability to have the effects trail off. The M5 is simply THE magic ingredient that will take your current sound over the top... that just happens to fit in your gig bag!
Read more reviews
See Also: Guitar Multi Effects , Line 6 , Line 6 Guitar Pedals - Multi-effects