Sort By Date
Sort By Rating
Customer Reviews
Levy's M4 3.5" Leather; finally a super strap
Most leather straps are either heavy, or so narrow they can cut into you when you play for a long time. This one is very thin, and thus very comfortable because it is wide. Very supple. Love this strap!
5 STAR
I gave it 5 star because it fits and holds my guitar properly.
Best strap I have ever owned
When I sat down and looked at Sweetwater to buy my EVH Wolgang special I knew I needed a good strap. Seeing that this was a best seller at Sweetwater it was a no brainer. I was not surprised the quality the feel I play now 4-5 hours a day. Just another great product from a great company. Kudos to Levy's and Sweetwater.
Very Good Quality Strap
I have two of these, one for my LP and for my new PRS and, for the money they are the best all leather straps out there. Very comfortable well made and, should last a long time.
the best
this is the best i got it and it was awsome!! this is just what i wanted
and super cheap too
One Healthy Strap!
Pro's: Great for musicians that have had a broken collar bone in the past. Due to the width of this strap... it evenly distributes the weight of the guitar on your shoulder and not the collar bone. I have been thru many guitar straps due to this purpose alone. I own three M4's for each of my guitars I gig with.

Con's: Due to the fact that this strap is wide.. it does trap alot of your body heat while you are onstage under show lights. I go thru a couple of shirts that end up ringing wet under the strap area... in a three to four set night.
Decent Strap but short and it sheds
I was expecting more, but for a bass player like myself, the thick strap is great, but the quality seems a bit low. It sheds brown flakes onto any shirt I wear. (Be warned, don't wear dark shirts). Also, even when it is adjusted to the longest possible setting, it sits really high. I am only 5' 9", and it still seems to sit high on me. I would like to be able to have the bass closer to my waist.
Good strap, too short
I unfortunately ordered this strap without doing much research. This strap is much too wide for my taste, and wasn't long enough for me (6'3"). Ordered a DiMarzio cliplock and that is plenty long. But to each their own, I can definitely see how many could like this strap.
flaky back surface
This strap looks beautiful, but within minutes I noticed a gazillion little flakes or hairs of leather shedding off the back, rough side. I tried brushing it -- but they keep coming. I'd rather not have this stuff all over and inside my acoustic and its case.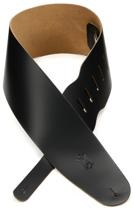 Black Leather Guitar Strap, 3 1/2" wide, with Neutral Color Back