Sweetwater Advice
As a 15-year DJ and turntablist this is one of my favorite needles and absolutely one of the standard needles for traditional playback and scratch DJs alike. Its been tested time and again for heavy users and the sound quality is consistent and right on target with a needle that is priced perfectly for the novice or pro DJ and casual record listener. Get this needle today! It's ready to go with the correct headshell and wiring so there is no hassle, just plug and play!
Sort By Date
Sort By Rating
Customer Reviews
Great tracking, Great Sound & Amazingly Flexible Cartridge
After reading a ton of reviews on the M44-7, and then buying two myself, I can confidently say that all the feedback is absolutely true. I've been DJing about 7 years now (Stanton STR8-80s), and alternate between real & timecode vinyl. My decks aren't the greatest, but they do the job. My issue has always been slight pitch variation within Serato when using the timecode vinyl, which I assumed was a result of the decks. But after popping on these new Shure M44-7s I'm almost dead locked on 0.0% (digital DJs will know what i'm talking about). It was my old cartridges causing the problem!

But back to the Shure M44-7... They're super sticky as the description promises, and have really high output (again, great for timecode tracking). Sound full and with great bass on real vinyl. Another quirky benefit that I took advantage of is the ability to physically level the cartridge by loosening the mounting screws and slipping a small square of cardstock between the cart and headshell. As I mentioned, my tables aren't the best; both tone arms are slightly rotated off of center (no ability to adjust), so my old cartridges always sat a bit left/right of 90 degrees when touching the record. That's a big no-no for stereo balance sound quality. But now after the tweaks...BOOM perfect.

So, if you're looking for a super sturdy, great tracking, great sounding, and super versatile replacement cartridge, hook up the Shure M44-7. I recommend getting the pre-mounted version if you don't already have a headshell setup like the one shown; much easier setup.
Perfection
Great I was told by other djs that these were the way to go. They were Definately right the best things you can get for any sound your looking for
Great Cartridge
I had a old realistic cartridge before I installed the new Shure M44-7-H cartridge. I am in the process of taking my collection of LP's and converting them to CD. This cartridge is giving me sound I had not heard before and does not pick up as much static, pops and hiss as the old one.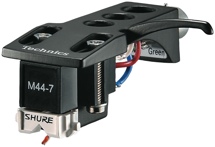 M44-7 Phono Cartridge With Technics Headshell