Sweetwater Advice
Without a doubt, if you're looking for serious professional "clean" and "crystal clear" sound, you need the Bose L1 system. Vocals are clear, acoustic guitar sounds amazing, conga drums are punchy, and the overal control of each individual channel having a variety of effect choices from reverb, to delay, to compressor controlled digitally is amazing. The mixer also has phantom power so you can use a condenser mic if needed, which is useful for a variety of miking conditions. Overall, for a small band in clubs where you're looking at 100-250 listeners, the L1 will blow you away in how quick, easy, and customizable it is to setup. The sound is so clear you may find yourself saying exactly what the lead singer of the band I do sound for said the first time we used the Bose L1 system, "this is so crystal I have never heard my voice sound this good before. It's almost shocking".
Sort By Date
Sort By Rating
Customer Reviews
Church Setting
I would not expect any less from Bose. I've heard very few bad reviews on this paticular product. Mu view is those people just dont like Bose period. I bought just 1 unit. I use it for Sunday morning chirch service. We are currently set up in an old theater. There are 139 seats from the movie screen to the back. I would say it is about 60 feet back and 40 feet wide. You can walk anywhere in this area and the aound does not change. We will be getting another one soon. As for monitors, these are our monitors. I place the one unit behind me and about 4 foot to my left. Its only behind me about 4feet. Awesome!!'
Wished I had bought this sooner
This system sounds great everywhere I set it up. I'm running a 6 string bass with Digital Performer controlling a Korg Keyboard. I have 2 B1 bass cabs. A beta 87 & 58. Everything sounds great. I do not miss fighting EQ, mud and feedback every time I set up. First time we set this up I realized that I had never really heard myself sing. We had been using Klipsch speakers and a Makie board. Both great pieces but Bose just nailed it with this system.
Outstanding!
When I first was told about this product, I was very skeptical. I didn't see how it could produce the quality and quantity of sound that they were saying. I went ahead and purchased it and was totally blown away when I received it. The quality and amount of sound this little tower can push is incredible. It is great for indoor OR outdoor events, and setup takes just a few minutes. I highly recommend this for any one looking for a great portable system.
Sweetwater and the Bose L1 Model Ii
Not only does this unit sound unbelievable clear, it has changed my life! Setup takes 10 minutes, including unloading, the sound is great. The T1 interface including multiple chained effects, and individual EQ, is absolutely user friendly-it is easy.
And Scott Barefield and then support team are the best...
What a kick in the pants !
I purchased the system about a month ago, and finally had a chance to use it in a medium sized venue. The sound quality and area coverage, were definately as advertised. People, from the audience, commented at how clear the sound was and appreciated the fact that the volume level wasn't overpowering.

I do a show that is truley "Unplugged", so every thing has to be mic'd.
No problem with feedback what so ever. Couldn't be more pleased.
Clear Bose Sound
I've been playing, performing and listening to music my whole life(I'm 50 yrs. old now) and have never experienced anything like the L1 Model II w/ Tonematch. I have a home studio and sing and play all of the instruments and vocalls. Any mic, guitar or drum(both acoustic and electric) that I've run through this system has blown me away. My studio is relativly small but this doesn't seem to know anything about feedback. Nada, zilch. Can't wait to use it live. Was skeptical of what I was getting for my almost $3000. It is all that and more!
You'll love this system
I got my first L1 Model II back in October 2010 just got my second June 2011. I can't say enough about this system. You'll never hear more crystal clear vocal reproduction. It gets plenty loud enough for most venues. As was pointed out in a previous review for really large venues you will want to add more B1 bass modules. I have 4 total 2 for each system. But you can run up to 4 per system with the packlite amp. That will give you alot more headroom and help the bass frequencies keep up in the larger venues. I love that fact that I can set up in minutes, I don't have to lug heavy speakers around and the sound is better than any other that I have heard from a PA.
Save your ears, save your back!
The absolute best sound you can buy! Having been through myriad combinations of mixers, amps and speakers, I have to say that this setup tops them all. AND - I can carry it - myself - 2 trips and no strain on my back. I use this mainly with keyboards and wind controller.
A remarkable system, for MOST people
This review, like all of the ones I write are usually a mix of what's good and bad with a product. Unlike so many products that I review, the Bose L1 Model II doesn't have much bad to say about it at all. In fact, for 99% of it's users, you'll never find a small compact PA system that can ever match the clarity, and portability.

Here is what I will say with 100% honesty, and even Bose would back me on this. I played roughly 350 shows with the original Bose L1, and after I purchased the Model II, I played close to 300 shows with that. They both are amazing for what they were made for.

I'm one of the rare cases that wanted to test this thing to it's limit, and I played a couple very large outdoor shows and auditorium shows up nearly 500+ people. I was blown away by the fact that it was plenty loud enough to be heard by everyone around with no problem. HOWEVER, don't expect the B1 Bass Modules to have any effect in sizes this large. My only complaint I ever had with this system in any type of room was the lack of Bass. When I say Bass, I don't mean clarity in the bass, but I simply love the PUNCH and LOUD bass. This system was not designed for that. It was meant to be clear, portable, eye catching, and it lives up to all of that. Yes, you can buy an external subwoofer, and accomplish all I'm talking about, but I simply think it's silly to have a large subwoofer next to this tiny pole. Just my opinion.

My #1 suggestion is make sure you think about what you're going to use this for, and decided if the $3,000 you'll spend on this system is the best money you can spend. FOR MOST, I'd say it truly is, but for others I wouldn't.

Great for:
Private Parties
Small-Medium Sized Bars
Coffee Houses
Cafes
Restaurants

NOT GREAT for:
Auditoriums
Large Bars with Wood Floors
Drummers
Anyone looking for a POWERFUL bass.
Lives up to the hype
Okay, so I just unpacked my new Bose L1 Model II with T1 Tonematch module a few hours ago, but I can already tell that this unit is living up to the hype. I've been playing and singing for 20 years, and this is by far the best vocal reproduction I've ever experienced in any venue - and this venue happened to be my house!

I trusted the great Sweetwater advice from Bob Mondok and ordered my Bose L1 yesterday, and to my delight, it arrived today (Saturday)! The crisp, realistic reproduction of my vocals and guitar were unbelievable. My wife, who was sick in bed while I took it for a test drive, told me with exuberance about how incredibly good I sounded from another room in the house. Typically she begs me to turn my music down - this time she praised me. I was absolutely blown away, and I can't wait to gig with the L1 next week.

Thank you, Bose! Set-up took about ten minutes, which included unpacking everything from the shipping boxes. Unbelievable.
Fantastic for any audience less than 300
We have been touring with this for 2 years and will never go back to the old way of doing sound. In venues where our audience is larger than 300, we simply provide a line out from the T1, and the house suplements the sound. We hear what the audience hears and everyone benefits!

It works best when there are no more than 2 performers per stick, but in a pinch we have had three to a stick. You will hear some people knock this system, but 9 times out of 10 they haven't actually played out with it or even heard it used well. There are some 'musicians' who can't play in an ensemble...they just bang out their part and hope it sounds good. The beauty of this system is wasted on them.

...so glad Sweetwater carries them now, as I have been a customer for a long time and had to buy ours elsewhere.
The Amplification answer
I love the Bose L1 Model II system. I had the original Model I system and then purchased the Model II version. I use two of them with the must have ToneMatch. I use one system for a singer and horns (sometimes just 1 sax or with 2 saxes or 1 sax, 1 trombone and 1 trumpet), and I use the other for me to sing and play an electric guitar and a keyboard. During intermission, I have an iPod connnected to both systems. It's great to only carry these two systems, and no longer have to carry two amps, two PA speakers, two monitors and a mixer. There are SKB cases designed for both models, which have wheels to roll them. The pieces are heavier with the cases, but they're better protected if they fall. We play top 40, oldies, jazz, line dance music, etc. A power issue at a venue caused both Model II systems to go out. However, Bose backs its products, so they repaired them and extended the warranty. This is a great product for clubs, large banquet rooms, and small to medium auditoriums.
Bose L1 Model II Single Bass is Great
I have connected this up to my Korg keyboard and the sound is very impressive. The tone match engine provides a variety of settings to tailor the sound to what you want. It picks up the high tones and the bass rocks!
In addition it is very easy to setup and take down if you need it to be mobile. It includes very nice quality padded bags for moving the equipment.
Perfect for Sax and Keys
I've done three gigs since getting the L1 last month, all solo playing sax and Rhodes over sequenced tunes on a Motif. Keyboard sounds are awesome, sax never sounded better and best of all I can hear very well without a monitor. I've placed the speaker just beside and slightly behind me, which works great as a monitor. I've used it in a cozy little venue, 40 people, and in a large room, 300+, with concrete floors and high, open rafter ceilings, glass wall, (i.e. bright), and it sounded great in both sites. Bought a second sub but still a bit shy if you need oomf for a dance.
Bose L1 Model II Delivers the goods
I recently became aware of the Bose L1 series of PA systems. They are an innovative approach to what has become a "heavy metal" pursuit of good quality sound reinforcement. The usual approaches require hundreds of pounds of amplified speakers, subwoofers, monitors, rack gear and mixing boards, which become daunting for a one to four piece band playing less than auditorium crowds. A noted jazz guitarist friend of mine went to see Pat Metheny, whose stage act was powered solely by five of these sticks, and raved about the sound. I had to try it. When the package arrived, I was able to set it up in about the time it took me to unpack the boxes. The four pieces clicked together flawlessly and very quickly I had sound. The first attempt was using my Taylor acoustic, and two microphones. Interestingly enough, I was able to find specific presets for the Taylor and the two individual mikes. After twiddling with effects (on board compression, reverb, modulation and eq selectable per channel) I got what is possibly the best acoustic sound image I have ever heard......This was followed by a Les Paul, a Fender Jazz bass, an Alesis keyboard- all of which had specific and very useful presets to get started. The positives with this system is that you could probably power a medium volume four piece band ( electric, acoustic, bass and microphone) and get both monitors and mains out of this simple system. Granted the guitar settings dont sound as good as a boutique tube amp, and the bass setting is not quite as good as my Eden rig, but in a pinch, it sounds pretty dm good. the only questions to me are the ultimate volume achieved without feedback in order to get both monitor and main. I settled on running three mics through a mixing board and then the mono output of the board into one tone match input. This worked very well. I am debating as to whether I want an additional sub module, and whether the end state for me is two of these systems. One quick note is that this is a monaural system, and stereo imaging will be impossible with a single one but doable with two. The real remarkable property is the true dispersion of the system.......almost a full 180 degrees with no audible degradation of presence or sound quality. In summary I strongly recommend this system for someone who wants optimum sound quality and a simplified approach to live sound and is willing to live with the very few limitations. However if you are a techy gear head be warned that Bose is very cryptic about specifications and details on the approaches......sort of like the Apple of the PA world.....use it, dont try to reverse engineer it. It isnt cheap, but you definitely get what you pay for....
inSync Review
Jon Schafer
8-26-2011
Playing live music is full of equipment challenges. And though it seems counterintuitive, playing in a small room is often more complicated than filling a stadium with sound. My folk/Americana trio, the Gimcrack Slackers, recently faced the small-room/live-sound challenge, playing a small club here in town. But thankfully, our friends at were nice enough to loan us an for the gig - and it performed admirably!

We had no trouble assembling the L1 Model II, although the low ceiling did make for a little excitement. Once we had the unit put together and positioned where we wanted it in the room, it was time to start plugging in and choosing ToneMatch presets for our particular setup. Our instrumentation consisted of two acoustic guitars, a banjo, an electric bass, and two vocalists. The vocal mics went into channels 1 and 2, with the banjo mic in channel 3. Channel 4/5 (a stereo pair of 1/4" jacks) accommodated the two acoustic-electric guitars running direct into the module. The electric bass was amplified using an external bass amp.

The ToneMatch has presets that let you shape the sound for what you have running through the L1 Model II. For mics, all the usual suspects are included, along with voicings for various guitar pickups, basses, and much more. The menus are easy to navigate, and the presets sound great. After just a few minutes of selecting presets and dialing back the brightness of the acoustic guitars just a touch, we were ready to take the stage.

Now, for how it sounded. In a word: amazing! The room was filled but not overpowered by the sound system. The L1 Model II offered up very natural-sounding reproductions of all the instruments (even the banjo!), and we received several compliments on the sound after the show. When you couple the L1's painless setup with its superb sound, it's easy to see that Bose has a real winner here. We really didn't want to send it back!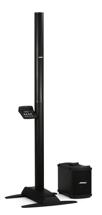 Portable PA System with T1 ToneMatch Audio Engine/4-channel Mixer, Loudspeaker Line Array, Powerstand, B1 Bass Module, and Included Carrying Bags