Sort By Date
Sort By Rating
Customer Reviews
Warms up the digital cold.
This plug-in is great at warming up digital tracks. When the plug-in is engaged, I can immediately hear the harsh, high frequencies of tracks get rounded off, the low end becomes thicker, and more detailed is added. Engaging this plug-in can quickly make tracks sound more "real," with analog coloration. Be sure to use caution though. It is easy to dial in too much flux, noise, or wow and flutter when tracks are soloed. I find it best to use Trim before the plug-in, select a preset in MPX, and increase or decrease your gain, in Trim, until you find the sweet spot.
Wonderstruck
To be completely honest, I don't like the other Kramer plug-ins. They seem more gimmicky than useful. But this one surprised me tremendously. I don't believe this is the best tape emulation out there. But it definitely shouldn't be this cheap. Its sound and functionality great exceed its price. You can definitely tell they spent some time on this one. Its not just a pretty picture like a lot of the other Waves stuff is. I still just don't understand why this doesn't cost more. This should be headlining their bundles right now.
Kramer Tape - Awesome!
Great plugin from the start! One thing i have learned about all plugins in general is that you have to use these things CREATIVELY. I mean, don't just crank the stuff up because you can. Use it to make your recordings sound BETTER. It's a TOOL. Learn to use it artistically, and it will actually do what it is supposed to do. It adds a sonic warmth to tracks that most digital stuff takes away. Loving this plugin!
Tape Goodness
The Master Tape plugin has blown me away. I tried out a demo after being intrigued by the idea (since most of my favorite recordings were done one tape) and the next day I had to buy it. After getting my drums mixed, I poped this plugin on my drum buss and selected the drum set preset and after a little bit of tweaking it was magic. My drums were warmed up beautifully and sounded so much more "real". The snare was mellowed out in a good way and still punched through the mix. On bass its a miracle worker. After getting a bass sound carved out with EQ and compression, using the Master Tape to add a little bit of grit helps the bass to cut through in just the right way without adding any harsh highs or losing any of its body or punch. And lastly as a vocal tool it has helped the vocals find that perfect spot to just sit. I am in love with this plugin. The only reason that I don't give it five stars is because its a CPU hog (but for good reason, there is a lot of processing its doing). I don't have the fastest computer, I am running a macbook with only 4 gigs of ram, so if I had a faster machine, I'm sure that my CPU problems would be non existant.
Review of the Kramer Master Tape plugin
Simply put, if you treat it like a tape machine, it will sound like a tape machine. Check your ins and outs and watch your distortion and it is a really easy product to use. If you go all knob wacky on it, you might run into some problems with the mix later on.
Eddie Kramer Master Tape
Eddie Kramer Master Tape is a unique plug-in in the world of WAVES. KT fills a very subtle and subjective niche better than any other Analog Tape emulation I've ever heard. You'll need to dedicate some time getting used to what YOU are comfortable with in "use", but you won't want to work without it after that point. Eddie Kramer Mojo for a good price. It's a winner!
I love it
This plug-in is great. I use it on my master track(s) to glue the mix together. As other reviewers have stated, don't get too crazy with the knobs. I use it on just about every song that I produce because it lends itself well to my sound; one that harkens back to the days when music was warm and not so digital. Ironic really.
Waves Kramer MPX Master Tape Native
The pluggin does what you'd expect. Anyone from the old days will recognize many of the preset names and easily translate that into what you're going to hear. For the money, it's good to have this in your software/pluggin tool-chest.
Solidly Useful
Been sprinkling this around my mixes for the past month, and have found some nice uses for it. By far the best is on kick and bass, set to 7.5ips. Rounds out the low end in a unique and very pleasing way. I'd buy it again just for this. Also nice to put across subgroups to give things a little more definition and body, a "rounder" feel, more dimensional. Flux can soak up transients nicely for some material. The wow & flutter, flux and delay tools are nice touches that come in handy here and there - glad to have them.

Sounds like Waves put a lot of time and effort into designing this plug-in, and I've found it to be truly useful, when applied intelligently.

Only con: Sucks up CPU like mad.
Sticky like glue!
Although you can't really truly recreate the analog feel or sound, this little plug-in does one thing extremely well.....it glues your mix together. I noticed some more detail on in the highs when using this one individual instruments but it really shines on a Buss or my favorite is to add it to the path in WaveLab for mastering. It makes instruments and frequencies stand out that seem to be lost in the mix.
For the price you can't go wrong adding this plug-in to your library!
A very subtle effect, to my ears
I've read the Waves white paper on how they designed this plug-in and it was very interesting and impressive. I suppose if you really know what you're doing, like if you're familiar with tape machines, you can probably coax some realistic tape simulation out of this. I have no clue about any of that. I'm a "factory preset" kind of guy. My experience with this plug-in is that it's very subtle, unless you choose one of the presets that adds a lot of noise to a track (or add it yourself by twisting the knob). That noise is interesting as an effect, but it really is "noisy" and will dirty up the quiet parts of your track a lot. Beyond that, as I said, it can sometimes be very difficult to hear when this plug-in is engaged or not on a track (unless it's provided slap-back delay, obviously). That can be a good thing, as often the best tweaks are small tweaks, especially in mastering or across the main stereo bus. And the subtle effect that I do get out of this is a nice, warm kind of compression that doesn't have the in-your-face character of most limiters. I'm not wholly convinced that, even at this low price, that makes this plug-in worth the money; but again, I'm probably not clever enough to use it to its fullest potential. So, if you are "un-clever" like me, you also may want to leave this plug-in alone. It certainly isn't something you're going to drop on a track and go, "Wow! It sounds like The Beatles now!" More like, "Hmmm, I think I like it a little better with this on. Let me try enabling and disabling it about 15 more times with my eyes closed just to be sure."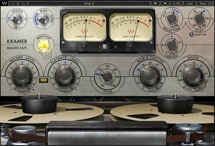 Tube Analog Tape Recorder Modeling plugin - Mac/PC VST, RTAS, AU