Sweetwater Advice
I have heard several shootouts with these speakers against competitors and the QSC KW153s have always come out on top in my opinion. If you are looking for a 3-way active speaker that delivers a clear open sound field then I highly suggest these. I consider these speakers to be among the best sounding active speakers that we sell. If you want high-end sound in a live situation, look no further than here, these speakers deliver!
Sort By Date
Sort By Rating
Customer Reviews
I am Speachless! Hands-down they are the best in their market.
I have to pinch myself every week to make sure that I'm not dreaming. These are the most clear speakers I have ever heard. I have used pa equipment for over 30 years. The clarity and presence are the same wherever you are in the room. I had planned o getting subwoofers but did not get them. I am NOT sorry, the KW153's have all the low end you need, ever without using the Boost function. We built a new sanctuary that seats 700, so we have a cluster made up of 5 kw153's. No matter where you go in the room, the speaker sound like he's standing right next to you. The clarity is the same at low volume as it is with higher output. You will not be sorry for choosing the kw153s.
QSC-Quality Sound Continously
Having 2-ways on a stick over subs isn't bad, but when you need the complete sound field reproduced, nothing compares to a great 3-way system. I use a Korg Pa3x, and fire my own arrangements plus four part harmonies at these KW 153s, and believe me, you can hear everything...top to bottom! The mids that were missing in the vocal range are there, plus the pianos have come alive. The bass response is killer, but throw the bass switch, and you'll think some subs just appeared. These boxes are pricey, but they're tight and IMHO, worth every cent. What are you waitin' for? Do your ears a favor grab a pair from Sweetwater today. Keep on rockin'!
Best Speaker for Me
I sing and play guitar along with computer tracks. I gig 5 days a week in different venues. This speaker sounds awesome for every job, even outside. I have played through many speakers including QSC K12 and this speaker blows the competition out of the water. Big enough to fill a room but still managable for one person with a hand truck. This is the last speaker I will ever have to buy.
Best Powered PA Speakers...Hands Down
Worth every penny...need I say more?!

The clarity is incredible, and I didn't even need to turn on the DEEP switch, but when I did...it was like a DANCE CLUB! The bass was thumping... I first tried it with the setting flat, and even used the VOCAL BOOST...the vocals cut through the entire mix wonderfully!
So much sound that it didn't even compare to the drums coming through my Roland KC-500 keyboard amp! Probably won't even use it, to be honest! Just going to separate out the drum track, shoot it directly to the Allen & Heath ZED12FX, and then add some reverb from the mixer's on-board effects. No need to touch it any more than that I think. Sometimes when you try to add too many effects on the drums, it "dorks" it up...and I have only cranked these speakers to the 1/4 mark. The tag attached to the speakers themselves after I removed them from the box said they could go up to 134dB! That's just shy of a jet engine! These speakers can handle our entire mix...now on with show!
Love These Speakers!
I have a set of JBL EON 515s and a set of JBL PRX-618s subs and wanted to upgrade my mains. I bought a set of JBL PRX-635s and returned them after one failed on the first day out. Did a bit more research and talked to Ryan at Sweetwater. He turned me on to the QSCs. I am amazed and blown away. The overall sound quality is amazing and through the entire range, they deliver pure, crystal clear sound at any volume. Having upgraded my mains, the overall sound of the band is amazing, loud, and clear. I would recommend these to any serious buyer. They are solid, heavy, and amazing.
QSC K 15-3 WAY
I LOVE THOSE POWERED SPKRS
QSC great speakers
just did my first gid on 7/16/11 & it was with a new up coming christian group . rush of fools they couldnt beleave how great the sound was . thanks QSC for a great sounding speaker
QSC KW153 Real World Test
Well, I don't ever write reviews but I felt inclined to do so for this bit of kit because quite honestly I was impressed. Not loud impressed which they certainly are, but clean impressed at volume which is a whole different animal. I put two of these beauties to the test in a medium size club for the Detroit based Electronic pioneers Ultradyne at the Victory Grill here in Austin a couple of weeks back paired with a 2-18" Properly loaded JBL Sub and was just floored by the amount of headroom and brute strength of these 3 ways. Everybody involved was happy,happy,happy with my efforts on their behalf and the reality was that albeit I'm competent at a minimum, these speakers made me look like a genius. They are that good. Spring for the 3 way 153's. They are an entirely different beast and in a whole different class than the 2 way 15's on a stick that you see everywhere. Get the assisted Ultimate stands because these are not light but the added midrange 6.5" really makes for a nice addition to a balanced full and effortless mix. Paired with the 181's these would be just flat out monsters.QSC did an outstanding job on this offering. Get some. You will be happy.
Worth every penney!
My review is based on some experience. I was in a dance hall band back in the early 90's using 6 - EAW tops & bottoms w/ Crown power amps ($50k). I believe those EAW tops were about 4 to 5 times the price of these KW153's and were amazingly efficient. I would honestly say that these QSC's are very close to those EAW's.
One weekend before the KW153's arrived, I went to see a local band that was using the new powered JBL's with separate subs and was disappointed in their sound. The next weekend, our band was performing using the QSC KW153's. Just for grins, I left the subs in the trailer and would get them out if needed after sound check but that wasn't necessary. They worked flawlessly. The highs were sizzling and the total sound was crystal clear. The bottom end had attitude. I first tried the extra lows switch and had to turn it back to flat because of being too obnoxious. These speakers are perfect for the price. I think QSC has hit a home run with these and I believe the competition is not even close.
QSC KW153 Super Crisp
We have a pair of these for our mains and absolutely love them! We have been using them for about 6 months and they have not missed a beat.

We run them with a pair of Peavey SP218's for the subs and In outside venues the setup is great. Solid clean sound and no issues. These speakers have a ton of options to handle any situation. We have used them in medium sized clubs without the subs and they still sound great.

Having the option for the front light to show peak is something that I would miss using another brand. We used Behringers for mains before these and the difference is night and day, we now use the behringers for floor monitors. I would put these up against any other speaker up to almost twice the price. Mackie, JBL etc..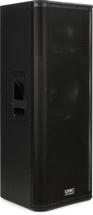 1,000-watt, 3-way PA Speaker with 15" Low-frequency Driver, 6.5" Mid-frequency Driver, and 1.75" High-frequency Driver