Sort By Date
Sort By Rating
Customer Reviews
The expressive small keyboard I've found
The wondrous keybed on this sweet little keyboard is set up to work perfectly with this size, not to emulate a larger keyboard, and it works so well. I've had several compact keyboards and none had this level of expressiveness...I wouldn't hesitate to perform with it, for solo parts or chord comping... It just sits on the far side of my computer keyboard with Reason open in the background, ready to play anytime I get an idea in my head. A perfect companion to my Axiom 61. M-Audio delivers again.
Mini 32 keys m audio
I knew it was going to be small ,so I was thinking that it's was not going to be all that boy was I wrong ,I have done every thing i think that can be done with and it has not let me down at all and I'm still pushing it as far as I can . It plays great sounds great the fill of it soft or banging or how ever you play it rocks you can't go wrong with it it's a must get.
works like a dream!
So easy to use, plug in and go....simple controls! Love it!
M-audio key station mini 32 key
This is a great item, very compact. Good for on the road or when you just want to chill out and have a session. Overall I rate this 10 out if 10
M-Audio Mini 32
Man was i taken bye shock when i got this bad little boy home , i have not or can not keep my hands off it . it does more than i ever was thinking that it could do by the it plays and the feel and the way you can you set the way how hard or how less you have to play makes it the way it is .you just have to have to realy under stand all of what it can do .it can play and do the job as the big boys can do and its small you can take it with you any where in a flat sec thats a plus with me .have fun i no i am.
Fun, simple, effective
Great deal for a portable midi controller. Does everything it's intended to do very well. Very happy w my purchase.
A new way to jam with M-Audio
The M-audio Keystation Mini 32 works great writhe the iPad 2 and GarageBand piano sounds. We even use this on stage now. Less equipment to carry how wonderful.
best thing for traveling
Amazing on the go to work on your track right when you get your ideas
Best piece of eqipment I've had in a while
I was looking for something small specifically for when I'm traveling but also for when I just need to write in a quick part in a track. I originally had gotten the Korg Nanokey but it felt cheap and gave me all sorts of problems when trying to get it to work. This controller is really amazing. Feels good, plug and play, I've even managed to play a two-handed part with it. Sustain is great. the Modulation and pitch shifting take a bit of getting used to but after using it one or 2 times you'll figure it out.
Great for traveling people.
It would've been 5 stars if it actually came with a manual or even a paper that told me how to program the thing. The keyboard is labeled with common ways of programming but there is so much more. Not sure why M-audio didn't just label it with every option. I had to print the labels and tape it to the bottom for quick reference.
At first I didn't think any of the buttons could be reprogrammed but it can.
I can make the volume knob any MIDI function like PAN. The octave key can be a MIDI channel changer for 16 of the channels if you want!
This is a great unit. I'd recommend this.
Lets me make music anywhere
I really enjoy this keyboard! It fits in my bookbag so I take it everywhere and when I have an idea i get it out and start making music. I've used it for live performance with pad. Since it has 32 keys I can use two hands, I will say it comes no where close to feeling like real keys but it gets the job done and when I'm done it goes back in the book bag. I've even sat at Starbucks with my macbook pro, headphones and this little guy and had a great time writing and chill in at the coffee shop I even got a few looks from people who ended up listening to the stuff I was making and really enjoyed what I wrote. Overall its worth it.
A neat inexpensive controller
It's small, playable, and for the price, it's perfect for my bedroom "studio."
Mini 32
small foot print with acceptable playability. Plug and play!
The M-Audio Keystation Mini 32
Bought this mini keyboard to take on trips with me so I can work on FINALE arrangements during down times. Fits perfectly into my carry-on and does most everything my full sized keyboard does.
Easy to use, feels a little cheap
For me, it has one what it should, plug & play, from the beginning. That earns it the high rating. One or two of the keys squeak consistently, giving it a bit of a cheap feeling. However, I expected a compact data entry tool, not a live performance instrument. So, expectations met.
Still an Maudio
Very thin keyboard. Does what it says. Don't take it apart though. The cheap cheap maudio midi ribbon is haphazardly soldered on and will tear off. Also the keybed is slightly warped due to shortcuts in manufacturing. Still the thinnest board though and a good feel..
M-Audio Keystation Mini 32
Its a Good Portable keyboard that's easy to acess and to carry on the go if u need a small portable keyboard u will be satisfied on this!!.
mini 32
Bought this for my teenege son for simple recording stuff. He loves and we were very impressed with the customer service. Had a call the night we ordered to confirm our order and had a call after receiving it to see how we liked it. Would definitely order from here again
Pretty nifty button pushing!
This keyboard is a life saver! I commute a lot and a full sized keyboard is just out of the question. I can fin this keyboard, my Maschine, Komplete Audio 6, and a Novation Nocturn in a laptop bag. Its 100% USB bus powered, super light weight, relatively cheap, and quick & easy to setup up so you can get to work right away. The only draw backs are that there isn't a pitch bend or mod wheel, and there is no after-touch; but those features would have marked up the price quite a bit though and made it bigger... so a 4-star is appropriate. Every thing else is solid. The only other keyboard this size with more then 25 keys is the Korg model and its bigger then it looks in the pictures and suitable for most laptop bags.

I would defiantly recommend this keyboard to anyone regardless of if you have a full sized keyboard. Its cheap, looks good, and does the trick. Its perfect for Maschine/(MPC Studio) users looking for something that will integrate with a laptop setup.
Does the job
I needed a midi keyboard for note entry to get a job done sitting in a hotel room. This did the job nicely. Don't expect to really 'play' it very well--the keys are narrower than standard and feel very mushy. But it takes up hardly any space in my suitcase. Doesn't need any special drivers either, although a couple times I did have to go into Cubase and reset the midi devices to get it working--easy enough.
M-Audio Keystation Mini 32 - Does what it does
An extremely simple (and that's a good thing for me) piece of equipment, that has made me realize how little I need a MIDI controller. I record guitar, bass & vocals into Garageband, and I thought it would be nice to have a controller to lay down quick basslines, kick-and-snare, etc.

I have found, though, that I barely use it, but that is no reflection on the quality of the unit. It seems sturdy enough for light studio use, but I doubt if it would take much abuse. Very simple to set up -- I plugged it in, and it worked! That's on an iMac, so I can't offer an opinion on PC operation.

I have no complaints whatsoever, although I'm not using it heavily, so take that for what you will. Looks nice on my desk though :-)
Physical wheels.....
This is an ok portable controller. For $69.00, one really I wish they had put a physical mod/pitch wheel on it though. I would also like to see a portable controller with a sustain slot on it for a pedal as well; not too much to ask, right?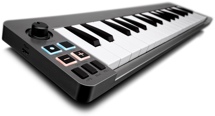 32-key MIDI Keyboard Controller with Mini-size Keys, Four Assignable Controls, Selectable Velocity Curves, and USB Bus Power