Sweetwater Advice
This is the modern standard in small-diaphram stereo mic'ing. A truly indispensible set of microphones for your studio arsenal. These mics will always find use as drum overheads, acoustic instruments, and guitar amps.
Getting a pair of these excellent KM184s is a great idea. If you are lucky enough to
get one, you'll want the second as soon as you hear the first! Do yourself a favor and
get a pair straight away. You will be ecstatic that you did!

A classic. The KM 184 is a standard fixture in any serious mic collection. It's the quintessential mic that other small-diaphragm microphones seek to emulate.
Sort By Date
Sort By Rating
Customer Reviews
KM 184s are a must for classical recording
I've been fortunate enough to use a matched pair of KM 184s on numerous classical recordings. I especially like to use them when I set up piano mics, but they also do an incredible job in an XY configuration in front of just about any symphony or other large ensemble. When paired with a solid preamp, they pick up subtle nuanced sounds without a lot of noise that needs to be dealt with later. Worth the price and live up to the Neumann name every time!
Go-to Microphones
I have many many mics in my collection and Neumann never seems to let me down. I have been using these mics extensively for several years now and when combined with a high end pre, I am never disapointed on guitars or brass. Amazingly fast yet warm transient response and no discernable coloration. When you want your accoustic to sound "real"... whether classical or steel string, use these mics. Try them live too.... you'll really be blown away but make sure you keep a close eye on them during breaks.
SO CRAZY GOOD
Im an audio student in college and we had some mess around time today in the studio and i put these two in front of an acoustic guitar, one on 12th fret one on bridge. i also threw a large diaphragm condenser by same make in the center. on a pro tools hd8 native system. panned the two of the corner mics out. so warm so amazingly clear. I love them so much i am getting my own very soon! if they sound that good on acoustic guitars i cant imagine how amazing they would make drums sound. the harmonic overtones of the guitar really stand out and just make the sound truly amazing. get them right now you will be stunned just like i was.
KM-184s great at most, GO TO
I'll start off with the case...it's just cool as hell; wooden cigar box with the Neumann logo on the lid, TOTALLY awesome.

These mics fit very tightly into the clips, almost to the point where it makes me a LITTLE nervous every time I slap em in....but once you set them, they are NOT going anywhere, which is more than I can say for a lot of mics.

And these guys are small too, It'll bug you out at first trying to plug in an XLR when you realize how small they are...but don't let them fool you. These things pick up CRAZY amounts of sound. Small size is also helpful when you need to do a stereo pair in a small space. They are very light too.

GREAT for Acoustic and Classical guitar (although you really have to be in a solid room..these things pick up a lot of 'air', however the payoff is amazing. I just did a classical recording (these things are a MUST for any kind of orchestral music, as they are very accurate without adding many artifacts, and small enough that they don't get in the way!)

I've used them for Overheads a ton, frankly, because this is the only Pair that I have that sounds as good as they do, so I don't have much comparison. I do find myself adjusting the EQ pretty habit-ly with these. I've been in a few situations where they sounded a bit harsh...but I'm fairly certain that's because they are so accurate, and the cymbals themselves were fairly harsh to the ear.

We've even used these on vocals before, (with a pop filter) just for kicks. And I was pretty impressed. It stayed in the mix.

You won't be disappointed with these.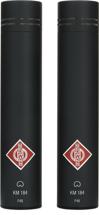 Small-diaphragm Stereo Pair of KM 184 Cardioid Condenser Microphones in wooden case