Sort By Date
Sort By Rating
Customer Reviews
Fender Johnny Marr Jaguar
This is the 33rd guitar in my collection - many brands...lots of Fenders, Gibsons, PRS, Ibanez, Danelectro etc. This one is everything it's been represented to be. Lot's of tones available, great design, super sounds. Very clear and precise when clean - lots of growl and presence when overdriven. It's my first Jaguar and what a monster! I love it! Seems guitars are just getting better and better as time progresses.
Interesting, not Definitive
1st--I am a diehard fan of the Jaguar. I love the offset body, the short scale, the spicy, snappy tone. I play ambient psychedelic cowboy surf music, and I never had a problem with the existing RI model. However, the new pickups and the new circuitry are interesting alternatives to the traditional model. I like the beefy neck, could have used a more modern radius and bigger frets, wish they had put the truss rod adjustment at the other end. I think the mustang bridge is too wide for this neck. All of that said I like the tone of the guitar. It's a little hotter than the stock pickups, and the new parallel switching circuitry with the strangle switches IS an interesting mod.

I don't like the overzied toggle right in the strumming area. Telecasters have them offset to the right--they could have used a smaller more discreet knob. I like the fixed trem arm, but the main reason to get this model is for the pickups and the new circuitry. When I first saw the ads I was never more excited about a new guitar model--but in retrospect it isn't all that much different than an AVRI with a Mastery bridge. I had debated getting the Thin Skin jag with the larger radius and frets, but I will probably keep the Marr for it's distinctive character. I got the copper color, which I think is very nice.

The thing to remember--if you already have a Jag, this isn't going to be a revolutionary upgrade. If you are a Telecaster guy who wants to move to a short scale guitar, this might be more familiar territory. I don't have a problem with the high E being so close to the edge of the neck, but a Mastery bridge would definitely address that issue. Considering the hype and the price, they could have made a few more improvements that would have really put it over the top--instead, what they delivered isn't so much an improvement over the AVRI as an alternative.
Johnny Marr Jaguar
Really fun and quirky little beast! Got off to a rough start as the first one came with an AVRI collet and the trem arm wouldn't fit. 2nd one came and wasn't grounded so buzzed like crazy even when touching the strings. 3rd one came and is fantastic. This thing loves gigantic reverbs and delays. Sounds magical!!! The shorter scale is weird at first but as you get comfortable with it, it will make Andy Summers chords a breeze. Very inspiring guitar to play. The low output pickups are hard to dial in but when you do....MMMMMMM! Cuts through a mix with brilliant punch! LOVE IT!
Johnny Marr Jaguar
The promo vid that Johnny Marr did for his signature Jag was compelling enough for me to buy the guitar, but Iím always a skeptic and had reservations. That said, after over a month of ownership, the guitarís totally won me over. I was pretty bummed for the first 20 minutes after taking it out of the box because I couldnít get used to the shorter scale, but by the end of the hour it became a non-issue. The unique features are best explained by J. Marr in the promo video so I wonít go over those in detail, but I will point out that the 4-way pickup selector and the two high-pass filters work brilliantly. As a player who only needs a humbucker for 3-4 songs per night, this is a perfect solution. The fit, finish, looks, and functionality are all top shelf, and canít imagine another Fender covering more bases than this one.
Credible
Heard about this guitar and was immediately intrigued. Saw JM back in the early Smith's days and always admired not only his style and skill but approach. Watched the video where he was talking about the development of this signature model and was impressed by his genuine enthusiasm for the instrument and attention to detail. OK bought it. I'm just a regular player, for enjoyment in my own time, write my own tunes etc

Great range of tones - from sparkly to thicker but still energetic (not just bright). I have the Classic Player Special HH and they complement one another really well (this is darker, more solid tones). You can see the vid for the various tweaks but I can say - switches work great and make a difference to tone, body shape is really comfortable and the neck works well for me. No blemishes or rough edges on finish. One thing - though this is mustang type bridge -strings do not slip off - I do get buzz at the bridge which is annoying, hence slight mark down. Doesn't really affect tone in meaningful way but worth sharing. BTW - nice hard case and crushed blue velvet interior frames my Olympic White model really well. Sounds great straight and also works really well more creatively with delays etc. Not a high gain monster!

I waited a long time to be able to buy a guitar of my choice, this is it and shall absolutely keep it. It's not the only guitar I'll ever own (have owned) but that's not how we work is it.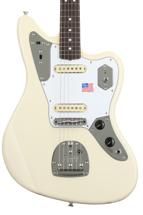 Solidbody Electric Guitar with Alder Body, Maple Neck, Rosewood Fingerboard, 2 x Single-coil Pickups - Olympic White