Sort By Date
Sort By Rating
Customer Reviews
Fantastic Guitar
This guitar is simply amazing. The setup is great and it just feels right. The majority of the modeled sounds are great...a few of them sound a bit artificial, but they are the ones I would never use anyway. The digital capo is great, but when you start getting too far away (4-5 frets) from standard tuning with a modeled tone it starts getting a little weird. All in all it's a great guitar...even without all the bells and whistles it still feels like a solid instrument.
great guitar
a versatile and user friendly guitar. really enjoy using the features as well as playing without them.
This could very well be the only guitar I'll ever need!
Marty Faley at Sweetwater set it up perfectly and the tuning stability is un-frigging-real! The emulations of the various guitar models are fantastically realistic with absolutely no processor delay. I can't wait until my instructor at Berklee College of Music On-Line makes a comment on my "tone" as he has in the past (Most comments on my tone during the graded assignments have been general but his specific comments on the reverb relate, unbeknownst to him, to the Eventide Space(-Factor?) Reverb and Beyond pedal!--Also purchased at Sweetwater). Wow!!! I think I've found the guitar that is the only guitar I'll ever need to own. Repeat: Marty Faley set it up perfectly and the tuning stability is un-frigging-real! The emulations of the various guitar models are fantastically realistic with absolutely no processor delay. I wanted 3 single-coils as most of the other guitars I own have dual humbuckers, but the HSS coil configuration sound really good by itself (with no battery installed), but the guitar models...wow....they sound beautiful. My wife really wanted me to order this guitar once she found out it had a Coral electric sitar emulation, and she and I are huge George Harrison fans; she just melted when I played his "Within You, Without You" upon receiving it. The various and numerous tuning modes are an added triple-plus. If this Korean-made model is so over-the-top (meaning superbly) fabulous, I'm really curious what the US-made custom shop models have to offer that are over and above the far-less expensive overseas models? I know you get 2 batteries with the US-made models, which is great, but what does paying 2 to 2.5 times the price get you? I really don't know or care. This model is out-of-sight and the Lake Placid Blue color is gorgeous, especially for me, who owns only white, red, and black models, except for the recently acquired transparent blue Steinberger Synapse TranScale, which is a miracle unto itself.

The only complaints I have are related to the battery-power system and the Advance Guide as mentioned in the Pilot's Handbook, which is no longer available on-line as stated in the Handbook; the hefty Li-Ion battery has to be recharged almost every day, and it's a hassle to have to unplug the guitar output cable every time I take a "long" break from practicing and studying to conserve battery life. I've yet to verify that the typical battery life is 10-12 hours. At this point, it really doesn't seem to matter if I have to recharge it daily or every other day. I plan on looking for a spare at Wally-Mart or elsewhere; the battery appears to be a fairly common type (7.4 Vdc, 2200 mAhr) except for maybe the terminal connections; the spares from Line6 are probably expensively overpriced.

I can repeat this enough: This could very well be the only guitar I'll ever need. I love the way it plays, sounds, feels, and looks and as far as I'm concerned, Line6 has hit a world-series grand slam with the JTV-69. It's cheap at twice the price!

More review comments to come later in this semester.
Simply Amazing
If you are contemplating it, do yourself a favor and get this guitar. I assume if youíre reading this then youíve overcome the powerful reservation surrounding modeling. So I will just get to it.

The JTV-69 is amazing. This latest Variax represents the brilliant marriage between old-world luthier craftsmanship and workable revolutionary technology.

The guitar:
The look of the guitar is familiar but a bit more curvy than a Strat. The cutaways are a bit deeper and the heel is contoured for better access to the upper register. Controls are easily accessed, though the alt tuning knob is a bit tough to manipulate on the fly. The tremolo is smooth and feels great. The graphite nut greatly adds to the guitarís tuning stability. Though Iím dating myself, I must say you canít wang on this thing like a Floyd Rose and expect it to stay in tune. But for subtle vibrato, itís great. The arm does not screw into the socket; it just pops it. The arm is nice and tight and holds it position relatively well.

The neck radius is 12Ē so chording and soloing are comfortable. The neck profile is thick enough to feel substantial but not so much so that it feels like a baseball bat. Frets are well dressed.

The magnetic pick ups are great. Iíd originally thought Iíd swap them out but will not be doing so. The humbucker is pleasantly hot and responsive. The single coils sparkle and chime and when you add some dirt they have a gnarly throaty growl.

Without the Variax modeling, this guitar is a joy to play.

With the modeling... all the models in the JTV are better than previous incarnations of Variax. The alt tuning knob is just awesome. One thing to note is you have to be playing at a loud enough volume so that you canít hear the dissonance between your alt tuning and your guitar in 440. Workbench lets you deep edit and build custom tunings and guitars at your leisure.

I havenít written much about the modeling aspects of the JTV, honestly because there isnít much I can add to the conversation. Line 6 has built a reputation and company on modeling classic amps, effects, and instruments and this latest Variax lives up to that legacy. What makes the JTV so amazing is that Line 6 managed to pack all of the emerging tech into a beautifully crafted guitar.

As a side note, this was my first transaction with Sweetwater and they were incredible. The guitar arrived well pack, perfectly set up, and I was playing it within minutes of getting out of the box. The sales engineer I worked with did of fantastic job of keeping me updated at every phase of my purchase and also contacted after to make sure I was satisfied. Iíll be shopping with Sweetwater again.
A versitile guitar
I've had the JTV-69, lake placid blue, for just about 3 weeks. I have lots of oohs and aahs on the look and color of the guitar.

I used it in a gig the first weekend after I received it and we have several gigs coming up where it will be used. I brought my acoustic as a back up guitar to this gig, but never picked it up, so at my next gig, just the jtv-69 will be there.

This guitar is fabulous and does so many things. I've programed in capo 1, capo 2, capo 3 and capo 5 since we sing songs with those settings. It took a while to get the technique down to change alternate tunings, but once in, they stay. If I want the original settings back, I can either hook it up to the workbench software and flash it back or just change it back.

Its great to be able to sound like a tele for our SRV covers, and then like a Rickenbacher for our Beatles covers, and then like a Martin for our acoustic set, etc. I bought an A/B box so I can send the electric signals to my amp, and when we do our acoustic set I can send the signal to our PA.

Battery life has been excellent, and I like the way you can push a button to see how much charge is remaining.

The only reason for the 1/2 star deduct is the fact that the e string is too close to the fret edge especially at frets 1 - 4. Occasionally I pull the string off - I am working on adjusting my technique to deal with issue, but I should not have to alter my technique.
A Fun Toy
I bought this for myself as a Christmas present. Here's my summary:

Alternate Tunings. The idea that I could play songs in different tunings just by twisting a knob really appealed to me. I've always wanted to experiment with learning to play in different tunings, but not enough to retune my guitars over and over. That's the main reason I purchased the Variax. Needless to say, when I plugged it in on Christmas day and found all the alternate tunings were WAY off, I was more than a little disappointed. For example, in Drop D, the low E string stayed in E, but the A string dropped to G! I had to search the internet until I found a forum where someone explained how to reset all the tuning (the manual does not explain). It took three attempts, but the reset appears to have taken and the alternate tunings are working.

Modeling. The guitar allows you select from many different sound-emulating models: Les Pauls, Teles, acoustics, a Ric 12-string, even a banjo (which actually sounds pretty cool). The problem is that the tones sound ... well, modeled. I've read reviews about people using this as a gigging guitar, so they can switch sounds to get any sound they want, but I just can't see that. I play in a Memphis oldies/classic rock band and I would never consider using this at a gig. The tone just isn't there (nor the playability - see below). Also, I would worry about the battery running out, leaving you soundless mid-song. If you leave your guitar plugged in, the battery will drain. I charged the battery, left my cord plugged in and the next day it was dead.

Build Quality and Playability. This Korean model is definitely not terrible build-quality. It looks great, and overall seems to be good qulity. But it's not a very playable guitar, at least as compared to my other guitars. The frets are too high for one thing.

Overall. While some of the above sounds negative, this guitar is incredibly unique. Now that I've apparently got the alternate tunings working, I'm looking forward to playing around with them and learning something different (I've always played in standard tuning).
Great sounds but serious quality issues
This is not a well crafted instrument. The fretwork and design of the neck are such that the high- and low-E strings easily slip off of the fretboard. The bridge sticks when using the vibrato, causing the strings to go flat and will not return to pitch rendering the vibrato useless (unless you like going out of tune). The model selector knob does not always engage (turn on/off)when pushing down. Most of the sounds are good but the instrument is either poorly made, or poorly designed, or both. Very disappointed by this purchase and would not recommend this guitar.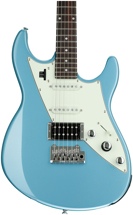 James Tyler-designed Modeling Electric Guitar with Bolt-on Maple Neck, Alder Body, 1 Custom Humbucker, 2 Custom Single-coil Pickups, and Switchable Models and Tunings — Lake Placid Blue