Sort By Date
Sort By Rating
Customer Reviews
solid unit with various uses
This unit is not only for guitar re-amping. I have used it to eliminate ground hum when sending an aux feed to a mixing board for a PA, and the volume control allows new interface uses.
The perfect studio guitarist!
For 2 years I was thinking of buying a REAMP. I even wired my console with a patch point to an XLR with REAMP engraved on it. But... still, I mic amps, get sounds and record. Sometimes with a DI, but usually not. I am a huge believer in committing to a sound, after all I was raised on 24 tracks. Finally, with an important session, and time an issue I called my guy at Sweetwater and said send me one.

Like most parents say when they have a kid, they wish they did it sooner... same thought here. I got a great direct sound for the session, some amp sounds for his headphones and all was well. Next day I edited the takes made a comp and sent out the guitar through my labeled patch point into the reamp and it was absolutely transformational. How could I have waited so long to record this way? I got the perfect tone, placed the mic perfectly taking the time I needed, playing select parts to make sure the amp reacted appropriately under each dynamic, and when it was all done, command + spacebar... and finished. Perfection! It's the only way I will ever record guitar from this moment forward, and I have been doing this for 25 years! Honestly, a paradigm shift. Amazing!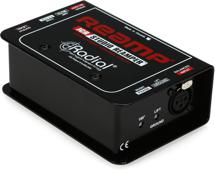 Passive Re-amping Device, Variable Output, Custom Transformer, 3-way Filter Switch, Phase Inverter, and Ground Lift