Sort By Date
Sort By Rating
Customer Reviews
Fender Aerodyne Jazz Bass
I give this Bass a 5 WOW.
1. It sounds great.
2. Its easy to play this bass.
3. Its easy to dial in your tone.
4. It is beautiful, looks great on stage!
5. The Price is half of your top end bass.

Went through a lot of basses trying to find one that I love as much as my 2004 Warwick Corvette, and this is my go to bad boy. Wish I would have found this from the start, it would have saved me lots of money, so if your looking for a bass, try this Aerodyne, you will keep this one, and did I mention the price, also easy to setup yourself. Im tempted to buy a backup, its that good peeps. Sweetwater does a great job with the shipping and handling and personal customer service unlike the other online music vendors.
Topp two in one
P-bass and J-bass in the one and only. Nice smooth Japan prod. The sound is great and I love these feeling and punsj ....
Aerodyne jass bass
I`ve got a cuple of basses during the years, but no one like this babe! The only problem is, that I`ve go`t to polish it after every damn time I`ve used it! That`s the only "drawback"!!Otherwise I`m so happy with these beauty!!
This is my new favorite bass!!!
I love this bass. It looks really cool, the neck is fast, slim and very easy to get around on. The pickup configuration is one I have never used before but I was very impressed and it sounds great. The build quality of the Fender basses made in Japan is outstanding. I would highly recommend this bass to anyone who is looking for a a J-bass neck with a heavier more muscular tone. I had Mike Lull Plek it and do his magic setup on it and it is just incredible how awesome this bass is. I also have to mention what a pleasure it is to do business with Sweetwater and my personal sales engineer Mark Thompson. Mark is first class and always takes care of me 100%.
My First Purchase In The Bass World
While I have to preface this by saying that this is the first Bass guitar I have ever purchased, I am completely satisfied with my decision. I put some flat wound GHS strings on this and it has exactly the type of thump I was looking for. Easy control of the Jazz or Precision pickups, tuning is rock solid, neck is easy to get around on. The only reason I took half a star (and I had heard from others so wasn't too shocked) is that this thing is a finger print magnet. Keep a polishing cloth handy though, and you'll not be disappointed. The best part for me though is knowing I can always count on Sweetwater and my sales rep Jon Gillespie to get me the gear I need (OK, want) and get it to me quick!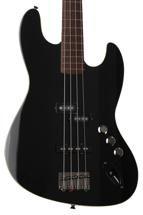 4-string Electric Bass with Basswood Body, Maple Neck, Rosewood Fingerboard, and Two Single-coil Pickups - Black