Sort By Date
Sort By Rating
Customer Reviews
Great bag for 25-key controller and 15in laptop
Bag fits Axiom Pro 25, some cables, and 15in Macbook Pro perfectly.

The only problem with the bag is that there is not enough room for my audio interface and external hard drive, I have to use another bag due to the lack of room for the extras.

The bag provides moderate protection with thick padding.

If you have a simple controller-laptop set up, then you are in good shape, but don't expect to fit some of the extra studio gear in this bag.

I've only had this bag for about a month, so I will keep this review up to date in regards to how it performs in the long run.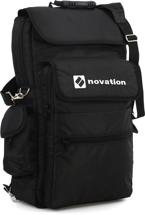 Backpack-style Gig Bag for Impulse 25 and Other 25-key Controller Keyboards, with Room for a 15" Laptop, Cables, and Other Accessories - Black