Sort By Date
Sort By Rating
Customer Reviews
It Just Works!
The Impulse 49 along with the Automap software makes production an absolute snap. I took a class on digital music technology 10 years ago, when Digital Performer was the industry standard. Mapping things and dealing with Midi interfaces was such a pain. This is an unbelievable time saver. There is absolute minimal setup. The controller itself is very powerful and unique. It works perfectly with Ableton Live. Awesome.
Novation keeps innovating
I've been through countless midi controllers in the past. Each had fallen short in some way. Then I found Novation controllers. I loved the idea of automatic mapping of each control with the music software and plugins. However, a few of the Novation midi keyboard controllers I tried came only so close to being really great. (Both the hardware and automap have been going through an evolution of sorts for Novation over time.) Then came this which I fell in love with. I love the drum pads on this (something long overdue for a design change), the fact it has nine faders instead of just the typical eight on some controllers, the clip launch and arpeggiator features, and just the overall design of it. It works really well with Ableton Live and can't recommend this enough for it. I have no complaints with this keyboard. Simply awesome in my opinion.
Novation Impulse 49 is a HIT!
This Keyboard controller Maped to my software with ease after a few clicks i was up and running. The fact that i can turn it into a mixier for ther software is a great feature ( two buttons andf its a mixer for Reason) This unit works great with ARKOS, Pro-Tools, Reason and all my hardware synths.
Fell in love with it right out the box!
I purchased this after much research of this board and the Nektar Panorama (I use Reason right now). I weighed my options and decided to go with this as it had more potential to grow with me should I explore other DAWs with the automap software. I was concerned that it might not feel great with Reason, but I was wrong! I added this to my template session and everything just worked! I still have to figure everything out, hence the 4 stars, but I havent had a problem at all with it that I couldnt figure out...still a lot to learn with all the functions but the basics just work with no problems! I would even use a 61 key version in a live keyboard rig with software and tracks. I'll probably try it with my 49 at some point though. Great buy!
Great Controller
Pretty good controller. Decent drumpads and the keys feel great. Automap software leaves a little to be desired, especially when using with Reason 5 & 6 (cannot use the mixer with Reason), but if using with Logic, Studio One 2, Ableton, etc...great functionality. Novation tech support is great and extremely helpful!

Word of advice: If you're looking for a controller to use with Propellerhead Reason, you might want to keep looking. Setting up this controller with Reason is a real hassle. Not so much the controller but the wall you hit when attempting to use the mixer in reason fully with the controller (not possible at this point according to Novation).

Drumpads could be better. having only 8 kinda sucks when trying to control a MPC like software instrument/drum machine. But anyone serious about audio production should invest in a separate controller just for tht (MPD MPC MPK, etc)

Overall 4 outta 5
Almost there
Troubles with faulty software installation gave a bad first impression but tech support was pretty good and things seem to be squared away now. I think the overall quality of the keys, sliders. etc could be better but for the money it's a very handy unit putting everything I need in front of the monitor. Hopefully software updates will help others avoid the headaches I had. Probably better to install from the online source rather than the included CD (an older version) and then updating.
a gr8 new change for me
I had been using a M-Audio 88 key controller for years, and needed something smaller. It works gr8, I just have to learn how to use automap with reason 6. Everytime I restart reason I have to set it up again. but it works and feels gr8, i like the pads.
A very mixed bag. Buy wisely.
After having owned this unit for over 6 months, I've made up my mind about it.

==PROs==
It's nice on the eyes. The way everything glows is nice, especially the pads.

The keys, mod/pitch wheels, and bulk of the overall unit feel fantastic. I use the mod wheel a LOT and it feels gorgeous. Of course the semi-weighted keys can't compare to weighted keys, but compared to other semi-weighted units, this is one of the better ones. Beats M-Audio by miles.

The pads FEEL awesome but are somewhat lacking in responsiveness. I find myself using the keys for certain percussion lines instead. And this sets us on our path to the cons....

==CONs==

On Windows 7 64-bit -- one of the most rock-solid "mainstream" OS's i've ever used, the Automap software is a complete, buggy mess. It refuses to even detect that Nuendo 4 (my main DAW) exists, but picks up Nuendo 5, Sonar, and Reason flawlessly.

If Automap wants to update the Impulse's firmware, it blocks access to the ENTIRE mapping editor until you update! Oh yeah, and it was stuck saying I needed to update for MONTHS, no matter how many times I let it "update"! So much for the mapping editor, eh?

The faders are below mediocre. The knobs are garbage. They don't just feel like garbage, they're garbage. I'll be trying to use one of the knobs to slowly automate something, and the value will suddenly jump to say 3/4 turned when I've barely cleared 1/4 turn.

The arp/roll features are neat but useless to a semi-pro or pro. It's more practical to just play the part by hand and not be stuck to a single tempo/signature setting. But I'll admit, it's fun to fiddle with.

==CONCLUSION==

If we're just talking about the core functions: a USB MIDI keyboard with pitch/mod.... It's fantastic. Really, these core things work and feel awesome. Just playing the keys is a total joy. But literally everything else feels lacking, gimmicky, and is, all too often, completely useless.

So, as I put in the title, it's a mixed bag of great and horrible. It brings new ideas to the table and is certainly ambitious. I'm curious about an "Impulse 2" series that could improve upon the problems presented here.
Novation & Automap?
I love the look and feel of this board! However, I'm waiting for SOMEBODY to actually produce a product that will "Automap" without hassle! I need to have plug and play features without headaches. I don't have time to mess with remapping what is stated as already being done for me in the advertising. I was very excited for this product only to be disappointed once again with the user interface!
inSync Review
Mitch Gallagher
2-24-2012
The latest USB keyboard controller from , the Impulse aims to provide complete control over your entire rig, with a slew of controls and functions. Does it succeed in its goal? Let's check it out!

There are three flavors of Impulse available: , , and . I received the 49-key Impulse for review. Aside from the number of keys, the controllers are all similarly featured. The semi-weighted keybed has assignable aftertouch, and it feels great under your fingers. The obligatory pitch-bend and modulation wheels are provided. A nice blue LCD screen gives you visual feedback for what you are doing.

But this controller is about more than just the keys. It's decked out with eight assignable rotary controllers (knobs) and nine sliders. (The sliders are only available on the 49- and 61-key versions -- there isn't room for them on the 25-key version.) Having nine sliders allows for full control over tonewheel organ simulation, if that's what you're using them to control. They could also be assigned to control DAW mixer faders or other control applications. Each fader is accompanied by an adjacent assignable soft switch.

There are eight responsive groove-box-style pads for playing drums. Additional switches allow you to use these pads to do rolls, launch clips, or arpeggiate. A full set of transport controls rounds things out.

All of these controls, plus others, can be quickly and easily assigned to send out MIDI control change messages. As just a MIDI controller, the Impulse has all of the control and features you could want. But it's when you install the included Automap V4 software that things get hopping. Automap V4 is an application that automatically detects what software you are running on your computer and instantly configures the Impulse to be able to control the parameters in that software -- be it your DAW, a plug-in, or a virtual instrument. This feature is amazing, and it truly allows the Impulse to become command central for your entire virtual studio. It's a joy to be able to get your hands on your software, whether you are mixing, tracking, playing, or processing. Automap V4 makes the process seamless and transparent.

The Impulse is one of the most full-featured controllers I have encountered, with a great-feeling keyboard and plenty of controls. Combined with Automap V4, it's a stellar package that can take charge of any virtual rig.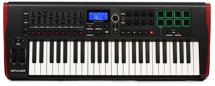 49-key USB MIDI Controller with Semi-weighted Keys, 25 Knobs/Faders/Pads, Dedicated Transport Controls, and DAW/Instrument/Automap Software - Mac/PC