Sweetwater Advice
Many bass cabs can't give you the best of two worlds, but that's where the Hartke HyDrive series of bass cabs step in! You get all the lush warmth of a traditional paper cone coupled with the razor-sharp definition of the signature Hartke aluminum cone - all in a lightweight design. I use this cab paired with the Hartke LH1000 head for the ultimate "do anything" bass rig.
Sort By Date
Sort By Rating
Customer Reviews
Awesome cab!
I am truly blow away by this cab. Running my Mesa Boogie M-Pulse 600 through this cab and it sound AMAZING! I'm really loving the amount of bottom end coming out of this as well. I've thought about getting the 500 watt 15 cab to couple with this, but a) I don't really need to and b) I may just go with another 4x10 if I get another cab. Maybe get another one and a Hartke Kilo 1000 watt head? Sounds like a plan to me.
Hartke HyDrive HX410 (4 x 10")...WOW!
I've been out of music for almost 20 years now, but want to rekindle my passion for it. Previously, I had a couple of Fender Bass Amps and more recently a Peavy 1810 cabinet with a Mark V head. I loved that setup.

But the Hartke cabinet along with the Hartke LH-1000 Amp head is by far the best rig I've ever owned. Its powerful with really bright sounds!
Awesome cab
Hartke really did bass players a favor with the HyDrive line of bass cabs. I can't say enough good things about this cab. I recently picked up my second HX410 cab from Sweetwater, so now I'm playing through my Hartke LH1000 head into two HX410s. This cab can do it all, most likely because of the hybrid paper/aluminum speakers. You can go from a warm, old school tone to a modern, edgy tone and everywhere in between and it still sounds great. The tweeter adds even more high end, should you need it. Personally, I find the -6 db setting to be just right. If you've been looking for a do-it-all cab that won't break the bank that sounds great, look no further. Seriously.
Nothing compares to this 410!
Got it 2 days ago and I've finally stopped playing long enough to write a review, which I never do but I had to review this cab. In this time I used a Hartke HA series head with a Fender Jazz, Gibson Les Paul Money, 2 Washburn Bantams(1 active) and a Rogue fretless and REALLY this is the best sounding bass cabinet I have EVER heard. The sound is so natural and non colored, smooth, deep, punchy, amazingly clean. After noticing the tweeter switch was off I switched it on and WOW the brightness and punch with the most incredible clarity came alive, well it was just unbelievable. It's not like the older, all aluminum speakers at all. They're more like a paper speaker with way more brightness and clarity. I own a classic 810, a pro 410(Eminence's) and a 115 cabinet and none of them in any combination with tweeters on or off come close to this 410 cabinet on it's own.
Thank you Hartke you hold the title now!
HX410 Hartke Hy drive cabinet
I would have given this cab a 5.0 but one speaker blew during a rehersal after 3 weeks from new. My confidence level has not been restored yet, but I will say that it was repaired within 6 days. The sound is great, clean with no coloration. I use a Hartke LH 500 head and with the 410 cabinet the head is only putting out 350 watts. Why did the one speaker blow?
Good honest value rig
Played with lots of gear but never been a Hartke man. I now play an LH1000 through the HX410. Very happy with it. I have played a lot of pub / club gigs with it and it has never let me down. It has a very useable range and can certainly handle the LH 1000. People looking for HUGE amounts of bottom end need to look at a different cab and probably another very large amp . Powerful bass doesnt come cheap and you need plenty of watts
I will use this cab until it dies - and then buy another one!
Hartke Cabinet Is Awesome
I've been using Hartke equipment for live performances for years, The product is well made, and can withstand the abuse of roadies, and night after night, it still performs like it just came out of the box.
6 months... jury still out
Love the look, the light weight, the sound, and the price is ok, however...
I bought the HX410 and the HX115. I use a GK1000RB head with a Musicman Bongo axe. The low end is pretty amazing. I found myself cutting down the low end below flat and will probably cut some more.
For smaller gigs I just used the 410 and found the 1000 watt rating is more like 250 watts. I blew one of the speakers and the whole cab dies except the horn. I'm actually more impressed with the HX115 cab. I had to use it by itself while the other was repaired. No problems by iteslf. Then I stacked a BagEnd cab single 10" with a horn I have and it screamed. The 410 was repaired quickly but the speakers tend to flap when I attack aggressively and the punch drops in and out at a volume level of 4 1/2. I'm going to try a few more settings and possibly a compressor/limiter to the rack before sentencing.
Not enough a.. !
ehhh, it sounded great in the store at a low level ( like everything else ) but when I got to play it @ a gig the low end presence wasn't there like I thought it should've been, with that being said I'm always skeptical of socalled 800 -1000 watts bass enclosures rated @ 8 ohmns
Not enough low end
I bought this along with the LH500 head as an upgrade from my old trusty 1974 Peavey bass rig. I sounds awesome at lower volumes but lacks the kick in the nuts that my 2x15 peavey delivers. So I've since scrapped the cab and stuck with my old 4 ohm Peavey matched up with the LH500 head (which is much better than the old Peavey 400 Series head).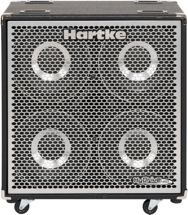 1,000-watt 4x10" Cabinet with HyDrive Neodymium Hybrid Cone Drivers