Sort By Date
Sort By Rating
Customer Reviews
I upgraded from its little brother the HT-5 after thinking that was one of the best amps ever. I play in a cover band that plays classic rock, punk, blues and metal from 60's to now. This amp can manage anything, and actually has made me a better player, as I can output the tone in my head. With my Les Paul has Doorsy and Creedence cleans, Stones and Black Crowes overdrive, AC-DC growl, Gunners Slash tone, and Offspring and Metallica nailed. VERY LOUD in gigs with loud drummer, but still gives great practice-level volumes. A must buy!!!
The Club 40 Its LOUD!
Ran it through a 4x12 cab with celestion M70s WOW!!! It was LOUD and sounded great! Im very surprised. I play hard rock with loud drummers and this Club 40 keeps up just fine!! My XXX head is history!! Thanks Sweetwater. You got the best staff !!!!
Perfection in a combo
No matter what sound you are going for. The Hot Rodded Plexi or 800,,, its there, American or British its there as well. The Boutique setting on the clean is amazing to me. It breaks up without killing you. I have played threw all the HT series amps and the HT Club 40 and the HT-50 Head sound the best of the lot. The HT-100 has a tighter sound but not as versatile. The HT Studio 20 is nice but lacking the "Boys" for lack or a better word of the 40 and 50. I play out on mine 4 nights a week and is flawless every time.

Would LOVE it if this amp came with a 3rd channel like the Stage 60 and 100 but, Well they don't sound as good to me as I like the more "Open" Sound. Make the Modern and Classic buttons foot switchable and That would make me very happy then it would be total perfection.

If your a Metal Player, Blues Player, Country Player or Jazz player, This Amp can do it. No matter where you have the EQ set, its punchy. I get complements all the time on the sound of this little beast... (Its not so little in size) on how HUGE the sound is. I use the DI and a 609 threw the board and it sounds like a wall of 100 watt stacks hitting you in the face.
Amazing Tone
Love the tone of this amp. It actually has more gain than I expected. There is no need to add any distortion pedals to this amp.
The clean is good, but not great. The ISF feature is okay. Nothing too drastic. But no matter what, the tone of this amp is incredible.
Set the gain at about 5, OD voice in, volume at 5, everything else around 4-6 and it sounds perfect.
And Sweetwater delivered it within two days!!
It really is the sound in your head
I have owned this amp for about 3 days now and it is just incredible. This amp is a real tone monster. I play a lot of different genres and this amp just keeps amazing me with how versatile it is. There is only one thing about this amp that is not great. It is hard to get a good "crunch" sound. But then again, I have only had the amp for 3 days and I haven't even scratched the surface of the tonal capabilities of this amp. The highlight of this amp is definitely the overdrive channel. The range of tones on the overdrive channel is awesome. The ISF feature really helps you find that tone you are looking for. Another great feature is the voice button. it make is so easy for me to nail the right sound every time. The response on this amp is great which really makes those solos sound so good. 6-string chords are clearly defined. The clarity of each note is incredible. The reverb is also great. This amp can easily compete with the big boys. I chose this over a Fender Hot Rod Deluxe. This sounds much better. In my honest opinion that is. For me this amp has been the biggest bang for my buck. 5 stars. Cant wait to take this thing on a gig.
Amazing Value/Sound
Pulled this baby out of the box(nice packaging)when I got home from work,and could not stop playing through it! After 5-10 minutes of tinkering- dialed it right in,yet there is so much more this amp can do.First-very quiet,even when wound up.Initial inspection tells me this think is built like a tank.Fit,finish is superb,dials tight,precise-appears very rugged-time will tell.The cleans are chimey,clear,and bell like if desired-with the ISF control(awesome feature)Fender like or Vox/Brit type tone,or dial in the ISF somewhere in between for a unique blend of both.Like most players it is a constant chase for the ultimate sound/tone.You would easily have to pay 2-3 times more for a boutique type amp that does what this amp does.And I'm saying that based on actually playing a bunch of them.As far as I'm concerned this has got to be THE BEST BARGAIN on the market right now.To get to the overdrive channel:Driving metal tones,smooth creamy sustain,(again the ISF dial),Marshallesque,Mesa type,and pretty much anywhere in between-I was hard pressed to find any limitations.Reverb:not a huge fan of reverb in general-reverb sounded fine.I would love to hear this amp plugged into a 2x12/4x12 or even a single 12 extension cab. I am of the opinion "less is more"as to dials,buttons,this and that.All controls are functional,precise,tight and useable(did I mention the ISF control!!!),just an awesome,innovative feature-that does what it claims.I tried this beast with a Les Paul Custom and an Fender Tele.Both sounded great,the Les Paul seemed a bit more vibrant,but just being very picky on this.All and all just unbelievable sound for an amp in this price range-The folks at Blackstar are completely in touch with what is expected of great tube tone,and for a newer Co. I can't wait to see future products,innovations they come up with.YOU HAVE TO CHECK OUT THIS AMP!!!
Great AMP at a great price
I love the versatility of this AMP. I can dial in just about any tone that I want. From clean crisp to fat and chunky. If you are looking for an all around great AMP at a great price then you need to try the HT Club 40! It is everything I need from the studio to the stage.
This Hot Rod can hang with the Boutique Boys
I played a 1971 Marshall 100 watt for years. It was my "go to," and like all 40 year old amps, it started to fade on me, and was becoming expensive to keep up. I was blown away by the Blackstar HT-5, and used it in the studio. When my Marshall went down at a gig, I plugged the little HT5 into my 4x12 and had great tone all night!

I stepped up to the Club 40 a week later and I am never disappointed by this fantastic amp, nor does it ever cease to surprise me with what it can do. It is the perfect size and volume for just about every gig I've done - from dive bar to festival stage - and drives a 4x12 like a rodeo bull! I can dial in my old "Marshall" sound, straight up Brit rock, full on metal, or dirty blues with ease! The clean channel is wonderful and when used "Class A" and dimed, is nasty and gritty with plenty of tone!

The ISF feature is a Godsend. You can really shape your tone and get some great tone that cuts through a loud band. The secret weapon in this already killer rig is the emulated line out. You run the amp on Standby and right into your recording gear for silent recording at any hour, and the tone is unbelievable. I have not recorded a miked guitar since!! The emulated tone is lively and vibrant, and sounds like you're recording a wall of cabs!!

I have been playing guitar for three decades, and I have yet to see a company as innovative as Blackstar, nor have I ever owned such a wonderful amp. I can't believe what you get for your buck with this little gem. By far the coolest amp I have ever owned!!
Best amp I've ever owned
Saying this amp is the best amp I've ever owned is a huge understatement. My previous amps have been a Carvin V3, Marshall JCM 800, Peavey 5150, Mesa Boogie Dual Rectifier, and a Mesa Boogie Stiletto Deuce. This amp outshines all of the others, by far. The tone is great from bedroom levels, all the way to stage volume. I was skeptical at first of the single Tone control on the clean channel, but it proves to be the single most effective knob ever placed on an amplifier. The ISF feature is incredible, and I'm asking myself how I ever lived without it. I play in a Rock/Blues jam type band and this amp can cover anything and everything. I will be purchasing the HT 100 head within the next month. I'm now strictly a Blackstar player for life.
Never regret sound on your head
This Amp is the best i have been play for under $1000 prices, after i got Blackstar HT Club 40 these Marshall, Peavey, Randall, Boss GT 10 now i put them on garage,

Unbelievable with Blackstar HT Club 40 sound, so amazing and cool
after you get this Amp you will keep practice more and more because it so good to hear it..if you guy looking for good Amp this one is no sorrow.
BEST amp you can buy under a $1000
I am former owner of many boutique style amps. Yes, some of them had some glorious tone. This amp sonically is on par with anything made under $2,000.00. It is versatile with the clean/distortion channels. Nice FX loop. The ISF knob and help you coax some subtle differences in tone. The digital reverb is not overdone and believalbe. One of the more quiet amps I have played. Can get pretty gainey and I am not a metal guy so the drive channel lives around 9:00. I own some very nice guitars and this amp compliments my guitars nicely. I have tried to own some modern Marshall amps and they just don't live up the amps of golden age of Marshall. This amp may not have the Marshall mojo, but it beats almost any EL tubed amp under $2,000.
Blackstar HT Club 40 -three amps for the price of one!
I spent countless hours searching for my next tube amp for my classic rock jam band. Tried great models by Fender, Marshall, Vox and Orange! I liked qualities about all of them and wish I had budget and space to buy all four! Along came the Blackstar HT-40. Tweak the clean voicing channel and bright reverb feature-the Fender sound is there! Go to the boutique clean and turn up the clean volume-Vox/Orange clean and breakup at your service! Distortion channels range from agressive American to cream type Santana/Slash/Warren Haynes distortion. The effects loop is awesome! This amp is a great value and does not sound like I settled! If I could change one thing it would be to add the voicing options for each channel on the footswitch. My Sweetwater Sales Engineer Patrick Dennis is a pleasure to work with and the amplifier was delivered to my home in NJ within 3 business days!
Versatile Powerhouse Amp!
I own this amp and it's a workhorse. You have so many tone options with the ISF control on the overdrive channels with both Voicings. I does just what is says. It gives you both a American tone and British tone and a wide array of tones inbetween both extremes just by turning nob. On top of that you get 2 very different clean voicings that are out of this world. While I don't really use much reverb the digital reverb sounds outstanding on both setting options located on the back of the amp. You can run it through a variety of different extention cabs as well. The only reason I didn't give the amp a perfect 5 is I wish the included foot switch had the option to switch between both voicings on the cleans and overdrive channels but that's really a small complaint. Overall, this is an amazing amp for an amazing value that can shine in whatever type of music you choose to play. If you're looking for a versatile amp that won't break the bank do yourself a favor and check out this amp or any amp coming from the good folks at Blackstar. You'll be Glad you did!
High Gain, High Value
This is a good high gain, budget amp. Let me start by saying 40 watts is a flexible level of power allowing you to really light up your power tubes in about any situation with some channel level adjusting.

I got this as a portable practice amp with the band, but have ended up using it at gigs as well. I tried this amp out at various stores before pulling the trigger. It always sounded great in these environments, but when I got it home (to a quiet place) the tone was a little fatiguing (this sort of thing varies from person to person, but I'm trying to give a full disclosure here). Now, if you did your research before hand like a tone freak does, you'll know that it comes with cheap tubes and a budget speaker (not to say that they suck, but to reach their price point compromises are made). Many people end up swapping the tubes and/or speaker. So this is where I went (check the warranty first and be sure you're fine with it). Simply swapping out the preamp tubes (for a JJ and a Tung-Sol in my case) instantly got rid of the ear fatiguing highs and made me even happier with my purchase. It's a cheap, game changing upgrade. I think if they upgraded the preamp tubes, more people would be instantly impressed with their amps. Lucky for us, preamp tubes are cheap.

Dirty Channel (voice switch off): great, usable classic rock sound.
Dirty Channel (voice switch on): incredible amounts of tight high gain. Again, very usable live. Great for metal, and if you turn down the treble, great for alt/modern rock.
Clean Channel (voice switch off): extra clean sound, great pick attack control. (preferred clean for a live situation and with pedals in front of the amp)
Clean Channel (voice switch on): I initially really liked this setting, but if I played hard, I found that it made it easier to overload the sound in a muddy/bad way. I use it only in very specific controlled situations for recording.
The ISF knob is very cool indeed. I use a blend of British and American. The speaker outputs on the back are a welcome addition for flexibility. A great way to try out different speakers and configurations.

The direct out is usable, but nothing special. I would only use it at a gig as a last resort. I found it didn't take much to overdrive/distort it (in a bad way), so spend some time playing with it before you need to use it.

The amp could be improved by added the voicing switches to the foot controller (turn it into a pseudo 4 channel amp!), and better stock tubes/speaker. This has turned out to be a super amp with lots of potential that can hang with the big boy amps.
Blackstar HT Club 40
The perfect amp for my classic rock band. I had it for two days before I used for a gig. With hardly any time to noodle around I was able to dial in some nice cleans and the perfect dirt. Even the piezo on my Carvin sounded as close to an accoustic as you can get. I threw a Boss Feedbacker/Booster in there and it punched out a great lead tone. There was one problem though... I took out the fuse so that I could pick a up a spare and when putting it back in the cap that holds it in broke. It broke partly because Im a dork and partly because it is kind of crappily made. Because of this the amp is now dead in the water. Sweetwater and Blackstar both responded quickly to my SOS and now I'm just waiting for the part. BUT it never should have happened.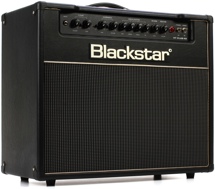 2-channel, 40W Tube Amplifier Combo with Infinite Shape Feature, Overdrive and Clean Voice Switches, Reverb, and 1 x 12" Speaker