Sort By Date
Sort By Rating
Customer Reviews
Nice stand for all guitars.
I use this stand for all my guitars when out of the cases. Excellent padding and folds into a small unit. Easy to take on the go. On-Stage products are a great value. Thank you Sweetwater for your outstanding customer service.
Great Stand
I bought this stand hoping it would protect my guitar from falling over, and so far it has worked great even with our pets and our young grandchildren running around
a frame guitar stand gs7462ba-
i just got mine can't wait till friday nite to use it on stage it's a great bye
Best on the market!
These things hold any guitar, take up very little room. I have 5 of them!
Small and Sturdy
The stand has a very small footprint and holds almost every guitar. Very well made and sturdy.
Say Cheese!
I got this to get some nice pictures of my guitar collection. All my different guitars fit on it fine, and it does not block the instrument in the photo. From a Guild 12 string to Strats & LP's and beyond every one sat stable and smiled when I said "Cheese"
Compact and sturdy
Best guitar stand ever. Despite its compact size, it is sturdier than regular stands with neck yokes. Holds my acoustics in place; virtually impossible to knock guitar out of stand, or to tip stand over due the low center of gravity. Super easy to pack for gig, no parts to lose.

I am ordering another to go with my new electric guitar that I am getting from SW. Buy one and you'll never use those old fashioned stands again.
Great!
It's great, I love how it's acoustic and electric. I have a few around the house, and can always rely on them to hold any guitar (Except offset-waist guitars, of course) without risk of slip.
A Terrific Stand
This holds my Epiphone SG quite well. It's perfect for guitars with symmetrical bodies. My son had to get a taller stand for his white blond Fender Bass (Mark Hoppus). I love its simple design and how solidly it supports the SG.
GS7462B Guitar Stand
After many years of resting my Ibanez acoustic dreadnought against chairs, walls, etc., I now have a rugged padded stand to safely hold it at the ready. This stand is nicely padded and stable, even on thick carpet. Super item.
Great Sturdy Little Stands
We love these sturdy little stands. We have 5 of them on stage with us and their always ready to work!
Good Stand;
I own several different types of stands and thought I could live without my A-frame. Gave it to my daughter but regretted it. But, she wouldn't give it back! Had to purchase another. I like the ease of folding it up, it doesn't take a lot of space and is stable when the guitar is on it. Versatile in that it can also hold an amp., although the fit isn't ideal.
An A+ for the A-Frame
It's hard to get too excited about a guitar stand, but as far as guitar stands go, this is my favorite. I own four of them (plus the double-guitar A-Frame).

They are sturdy, and most importantly, they hold the guitar without messing with the neck. I would not even consider a stand that places weight against the top of the neck. Either hang it, or rest it by its body.
Great stand
Very well made and sturdy. Protects your guitar well.
non-symmetrical instruments beware...
This stand is great if your instrument has a consistently symmetrical curve or flat base. However, if there is any sort of angle that is not symmetrical it has a high probability of falling over.
Be careful with the protective pad
I bought this for my new Taylor 514CE. They both arrived three days ago. The stand was in my music bag for playing at church tonight. When I got home, I took it out and set it up. Luckily, I noticed just before I was going to put my new guitar in it, that the protective foam pad was missing. It came off in my bag. I came within in instant of scratching the back of a new, $2800 guitar because the pad was not attached securely. Definately not a reliable piece of gear.
Great stand
Securely holds many guitars: an Ibanez solidbody, a large acoustic, my ES-335, and even a P bass. Indestructable. Folds flat, though not quite small enough to fit in a gig bag pocket. Highly recommended.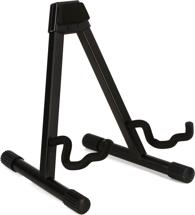 A-frame Guitar Stand with Velveteen Rubber Padding and Stepped Yoke for Acoustics and Electrics