Sort By Date
Sort By Rating
Customer Reviews
More Than Worth It
Ok, I hope this doesnít turn into a book.

Disclaimer: If you're inclined to buy this pedal "because expensive" this review may not be helpful. If you're inclined to buy this pedal because your honest about your experiences on the quest for holy tone, then by all means, read the tale of a fellow pilgrim.

This pedal is the work of an artisan-engineer-musician. You kind of need to be those things to make what Iím about to describe.

Tone: This is so subjectiveÖand frankly words sometimes fail. I canít recommend the Germ Drive to everyone. Itís like wine. You enjoy what you enjoy. If itís $5.00 or $500.00 dollars, it shouldnít make a difference. You should be willing to pay either for something that is good.

Well, this pedal is not cheap, but it is so good. I enjoy it so much more than any pedal Iíve played, so yes, it is this valuable to me. I just switched from a BadCat 2 Tone OD/Pre. When I had it, I thought Iíd never play a solid state OD pedal again. It had life, sparkliness, and great breakup for what I enjoy to play. The only problem was that there is a notable tone difference between the clean and dirty channels. The dirty channel was more lo-fi and I occasionally missed some of the highs I like to remain present. But I stuck with it because I hated the compression and downright obfuscation of my tone through most solid state pedals I had used. Well, the Germ Drive pedal has everything I enjoyed about the Bad Cat, without anything I hate about solid state OD. But itís a different animal altogether. My tone is intact, but enhanced. Iím ok with that. It sounds better! I never turn this thing off. The boost is amazing and helps get a little natural growl out of my Bassman as well. The tone comes out sparkling, alive, and sometimes, downright mean. This thing can rock, but you get to choose how hard with the magical feedback selector. I donít know what to compare it too, but it is so worth trying out in your rig.
Construction: Rock solid construction. Great tone shaping options/tools, but simple layout. Each control is perfectly suited for the option youíre selecting. The components are top-notch; studio grade but road-worthy.

Cons: none for me.

Support: Early on I had trouble with a motorboating-type noise. I RMAíd back to Sweetwater and have to give them props. The whole process was great and thatís why I buy from Sweetwater.
The second pedal they sent made the same noise. Even though I was filtering my power at two points, it became clear after trying the pedal elsewhere, that the problem was dirty power. Hereís the kicker: I reached out to Wade Goeke with my problem (after receiving the second pedal) and he was gracious and kind enough to walk me through the whole process of troubleshooting. How many founders of the companies you buy from help you troubleshoot the product they make? He even sent me a sweet t-shirt in the process. I canít say enough about how pleasant, ultimately helpful, and informative it was to work with him.

So in summary, Iíll rock this pedal until I die. So it goes. And hopefully pass it down to one of my kids while complaining about what crap music they have to deal with.

This did turn into a book.
Germanium Love!!!!
We got serial 0001 and have been using it for a CD we're producing now. Alone it is amazing! Combining with a Pete Cornish SS-3 and Z-Vex Fuzz Factory it is UNREAL! This is the 37th pedal in my collection and is number one for drive. Can't wait for the compressor...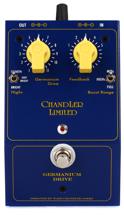 Gain Boost/Overdrive/Distortion Pedal with Germanium Transistor Circuitry