Sort By Date
Sort By Rating
Customer Reviews
Got Vintage? Get Case!
I needed a case to replace the original for a magical ancient SG Special.
Made a call to my man at Sweetwater (thanx Matt) and in a coupla days later it arrived, on schedule, for the best price, in perfect condition - exceeding my expectations.

A plush purchase for a guitar with a high degree of mojo.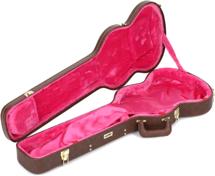 Electric Guitar Case for Gibson and Epiphone SG Guitars, with Plywood Construction and Plush-lined Foam Interior