Sort By Date
Sort By Rating
Customer Reviews
Roland GR-55
I am incredibly satisfied with the Roland GR-55 ! That being said, in my opinion, there are only two negative aspects to this great piece of hardware.
First, it is a bit pricey, and second, guitars have to be equiped with a GK (or compatible) pickup.
I had my eye on this synth since it hit the market, but stories that I read about latency issues (on earlier synth models), spot on tuning requirements and problems in adapting guitars with the GK-3 pickup, put me off for quite awhile.
I finally decided to take the plunge, but I also purchased a Wechter Pathmaker 7314 with a 13 pin Graph Tech Ghost Hexpander-MIDI output. This gave me a very nicely featured solid body guitar, and I was able to enjoy the GR-55 right out of the box (setup of the GR-55 was far easier than I expected).
Someday I will try to install the GK-3 on one of my other guitars, but right now I'm having too much fun playing the Wechter throught the GR-55.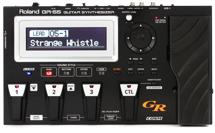 Guitar Synth with 910 Tones, 93 Effect Types, 3 Foot Pedals, Expression/Volume Pedal, and Onboard USB WAV/AIFF Player, and GK-3 Hex Pickup - Black