Sort By Date
Sort By Rating
Customer Reviews
Excellent case, terrible handle
OK, will keep it short and sweet. FIrst, the good: The case itself feels very solid, molded plastic feel very sturdy and secure. VERY lightweight which is great. Latches are average, but they work.

The bad: Two big things; first off, why the heck doesn't it have rear rack rails? If gives you a "free" coupon to mail in + $10 shipping to get them, why not just give the buyer the option in the front end to pick them up with the case? Charge them the extra $10 then so there isn't the extra wait and hassel. Secondly, the pull handle (to be used with the wheels) is extremely flimsy and weak. It wobbles around even when the case is empty, I am nervous to see how it performs when the case actually has 8U of rack gear in it. Big fail IMO, an extra 1/8" of thickness on the pull handle metal would have made it infinitely stronger and more secure, very disappointing.

Overall, I would say the case is excellent if you are not dependent on rear rack rails, and don't need the carry handle and wheels to transport it. The first point is very specific to the user of whether it is an issue or not, however the reliability of the pull handle will be an issue to most using an 8U rack filled with gear. I am debating whether or not to return the entire unit based solely on the poor construction of hat pull handle.
Gator 8U w/ Handle and Wheels
Give Sweetwater a 5.0 on service and customer care. As for the case, I have my ham gear and 2U drawer mounted in the case and it's really nice. I'd give the case a 5.0 but I found the handle to be a bit less durable than I was expecting. It works well and I'd definitely recommend it for other hams wanting a clean and portable equipment mounting system.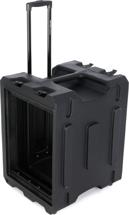 8U Rolling Rack Case with Molded Side Handles, Telescoping Pull Handle, Wheels, and Removable Front and Back Panels