Sort By Date
Sort By Rating
Customer Reviews
Sweet drum cases
Great quality. Nice padding and not as heavy as hard cases...Worth every penny..
wha wha wha!?!?....AWESOME
ok, the bags came and my 5 piece Pearl Export fit perfectly. you'll have to take the legs off of the floor tom, but duh. the bags are sturdy and will save the shells, rims, and interior of my car from taking crazy abuse. Good price too......i shopped around a lot!
I'm more impressed with the fact that I ordered this on Tuesday afternoon....like 4pm, and the package was sitting on my porch the next day! who else does this?!?
Sweetwater is now my new go to for gear...I want to order shxt just to see how fast it gets here. oh, and there was some candy in my package! SMARTIES!!! ........yes, i ate them.
these guys even called to make sure my order was correct after i placed it.......if you guys dealt with more than music stuff, i wouldn't shop anywhere else....you guys ROCK!
thanks!
Great Protection
Whoa! These Bags are just what you need to keep your road Drums safe from the elements and rough treatment. I contacted Matt Masek my regional Sales Engineer. He found the right sizes and took care of everything. Thanks Matt. Gator hit it out of the park with the quality and Sweetwater delivered on the price. As always another happy customer.
Gator GP Standard Drum bags
Great set of drum bags for transporting. Convenient zipper closure with strong handles for carrying with plenty of padding for protecting.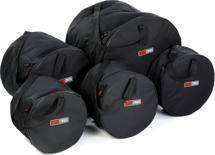 Padded Drum Bag Set with Snare Bag, 2 x Rack Tom Bags, 1 x Floor Tom Bag, and Bass Drum Bag