Sort By Date
Sort By Rating
Customer Reviews
sweet case!
I just got this case yesterday, it is very well made and my new mixwizard will be safe and sound! If you use the velcro pads correctly, it will hold the mixer firmly in place with no movement. Plus I felt I got a great price on the case. I actually stoped in to see the store, and was really blown away by the service I recieved, the saleman went over the top to help me (Thanks Greg!). Thanks Sweetwater !!!!
Presonus StudioLive 16.4.2 Inside this case
For the price this case delivers. If Gator provided a molded interior for my StudioLive this would be a 5 star product. I would not use it for shipping but under my control this case does the job. You will need to fabricate your own interior foam but that was pretty easy.
awesome case!
Just used the case this weekend for a gig and I was impressed. Use the velcro corner pieces to secure the mixwiz mixer and you are all set! No movement of the mixer what so ever, and the case kept it safe and sound. I find this case to be well made, and does it's job well. My sweetwater salesman did a great job showing me how to use it, and he took the time to get a mixer down from the shelf, and actually put it in the case, and test it out! I don't get that kind of service at the OTHER music stores. My hat is off to the sweetwater team, thanks for a great job!
Gator Case
This is a well built case. I think that I will enjoy it. I am having some difficulty figuring out how to keep my Presonus 16.4.2 snug so that it doesn't move around. But hopefully I will have that down soon. But for the price this was a great deal.
excellent
Very nice case although I wish the lid hinge did not disengage when opening but very nice case and works well for mixer
Works, but...
This case gets the job done for my AH mixwizard, but it feels like it's moving around inside the case when I move it. Gator has included two velcro elbow things to secure it, but I don't see how they work to keep the mixer in. The bigger issue here though, is when I searched for cases, it didn't bring up the Gator G-Tour-SLMX12, which has a picture of a Mixwizard in the case! I wish I had bought the G-Tour, more rugged, and you can put the top on while things are still plugged in.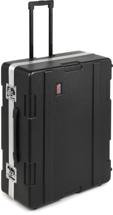 Molded Polyethylene ATA-Style Mixer Case with Wheels, Pull-out Handle, and Recessed Latches