Sort By Date
Sort By Rating
Customer Reviews
GKB-61 Key
Very Durable, You can be sure your key board is safe wherever you go. Cost Very Affordable.
Korg PA 500
This is the most fantastic keyboard arranger yet I have ever had! I use it on my regular playing job and hours upon hours at home. I can't stay away from it! Better than many others for sure.
The theater organ is so real..the best I ever have heard on many organs costing many thousands..the most realistic and many other sounds are too. I can sound like a theater organist or just like Glen Miller! I am really inspired playing this one! I love it!
A great Carrying Bag for our Keyboard
This bag is very durable. There's no chance for the keyboard to be damaged. It can carry everything, except for the Keyboard Stand, which is understandable. It is a bit heavy with the Keyboard for my wife, who uses it. She is a teacher.
Protect your investment with this bag
I purchased this keyboard bag along with my Casio CTK 6000 from Sweetwater. This bag is quality made, and fits my keyboard perferctly. I was surprised at how big it was, definitely big enough to fit you 61-key keyboard with room to spare. The zipper pockets can hold a lot as well. If you want to protect your keyboard, I would definitely recommend this bag by Gator.
bozo
Great Quality, plenty of room for extra equipment,Thanks Again to Sweetwater and the best staff ever.
Very versatile case
This is the 3rd Gator product I've bought, and I'm very happy with the quality of Gator stuff so far. I've bought other inexpensive soft cases like this, Roadrunner in particular - that weren't nearly as high quality as Gator. The zippers on both of my roadrunner keyboard cases have fallen off, whereas the Gators just keep on going.

This particular case is interesting in that its pouch on the front is extra large. It's large enough to put a microkorg into, making it doubly useful if you have a microkorg. The inside of this case is slightly taller than a lot of other 61-key cases, and that comes in VERY handy for this - you can put a platform onstage stand into it, and there's still room for a keyboard assuming it's not too tall. I can put my Roland A500, a platform case, and a Microkorg, all into this case, and there's still room for a ton of cables and pedals inside. I suspect a Roland A800 would fit just fine with the stand too, as would many of the 61-key controllers (maudio, novation, etc...). I think I could probably fit a compact tripod mic stand+boom in there too.

I only gave it 4.5 stars because I think it needs just a little improvement. I'd like some wheels on it, and I'd like some backpack straps on it. With my stand, A500, and Microkorg in it, the whole thing weighs 40 pounds - not too much to carry on a back.

Gator - add some backpack straps, and/or some wheels!
I am very plesed with my Gator GKB-61 case
This case will protect my Yamaha PSR S910 as I hoped it would. It is a very good case for a reasonable price.
Just what you need
Just got this today for my new Yamaha MM6. And not only does it fit my keyboard. But there are 2 front pockets for pedals and cords. And they are big enough to throw some sheet music in there as well. The inside is well padded and had padded straps to secure the board in place. The main handles are tough enough to handle a heavier keyboard. And my favorite thing is that is has big heavy duty zippers that don't look like they will break easily. Don't you just hate it when you have to throw something away just cause the zipper breaks. I can even fit my stand in the main area. So now when I gig with my band, I just bring this bag and an amp, and that's it. If you are looking for a no bull case a decent price, this one will do the job. And because I got it through sweetwater I got the darn thing next day with free shipping. (but that's probably cause I live 2 hours away). So if you have a 61 key keyboard and you want to protect it, do yourself a favor and pick this one up.
Piano bag
The bag travels well and more. Than serves the purpose for transporting the keyboard. But I must also mention the amazing customer service from Sweetwater! When our rep heard that we were traveling out of country, he made sure the bag arrived in time and came through as promised! Very pleased with the product and service. Will do business again.
Great bag
I really like the bag. It is very sturdyThe only flaw is the velcro immobilization strips inside tend to attach to the lining of the bag when the keyboard is not in the bag. I hope this does not eventually mess up this part of the lining. I love the pouch which is large enough to hold the detachable music stand and my music binder.
Good value
A nice sturdy bag. I carry a Rolnd JunoG in it and it is much bigger than
It needs to be as that synth is very narrow and light, but pricing is all good.
Very nice "bag"
If you are looking for a bag case, this is a great option. Material is sturdy, zippers are heavy-quality, and the exterior pocket has lots of room for music, pedals, etc. My only gripe is that the bag is a bit flimsy…if you want a case that holds its shape, look for something with more foam, or a hard case. That being said, this is a still a great budget case, and protects my keyboard well.
Keyboard Bag
Nice, but a bit bulky but offers better protection to instrument, storage enough.
Review The Gator GKB-61 (61-Key)
We were very pleased with the bag. For the price and workmanship we could not have done better. We received it very quickly and the followup from Sweetwatwer was very good. It will do for what we ordered it for we have four keyboards and needed a backup bag for emergencies. Our old bag is getting tired and they don't make it anymore. A friend from the the PSR Tutorial page recommended it and we are pleased with it. Yours truly, Ron & Carol Hall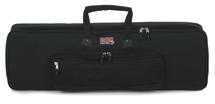 61-key Keyboard Bag with External Storage Pocket, Padded Interior Straps, Reinforced Carry Strap, and 600-Denier Nylon Construction